Paradise on Fire
(Middle Grade Fiction)
Reviewed by Kimberly Christensen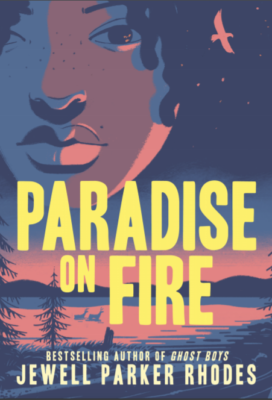 Flying cross-country for the first time, fifteen-year-old Addy leaves the Bronx to attend a wilderness camp with five other Black, inner-city kids. Although she's never experienced life in a rural setting before, Addy takes to it quickly, rising early to learn wildcraft with the camp's owner, Leo, and his dog. When Leo notices Addy's fascination with maps and labyrinths, he includes her in a topographical survey he is doing of the land around his ranch in Paradise, California.
Addy and the other kids grow physically stronger by the day. The duration of their hikes grows longer as they prepare for their culminating multi-day wilderness camping experience. But fresh air and new skills aren't enough to make the teens forget the traumas that each has brought from home. Addy wakes to nightmares almost every night of the apartment fire that left her orphaned—and left her always wanting to know her escape route.
At last, it's time for the overnight camping trip. But in the middle of their first night, Addy wakes to the smell of fire. At first, she thinks it's her old nightmare, but she quickly realizes that the wilderness around them has ignited. In the chaos, the camp counselors plan to race the fire back to the camp. But Addy, who has been mapping the land, knows this route is unsafe. She and three other campers take off in the direction of the river. As burns, sprains and near drowning beleaguer the exhausted teens, Addy must relay on her knowledge of land, fire, and maps to keep them safe.
Paradise on Fire is an engaging read, particularly the second half when the teens are fighting for survival. It touches on many important themes around climate change, white saviorism, trauma, and the historical facts of the Camp Fire in Paradise, California. With her keen, map-making mind and her shy way of making friends, Addy quickly becomes a protagonist that the reader wants to root for. It is easy to believe that she can step into a leadership role and see her new friends to safety.
However, Paradise on Fire falls short in delivering nuanced development of the themes it sets out to explore. Most of them feel touched-on rather than investigated, which is frustrating because they are all so important. In particular, I wish that the author had dived deeper into the matter of social justice and its connection to environmental justice. All of the elements are there in the story, but the through line is very faint. In part, I think this is due to the book being marketed as middle grade. As all of the kids are teens, writing it as young adult could have opened the possibility for increased word count and therefore, depth. Instead, there are passages that read as rushed and didactic.
Despite that, the story of trauma and survival is relatable and engrossing. Paradise on Fire is a great conversation starter for readers, presenting a multitude of opportunities for further reflection and study. Four of five stars.