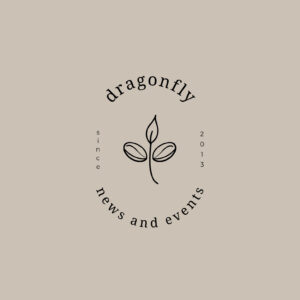 Read our October newsletter here and see our news archives here.
Our News
For the October World Eco-fiction spotlight, I interviewed  Premee Mohamed about her newest novel, The Annual Migration of Clouds. Waubgeshig Rice, another favorite Canadian author (Moon of the Crusted Snow), said of Clouds: "A riveting look at a dire future. The climate crisis is real, and The Annual Migration of Clouds is a must-read fiction."
Dragonfly has a new section covering video and other games that explore environmental themes and nature. Check it out here.
In the Rewilding Our Stories Discord, our membership has grown to over 150, and we've just finished voting on our next book club read. The winner is Matt Bell's Appleseed. To join, see https://discord.com/invite/txgJNVg. We also just started a solarpunk channel!
I recently received a gift card from my sister, so used it to buy two books. One is Fungi, an anthology, edited by Orrin Grey and Silvia Moreno-Garcia. I highly recommend this book! Inside are authors

Jeff VanderMeer, Laird Barron, Nick Mamatas, W.H. Pugmire, Lavie Tidhar, Ann K.Schwader, Jesse Bullington, Molly Tanzer and Simon Strantzas

. The other book is Weird Women, weird stories showcasing the forgotten female horror writers from 1852-1923. I haven't gotten to that book yet, so stay tuned.
I've just hinted about my newest book, a children's illustrated alphabet book out on November 26; it's inspired by a new baby in our family! The Adventures of Finn Wilder is a new series focused on outdoor adventures, bringing the beauty and importance of nature into children's lives while also educating and inspiring them. The first book, Finn's Tree Alphabet, goes A-Z with different trees from all over the world. Descriptions elicit wonder as well as laughter. Let me know if you need a review copy.
We don't have a new indie corner spotlight out this month, as this series depends on new authors contacting me about their books–so, yeah, do that! Your book should have some notability and be published by an independent press. It's all free promotion.
A new Backyard Wildlife series is available to read. Read more about coyotes, corn, and turning leaves–and my favorite season, autumn.
Check our Climate and Ecological Films section for some new movies/docs out this late summer and fall: The remake of Dune of course(!), plus Fever Dream (the novel by Samanta Schweblin was excellent!), Recently announced is that Ursula K. LeGuin's The Dispossessed is being adapted to film. Also, Fantastic Fungi is out on Netflix, and I found the whole livelihood of fungi amazing…the second half of the film seemed to want to sell to the audience the absolutely life-changing power of psilocybins, not so much. Everyone has their thing and that's fine, but I found some of the concepts reminiscent of something a cult leader would say.
I talk with Yanas Chewns, of Geekoscopy, about Dragonfly.eco and the concept of eco-fiction.
I've added a Support Us link to Dragonfly. I do not ask for donations and will never put content behind a paywall or install ads or annoying pop-ups. But ever since our move to Nova Scotia, I've expanded my Dragonfly Pub business to include book review and editorial services. So check it out!
In Other News
Wow, this talk with Nnedi Okorafor and one of Matt Bell's creative writing classes at ASU is enlightening. Learn more about Nnedi's successful stories, including her novel Lagoon. She talks about world-building in science fiction, Africanfuturism, the ocean environment, and so much more.