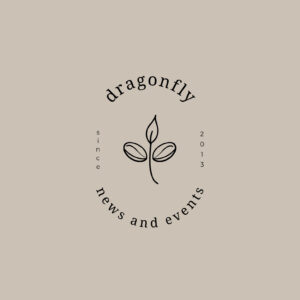 Read our July newsletter here and see our news archives here.
Our News
Happy 9th birthday to Dragonfly on August 13th! I previously teased about a new Medium article to help celebrate the day–and that is still in the works–but I decided to celebrate with announcement of my new novel, which is taking precedence in my newest NaNoWriMo goal.
I interview Emma Reynolds about her new children's book Amara and the Bats as part of Dragonfly's Indie Corner author and Turning the Tide spotlights.
One might wonder how authors and publishers can do their work without Amazon? My initial thoughts are here. At some point I will follow that up with a post on other tools we can use.
July's world eco-fiction spotlight is on Matt Bell, whose novel Appleseed is published on the 13th. It was great to chat with him about storytelling in games vs. written fiction, how he writes from speculating and imagining the future, and who some of his nature-writing influences are.
I've added a Support Us link to Dragonfly. I do not ask for donations and will never put content behind a paywall or install ads or annoying pop-ups. But ever since our move to Nova Scotia, I've expanded my Dragonfly Pub business to include book review and editorial services. So check it out!
In the Backyard Wildlife series, in July, I talk about the weird and dangerous weather we've been having in Canada as well as new things I've seen on our property, including a tiny mouse and a tiny snake. I also talk about how Elsa's post-tropical storm wind and rain tried to topple our corn and caused our power to go out all night.
I had the wonderful opportunity to chat with three streamers: Yanas Kisten (Geekoscopy), Lovis Geier (Ecofictology), and Forrest Brown (Stories for Earth). These podcasts or YouTube series covering how storytelling, science, and art merge are fascinating.
It's the perfect time to join our Rewilding Our Stories Discord right now. We have an influx of new members, bringing us to over 100 now. And we just voted to read Jeff VanderMeer's Hummingbird Salamander, starting July 19th. It's not too late to join us!
In the next couple of months, look forward to a chat with Venetia Welby about her novel Dreamtime (set in Japan) as well as Bijal Vachharajani (set in India) to talk about her illustrated children's books that cover ecological and climate realities.
Newly linked in the Dragonfly excerpts library: Thanks to Rowan Kilduff for sending in a new nature poem titled Red Cedar – Long Life Maker. Also, Gizmodo has a new excerpt of Tlotlo Tsamaase's story Botswana.
In Other News
July 7 was the pub day for editor Christy Tidwell's Ecohorror Stories in the Anthropocene.
It's wonderful to see Towne Book Center book buyer Marielle Orff listing some of her favorite middle-grade fiction for eco-warriors.
Kim Stanley Robinson talks about utopian fiction at The Nation.
Anne Coray's novel Lost Mountain is spotlighted in this Anchorage Daily News article. You might recognize her as one of our recent indie authors.
Northwest Territories' author Katłįà Lafferty has been nominated for an Indigenous Voices Award for her debut novel, Land-Water-Sky / Ndè–Tı–Yat'a. More at CBC.
Based on the same-named comic by Jeff Lemire, Sweet Tooth is a sweet fairy tale series, morphed into the world of the wild, now on Netflix.
Coming in late summer is Lisa Joy's Reminiscence, starting Rebecca Ferguson, Thandiwe Newton, Hugh Jackman, and Natalie Martinez.
The Tomorrow War, starring Chris Pratt, came to Netflix on June 2, and NK Jemisin's The Broken Earth Trilogy is being being adapted to film! See our film section.