Click here to return to the series
The global novel exists, not as a genre separated from and opposed to other kinds of fiction, but as a perspective that governs the interpretation of experience. In this way, it is faithful to the way the global is actually lived–not through the abolition of place, but as a theme by which place is mediated. Life lived here is experienced in its profound and often unsettling connections with life lived elsewhere, and everywhere. The local gains dignity, and significance, insofar as it can be seen as a part of a worldwide phenomenon.
-Adam Kirsch, The Global Novel: Writing the World in the 21st Century
---
About the Book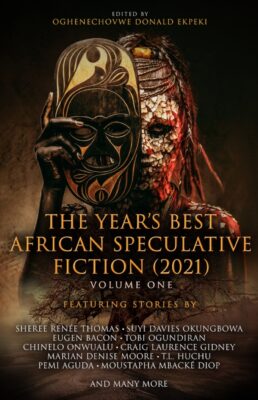 Occasionally, the world eco-fiction series explores anthologies and interviews editors who produce them; today we're talking with author Oghenechovwe Donald Ekpeki, editor of The Year's Best African Speculative Fiction. The description of the book from the publisher, Jembefola, is:
The Year's Best African Speculative Fiction (2021) is a reprint anthology and the first ever Year's Best African speculative fiction anthology, edited by Oghenchovwe Donald Ekpeki. It contains speculative fiction stories by some of the most exciting voices, old and new, from Africa and the diaspora, published in the 2020 year. It features twenty-nine stories, by twenty-five writers.
The stories drew me right away, not just for their individual wisdom, diversity, and wit but for—if you're interested—the palpable connections between the human condition and the wild, which several of the stories take part in. The scope of the anthology is speculative, which includes stories with science fiction, fantasy, horror, post-apocalyptic, and other streams. Diaspora, myth, technology, and the philosophical find their way into the anthology as well.
I want to point out, too, for readers, that after this interview took place, I learned that Oghenechovwe's O2 Arena has been nominated for a 2022 Hugo Award for Best Novelette. The author stated on Twitter that makes him the first African to be nominated for best novelette, the first African born Black writer nominated for the Hugo at all, and the first Black person nominated in the Best editor short form category, with the Year's Best. You can read more about the short fiction at Apex Magazine. Further, be sure to check out Africa Risen, coming this fall and which you can pre-order at Macmillan Publishers; it's edited by Sheree Renée Thomas, Oghenechovwe Donald Ekpeki, and Zelda Knight. The anthology  "celebrates the vibrancy, diversity, and reach of African and Afro-Diasporic SFF and reaffirms that Africa is not rising—it's already here." The cover is stunning.
Chat with the Author
Mary: You are an award-winning author and editor and are active in science fiction, horror, and speculative fiction magazines and collections. What are some of your favorite memories while writing or imagining new stories?
Oghenechovwe: While writing or imagining new stories, some of my favourite memories are banter and conversations with real persons that get adapted and make up some of the dialogue in my work. Fiction aims to imitate reality after all. I usually see no reason why it can't be borrowed from. Also, having to infuse stories from my culture and childhood myths I learnt growing up.
Mary: You recently edited The Year's Best African Speculative Fiction (2021). How did this anthology come about, and what are some common themes you found within?
Oghenechovwe: While editing the Dominion anthology, after its release, and inspired by its reception, I naturally thought, what next? It was well received and highly appreciated, and it created amazing opportunities for the voices of writers on the continent to be heard. So, I thought, how can we continue this? What else can we do that can create more spaces for the works of speculative fiction writers of African descent to be appreciated. And the answer was the Year's Best African Speculative Fiction anthology. The first of its kind; it's something that was sorely needed but had not had the chance to exist until now.
Mary: Because Dragonfly.eco focuses on ecologically oriented fiction, I'd be interested in your views about how the environment and nature is manifested in African fiction particularly. I like to think of such fiction as rewilded and have noticed this in the anthology, where natural landscape and its elements are strong, and at least one particular story where climate change is mentioned.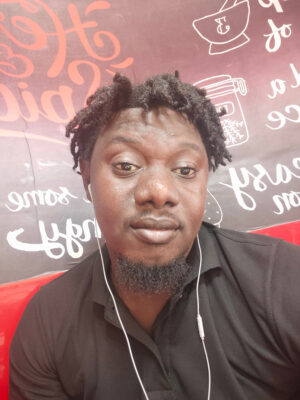 Oghenechovwe: Actually, I'll be hard pressed to pick any singular theme from it. One of the things that I loved about it was that it was multifaceted and examined so many styles of writing and perspectives from Black and African writers around the world.
Fiction, they say, imitates reality and African speculative fiction is no different. It examines issues that are vital to African and Black writers and the environment is definitely one of those. My own works, the Nebula finalist, Otherwise award and Nommo winning novella Ife-Iyoku, the Tale of Imadeyunuagbon and Nebula and BSFA finalist, climate fiction novelette O2 Arena deal with the environment. Though not in the Year's Best, the works there also do the same,  from the very first work in the anthology, by Somto Ihezue, "Where You Go", which is set in a Lagos with the impending danger of being submerged.
Mary: In your short story, "Mercy of the Wild" you wrote from the viewpoint of a lion. What inspired that story?
Oghenechovwe: "Mercy of the Wild" was a point of experimentation for me. I do love to experiment with forms and styles or speculative fiction and that was one such that I was delighted to follow up on. It was inspired by almost childlike, wide-eyed curiosity of what goes on in the minds of the creatures we share the planet with. What if we would hear their story, from the horse's mouth so to speak. Or as the Igbo proverb says, "Until the lion learns to tell its story, the hunt will always glorify the hunter." This got me wondering, what if the roles were reversed? Its telling impresses on me the need for people of diverse cultures to champion and find spaces for their stories to thrive in the world of today.
Mary: Would you like to talk more about Ife-Iyoku, the Tale of Imadeyunuagbon, a post-apocalyptic novel? Also, O2 Arena? How did you build those world before writing, and how did the natural environment affect the plot and characters?
Oghenechovwe: Ife-Iyoku was inspired by events going on around us and my immediate environs. Nigeria is a society long exploited by slavery and colonization, and is facing a huge deficiency of resources. It has dealt with conflict for decades in the form of Boko Haram, with the average Nigerian hungering to leave but unable to do so, hemmed in by racist and restrictive visa policies of the world. Like the hunters, the people in it have adapted and found ways to survive, having to push themselves like superpowered beings, to exist and thrive in the harsh climes we find ourselves.
My recent novelette O2 Arena, a BSFA and Nebula award finalist, the first by an African born writer, is similarly inspired by events around me. Events like disability, cultism, cancer, reproductive health, sexism, misogyny, homophobia, post- and neo-colonialism, and much more. It is my aim to by telling these stories document the experiences of people in this clime face and give readers a glimpse into the multifaceted and lushly dark world I inhabit.
Mary: You have taken on a huge role in storytelling the Black African experience, so thank you for all the work you're doing in this arena. Thanks also for taking the time to chat with Dragonfly!
About the Author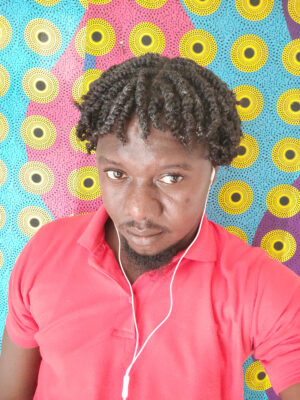 Oghenechovwe Donald Ekpeki is an African speculative fiction writer and editor in Nigeria. His Ife-Iyoku novella was a finalist in the Nebula, BSFA, Sturgeon awards, and won the Nommo and Otherwise awards. The Dominion anthology he co-edited, where it appears, won the British Fantasy award, and was a finalist in the Locus and This Is Horror awards. His climate fiction novelette O2 Arena is a BSFA and Nebula award finalist. He edited the first ever Year's Best African Speculative Fiction anthology, which is free to download, and the Bridging Worlds non-fiction anthology, also free. You can visit his website and find him on Twitter.