Click here to return to the series
The global novel exists, not as a genre separated from and opposed to other kinds of fiction, but as a perspective that governs the interpretation of experience. In this way, it is faithful to the way the global is actually lived–not through the abolition of place, but as a theme by which place is mediated. Life lived here is experienced in its profound and often unsettling connections with life lived elsewhere, and everywhere. The local gains dignity, and significance, insofar as it can be seen as a part of a worldwide phenomenon.
-Adam Kirsch, The Global Novel: Writing the World in the 21st Century
---
About the Book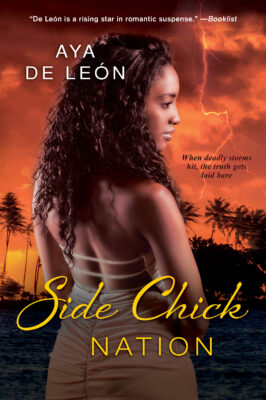 I was drawn to this book after reading Anna Burke's Compass Rose, which tied Hurricanes Maria and Irma to climate change, albeit it had a different approach (science fiction and fantasy) as opposed to Aya's novel Side Chick Nation (contemporary urban  thriller). I also appreciated Side Chick for its realism regarding the aftermath of Hurricane Maria. The Justice Hustlers Series reveals women of color being systematically marginalized by capitalistic ventures and personally abused by the ones they think love them. These women are vulnerable but ultimately strong and powerful as they fight for themselves and their families and communities. From IndieBound:
Fed up with her married Miami boyfriend, savvy Dulce has no problem stealing his drug-dealer stash and fleeing to her family in the Caribbean. But when she gets bored in rural Santo Domingo, she escapes on a sugar daddy adventure to Puerto Rico. Her new life is one endless party, until she's caught in Hurricane Maria—and witnesses the brutal collision of colonization and climate change, as well as the international vultures who plunder the tragedy for a financial killing, making shady use of relief funds to devastate the island even more. Broke, traumatized, and stranded, Dulce's only chance to get back to New York may be a sexy, crusading journalist who's been pursuing her. But is she hustling him or falling for him?

Meanwhile, New York-based mastermind thief Marisol already has her hands full fleecing a ruthless CEO who's stealing her family's land in Puerto Rico, while trying to get her relatives out alive after the hurricane. An extra member in her crew could be game-changing, but she's wary of Dulce's unpredictability and reputation for drama. Still, Dulce's determination to get justice draws Marisol in, along with her formidable Lower East Side Women's Health Clinic's heist squad. But their race-against-the-clock plan is soon complicated by powerful men who turn deadly when ex-side chicks step out of the shadows and demand to call the shots.
"Gripping feminist heist fiction about turning the tables on the disaster capitalists in the jaws of climate apocalypse? Improbably and thrillingly, Aya de León has pulled off exactly that with Side Chick Nation. I couldn't put it down."
-Naomi Klein, author of The Shock Doctrine
More about the Justice Hustlers Series of Feminist Heist Novels
Side Chick Nation out now! The first novel published about Hurricane Maria in Puerto Rico, about a young sex worker from NYC who was pimped as a teen, and when she gets caught in the disaster, she's politically awakened to action about colonization and climate change.
Uptown Thief (2016) Marisol Rivera: A Latina Robin Hood
The Boss (2017) Tyesha Couvillier: A Black Avenging Angel
The Accidental Mistress (2018) Two sisters from Trinidad: one is the "good immigrant" and one is the "bad immigrant."
Chat with the Author
I was so happy to get in touch with Aya and talk with her about Side Chick Nation.
Mary: Thanks for talking with Dragonfly, Aya! I love your Justice Hustler series and the way you've given fierceness and dignity to women of color. You weave great stories while also tackling issues such as racism, sexism, rape, and poverty that saturate the world yet which a lot of writers are still afraid to explore. What led you to this series, and will it continue after the fourth book?
Aya: I have an idea for a 5th book, but have veered off to write spy fiction & an urban romance. I hope to get back to it. The 5th one is Lily's book. I had started on it when Hurricane Maria hit. I felt the urgency of writing about the hurricane & changed topics. But I love Lily & want to get back to her eventually. But the spy book is a dream to publish with Kensington. I have been sitting with this book for a really long time, longer than Justice Hustlers. It's about a young black woman FBI agent who infiltrates an African American eco-racial justice organization and then finds herself with divided loyalties. Of course there's a romance and a murder and lots of political shadiness.
Mary: I've heard the term heist-fiction when describing your novels. What is it about heists that intrigue you as a writer?
Aya: Heist–at least the Robin Hood heist trope–is about economic justice. When the have-nots steal from the haves and redistribute the wealth. It's the genre that portrays the revenge of the 99%.
Mary: Side Chick Nation is the newest in the series and uncovers similar themes as previous novels, yet also brings in the element of climate change. One of the main characters, Dulce, rides out Hurricane Maria in Puerto Rico. I like your approach because often times climate change is treated as its own subject within fiction–but it really is inexorably tied to the motifs prevailing in your books–of corporate greed, manipulation, theft, and plundering. I remember Hurricane Irma and then Maria, and how they devastated the Caribbean. I watched the news in horror as it focused on Florida and other southeastern states and for the most part ignored the islands below. It made me upset. What are your thoughts?
Aya: My biggest hope here is to inspire people of color to see themselves as climate activists and part of the movement for climate justice. Dulce is not the usual suspect for a climate activist: a Dominican/Cuban New Yorker, raised poor, a high school dropout who was pimped as a teen. But the book is about her moving from someone who is just trying to survive and underestimates the impact of climate change into activism. I hope readers, particularly young women of color, are inspired to take action in the current climate crisis.
Mary: Another big plus on your books is that your female characters are strong and fierce, but also human. The love stories bring in their vulnerability and speak to the heart. But, at the end of the day, the women being used by men in sex trafficking and other ways, hold power that some cannot really imagine. I love it. Thanks for writing strong women in your books. What experiences inspired you to write such stories?
Aya: I know lots of strong women who are also messy. I think love is also messy–particularly my romance formula, which is about men of color who need to push past their allegiance to patriarchy to honor the women they love. Men of color need to do that work in real life & it's messy in relationships. The path to love and liberation is messy!
Mary: I recently watched in horror the story of Vanessa Nakate, a climate activist leading marches in Uganda, being cropped out of a photo that otherwise showed young, white climate activists. Do you feel that authors of color are also cropped out of the literary photo–and do you see this changing any time soon, or is it starting to change?
Aya: I am really excited about the work #DignidadLiteraria is doing to push back on the systematic exclusion and marginalization of POC, especially Latinx folks in the literary industry, as well as the frequent stereotyping of Latinx folks in books written by folks outside our communities.
Mary: What are your thoughts on fiction that explores climate change and other ecological degradation?
Aya: I think we are at the point where there's one critical message: "If we fight we can win." I think dystopia is not what we need right now. We have seen some of how bad it can get, and don't need to envision more devastation. We need to envision people banding together to fight for justice and winning.
Mary: I agree so much, Aya. I see that happening for sure. Thanks so much for  talking with me!
About the Author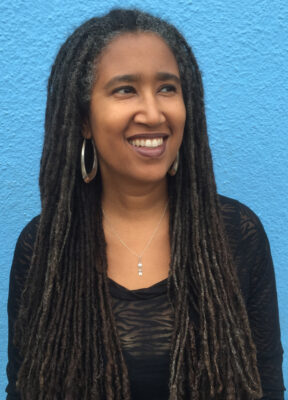 Aya de León is a writer, activist, educator, spoken word poet and author of the award-winning Justice Hustlers series. The Director of June Jordan's Poetry for the People, she teaches poetry and spoken word at UC Berkeley and is an alumna of Cave Canem, VONA and Harvard University. She is a winner of the International Latino Book Award and a two‑time winner of the Independent Publisher Book Awards, and her extensive writing credits include Guernica, Essence, Ebony, The Huffington Post, VICE, Ploughshares, Woman's Day and Bitch magazine, among many other websites and publications. De León first came to national attention as a spoken word artist in the underground poetry scene in the San Francisco Bay Area, and a hip-hop theater artist. She lives in San Francisco and can be found online at www.AyaDeLeon.com.