Click here to return to the series
The global novel exists, not as a genre separated from and opposed to other kinds of fiction, but as a perspective that governs the interpretation of experience. In this way, it is faithful to the way the global is actually lived–not through the abolition of place, but as a theme by which place is mediated. Life lived here is experienced in its profound and often unsettling connections with life lived elsewhere, and everywhere. The local gains dignity, and significance, insofar as it can be seen as a part of a worldwide phenomenon.
-Adam Kirsch, The Global Novel: Writing the World in the 21st Century
---
About the Book
This month we travel to California, a beautiful state to which many dreamers have traveled. It's also an area where wildfires have increased each year. According to NASA:
Eight of the state's ten largest fires on record—and twelve of the top twenty—have happened within the past five years, according to the California Department of Forestry and Fire Protection (Cal Fire).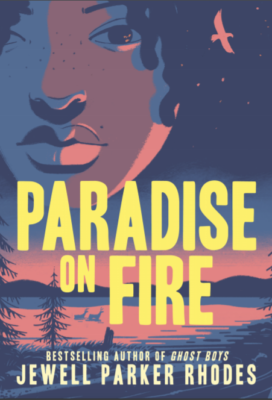 I enjoyed Dr. Jewell Parker Rhodes' young adult novel Paradise on Fire. In it, a Bronx teenager, Addy, joins a wilderness program for urban youth. Addy travels West to California and participates in learning survival and wilderness skills at a ranch.
Addy, haunted by her tragic past, joins five other Black city kids—each with their own troubles—to spend a summer out west. There they learn to depend upon each other for companionship and strength. But then comes a devastating forest fire…
A thrilling and heartfelt survival tale exploring issues of race, class, and climate change.
Chat with the Author
Mary: This coming-of-age tale is an excellent and educational outdoor adventure, and the main character, Addy, is inspiring. I read this as an older woman, but still enjoyed it. It took me back to my younger years when we had similar outdoors experiences, though not so harrowing. What led you to write this novel?
Jewell: A few years ago I met a group of Black teens while speaking at a conference in Jackson Hole.  They were part of City Kids, a Washington, DC, program that mentors urban youth and runs a summer wilderness program in Wyoming. I was so moved by their work. After the destructive 2018 Camp Fire, I decided to create a group of city kids who must use their newly learned skills to face a raging wildfire.
Mary: Addy, nickname for Adaugo, which is Nigerian for "daughter of an eagle," goes into this wilderness adventure with fears of being trapped as she is flying on a plane, because of a fire she was in when younger. She is an artist, too, who draws maps, or more precisely escape routes. I found that facet of her being so interesting. She comes out of this wildlife journey with confidence and new friends. What inspired you to come up with her particular arc?
Jewell: Before I begin writing a novel, I must hear a character's voice. Addy's popped in my head out of nowhere, and so did her mapmaking skills. I learned so much from Addy, researching cartography and typography and understanding how that connects with nature.  (I'm actually terrible at reading maps!)
I never plot ahead of time; rather, I feel my way emotionally.  Addy's voice, her heritage, and intelligence guided me to figure out my narrative maze.  I was surprised by her strength and determination, especially during her long walk to safety.
Mary: I love Bibi. Outside of Addy and Leo, she is my favorite character. I think it's important that we have older mentors in our lives who guide us like that. Do you have a "Bibi" in your life?
Jewell: I do—my dear grandmother Ernestine. My childhood was traumatic and Grandmother was my lifeline, supporting me through years of self-doubt and loneliness.  All of my novels celebrate mentors and elders who are shaping our youth, instilling self-worth and empowerment.
Mary: I was surprised by the National Park statistics at the end of the novel, in the afterword section. Such a small percentage of African-, Hispanic-, and Asian-Americans visit National Parks each year. Why do you think that is?
Jewell: National Parks have always lacked diversity, from their visitors to their management. Public lands and green spaces face the same systemic racism we face in every other facet of life.
Mary: I hope that changes. Your story was inspired by City Kids, a Washington, DC, group that has a similar wilderness program to the one in your book. That's an amazing initiative. Your thoughts?
Jewell: From my own experience growing up in an impoverished urban neighborhood, I did not experience the beauty and benefits of nature. The work of City Kids and other organizations are so critical because ALL communities deserve the great outdoors and to understand the existential threat of climate change.  How will youth be empowered to fight against climate change if they don't know what causes or what's at stake because of it?
Mary: I read that when you were revising this novel, you were visually near a wildfire out West. I have read of other authors who were writing about some facet of climate change, when they woke up the next day and it was literally outside their door. I sometimes wonder if we mostly think that the worst of climate change is happening over "there" or somewhere else. And writers often speculate about how it would be. But it's really around us now, more and more so each year. I wondered what the reaction to your novel was, especially by kids. Have you noticed that they become more engaged and wanting to fight climate change?
Jewell: While visiting schools to promote Paradise on Fire, I did notice a greater sense of urgency from classrooms and communities in the west versus the east coast. But as we continued our discussions, it was amazing to see it "click." With all my novels, I am hoping to inspire readers to be change agents.
Mary: Who were or are your role models when it comes to environmental literary characters?
Jewell: I've always loved Brian from Gary Paulsen's Hatchet.  As a young boy his journey is very individual and about physically conquering/surviving nature. Whereas Addy as a young woman learns to embrace her community of friends and affirms how STEM smarts are also important to survival.  Best of all, Addy affirms the restorative power of nature.
My daughter, the novelist, Kelly McWilliams, while not a character, also inspired me.  As a Girl Scout, she did all the outdoor activities that I had never done as a child.  The bond she shared with her fellow scouts was amazing!  Her Dad, too, like Leo for Addy, was a helpful inspiration.
Mary: I love that story about your daughter! What are some of your other novels that focus on the environment?
Jewell: My first novel for young readers, Ninth Ward, was inspired by the heartache of Hurricane Katrina. Bayou Magic centers on the Gulf Horizon Oil Spill and the erosion of the wetlands. By infusing humanity in these stories of environmental catastrophe, readers will feel the impact and be inspired to be good stewards of the Earth.
Mary: Are you working on anything else right now?
Jewell: I'm working on a retelling of a children's classic.  I can't wait to share more!
Mary: Sounds fascinating. I will be watching for it! Thanks so much.
About the Author
Dr. Jewell Parker Rhodes is the award-winning author of several books for youth including the New York Times bestsellers Ghost Boys and Black Brother, Black Brother. She is also the author of Paradise on Fire, Towers Falling, and the celebrated Louisiana Girls' Trilogy: Ninth Ward, Sugar and Bayou Magic. 
Rhodes has visited hundreds of schools across the country and is a regular speaker at colleges and conferences. The driving force behind all of Jewell's work is to inspire social justice, equity, and environmental stewardship.
Rhodes is the Founding Artistic Director of the Virginia G. Piper Center for Creative Writing and Narrative Studies Professor and Virginia G. Piper Endowed Chair at Arizona State University.  She was awarded an Honorary Doctorate of Humane Letters from Carnegie-Mellon University. She enjoys teaching, walking her Toy Aussie Sheepdogs, theater, dancing, and music. Born in Pittsburgh, she now lives in Seattle.