Click here to return to the series
The global novel exists, not as a genre separated from and opposed to other kinds of fiction, but as a perspective that governs the interpretation of experience. In this way, it is faithful to the way the global is actually lived–not through the abolition of place, but as a theme by which place is mediated. Life lived here is experienced in its profound and often unsettling connections with life lived elsewhere, and everywhere. The local gains dignity, and significance, insofar as it can be seen as a part of a worldwide phenomenon.
-Adam Kirsch, The Global Novel: Writing the World in the 21st Century
---
I was happy to reach author Matt Bell to talk about his new novel Appleseed (Custom Press, July 2021), a highly anticipated novel that takes our world eco-fiction series to the United States, where the story takes place in three timelines, across the continent of North America. The ARC I received is large and beautiful, and I appreciate Matt taking time to answer my questions.
About the Book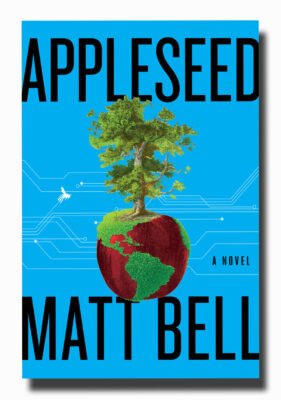 A "work of incandescent imagination" (Karen Russell) from Young Lions Fiction Award–finalist Matt Bell, a breakout book that explores climate change, manifest destiny, humanity's unchecked exploitation of natural resources, and the small but powerful magic contained within every single apple.
In eighteenth-century Ohio, two brothers travel into the wooded frontier, planting apple orchards from which they plan to profit in the years to come. As they remake the wilderness in their own image, planning for a future of settlement and civilization, the long-held bonds and secrets between the two will be tested, fractured and broken—and possibly healed.
Fifty years from now, in the second half of the twenty-first century, climate change has ravaged the Earth. Having invested early in genetic engineering and food science, one company now owns all the world's resources. But a growing resistance is working to redistribute both land and power—and in a pivotal moment for the future of humanity, one of the company's original founders will return to headquarters, intending to destroy what he helped build.
A thousand years in the future, North America is covered by a massive sheet of ice. One lonely sentient being inhabits a tech station on top of the glacier—and in a daring and seemingly impossible quest, sets out to follow a homing beacon across the continent in the hopes of discovering the last remnant of civilization.
Hugely ambitious in scope and theme, Appleseed is the breakout novel from a writer "as self-assured as he is audacious" (NPR) who "may well have invented the pulse-pounding novel of ideas" (Jess Walter). Part speculative epic, part tech thriller, part reinvented fairy tale, Appleseed is an unforgettable meditation on climate change; corporate, civic, and familial responsibility; manifest destiny; and the myths and legends that sustain us all.
Chat with the Author
Mary: Matt, you've written quite a few novels, short stories, poems, and essays. You even wrote a nonfiction title, Baldur's Gate II: Shadows of Amn, which interests me quite a bit; I remember playing that game a couple decades ago and still find the immersive story that unfolds in character development in an explorative world fascinating (yes, I also still game). What parallels have you found between storytelling from a gamer point of view and written fiction?
Matt: There are a lot of interesting similarities and differences between telling stories in novels and in games! In many ways an RPG like Baldur's Gate II is more like a novel-in-revision, in that it's still malleable: the player is being asked to choose the order of events, to some extent, and also influences their outcomes in a way that a novel's reader isn't. But even if the story of a novel is pre-ordained, I think the writer still has to make room for the reader to participate and play. Creative writing also requires creative reading: a lot of the experience of a novel is made in the imagination of the reader, and therefore becomes unique and personal in interesting ways.
Mary: Your upcoming novel Appleseed is an epic one, journeying from the 18th century to a thousand years in the future, combining connected stories across three different timelines, with the planting of apple seeds loosely based on the story of Johnny Appleseed and his brother Nathaniel being the first of the three intersecting stories. This big, brilliant work of art, nearly 500 pages, seems like a labor of love. What led you to begin writing it—and did it turn out like you had originally imagined? One of the brothers is more about progress while one is a faun, more connected to nature. I love the duality of nature presented in their quest and a nod into our mythical history and fairy tales, which comes up also in the storytelling gamer world!
Matt: I began with the idea of writing a mythological retelling of Johnny Appleseed, but it started sprawling out across time pretty soon after, which was a happy surprise. I didn't know how it all worked for a long time though: my first drafts are usually exploratory, where I'm trying out a lot of different approaches until I find out what works best or is the most interesting version of the story. But that's part of the fun too! I've never began a novel already knowing everything about it, and probably wouldn't want to.
Mary: Another part of the story is set in the latter half of our current century, and the book takes on a speculative fiction aspect, which looks at our scientific and technological world, one that's destructive, a juxtaposition of the creation of life in the planting of apple seeds while also clearing forests. There, you have several pages listing species that have gone extinct. I think of this section as a wake-up call, a fight to mitigate climate change. What was it like writing fiction about our world as it is, as it will be in the near future?
Matt: I'm so glad you mention that species catalog, and that it felt like a wake-up call to you. In many ways, the near-future timeline was the hardest to figure out, because I had to have a clearer idea of the political and scientific cause and effect between our present and my imagined future. Some of the politics of that timeline are built on ideas in Naomi Klein's The Shock Doctrine, about how disaster capitalism functions; the climate crisis of that timeline is in part a worst case scenario, imagining what it would look like if everything that everything that could go wrong did. Once that was in place, I looked for what choices were left and how people might choose to deal with such a world, in good and bad ways.
Mary: The final connecting story along the timeline is set 1,000 years into the future, where an isolated faun-cyborg creature lives in North America, which is now covered by a sheet of ice. He goes on a quest to follow a homing beacon, to find other life. How did you imagine this world?
Matt: If I remember right, I started with the setting, because the image of a new ice age and a continent-spanning glacier was so evocative. I tried to imagine what it would be like to live in such a world and how a person might survive alone in such a harsh environment, but the story emerged slowly, over time—and it wasn't until I'd finished a draft of the book that I understood how the timelines connected and exactly how that ice age had come to be.
Mary: In Appleseed, the elements of fable and horror go hand in hand, and such storytelling historically gives us such cautionary tales and parables. But climate change and species extinction and other ecological destruction seem to be more final end points for humans, so authors are increasingly weaving them into fiction—which is a place to experiment, offering readers a space to think of things like climate change in a different and hopefully expanded perspective. What are your thoughts?
Matt: One of the things speculative fiction is best for is allowing us to "imagine otherwise," as Daniel Heath Justice says, imagining other worlds than the one we live in. Some of those worlds are warnings about what might go wrong if we continue on our current paths. Others are visions of futures we might choose instead, if we make changes to our ways of life, if we reshape our societies in different ways. It's very hard to arrive at a better kind of future if you can't imagine what it would be like to live in it: that's one of the things novels and films and other mode of storytelling can do to help us, in addition to being entertaining.
Mary: Have you been influenced by or do you enjoy other authors writing about our natural world?
Matt: There are so many I admire, but Annie Dillard and Wendell Berry were probably the two nature writers I returned to most often as I was writing Appleseed. Both write beautifully of nature, which is a joy by itself, but they also write about humans and our impacts on nature with a moral clarity that moves me and challenges me to do better in my writing and my life.
Mary: I agree on those influences! Thank you so much, Matt.
About the Author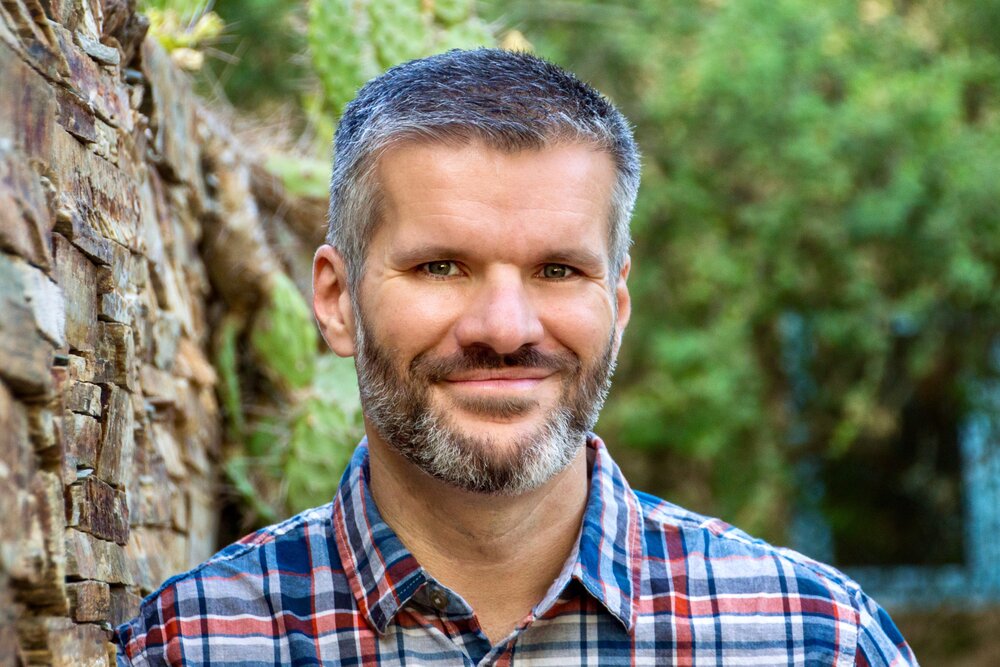 Matt Bell's next novel, Appleseed, is published by Custom House in July 2021. His craft book Refuse to Be Done, a guide to novel writing, rewriting, and revision, will follow in early 2022 from Soho Press.
He is also the author of the novels Scrapper and In the House upon the Dirt between the Lake and the Woods, as well as the short story collection A Tree or a Person or a Wall, a non-fiction book about the classic video game Baldur's Gate II, and several other titles. His writing has appeared in The New York Times, Tin House, Conjunctions, Fairy Tale Review, American Short Fiction, and many other publications. A native of Michigan, he teaches creative writing at Arizona State University.
His novel In the House upon the Dirt between the Lake and the Woods was a finalist for the Young Lions Fiction Award and an Indies Choice Adult Book of the Year Honor Recipient, and was selected as the winner of the Paula Anderson Book Award, among other honors. Both In the House and Scrapper were selected by the Library of Michigan as Michigan Notable Books.