Reviewed by Kimberly Christensen
Middle grade fiction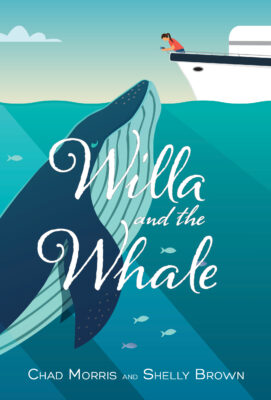 When Willa's dad takes her on a whale-watching trip to see the migrating humpbacks, an unexpected thing happens: A whale talks to her. The whale, called Meg, seems as surprised as Willa that the two can understand each other, but they form a fast friendship. Meg lets Willa know that she would be able to hear her over large distances and hopes that the two will be able to talk again from Willa's home on Tupkuk Island in Washington State.
Going to the beach to talk to Meg is just the excuse Willa needs to get out of the house. Although Tupkuk Island is where she was born, Willa had been living in Japan with her mom until a month ago. That's when her mom, a marine biologist, died unexpectedly and Willa had to move abruptly back to the U.S. While Willa had been living in Japan, her dad had remarried a woman with three kids, and then had a new baby. Her childhood home is no longer the quiet haven it used to be. Nothing is as it used to be.
As Willa navigates starting a new middle school, reconnecting with old friends, and sorting out her feelings about all the things that have changed, she turns to Meg. Willa had learned tons of marine biology at her mother's side and being near the ocean helps her feel connected to her mom. But Willa can't bring herself to talk about her mom, not even with Meg. Bringing up such a heavy topic feels awkward. Even as Meg reconnects with her old friend Marc, she struggles with how much to share about her mom.
Then a blue whale gets beached on the shore and Willa is the first person to find it. Because of she's spent so much timing learning about the ocean and its creatures, Willa knows just what to do: She contacts her family and Marc's to come help, she calls the authorities, and she tries to keep the whale wet. Despite her efforts, the whale dies. His death triggers an emotional breakdown in Willa. Luckily, it also provides an opening for Willa to begin to talk about her mother's death with her dad, Marc – and Meg.
Then Willa learns that the island authorities don't know how to dispose of the blue whale's corpse. There's talk of cutting it up or exploding it. Both ideas upset Willa, so she asks for Meg's help in figuring out a better solution. Meg suggests that she turn to her pod for assistance. Meg's advice causes Willa, who has felt alienated since she returned from Japan, to reconsider her isolation. She does have a pod: her new, larger family; her friend Marc and his family; her neighbor; and even her rival at school. Focusing on the problem of the blue whale allows Willa to ask for help from her pod. As she reestablishes her social connections, she synthesizes ideas from her pod into the perfect solution for disposing of the blue whale's body in a respectful manner.
By the time Meg has to leave for her annual migration, Willa has found other people to talk to and begun her healing journey, and the problem of the blue whale has been solved.
Willa and the Whale is a lovely story of brokenness and wholeness, disconnection and reconnection, and the nonlinear path of grief. Woven throughout is information about whales and other marine creatures, all of which is infused with a clear love and respect for the ocean. One theme that I particularly loved in this book was that people can look to nature for ideas about how to act. For example, Meg tells Willa how blue whales sing a song for their lost pod members, which helps Willa realize that she needs to find a way to articulate her loss. The book isn't didactic, but instead suggests that humans don't have to have all the answers themselves, that they can look to other creatures for ideas.
Willa and the Whale is a great book for children who are experiencing grief as well as children who know someone that is grieving. It's also perfect for those interested in learning more about the ocean and marine biology. Four of five stars.