Click here to return to the series
The global novel exists, not as a genre separated from and opposed to other kinds of fiction, but as a perspective that governs the interpretation of experience. In this way, it is faithful to the way the global is actually lived–not through the abolition of place, but as a theme by which place is mediated. Life lived here is experienced in its profound and often unsettling connections with life lived elsewhere, and everywhere. The local gains dignity, and significance, insofar as it can be seen as a part of a worldwide phenomenon.
-Adam Kirsch, The Global Novel: Writing the World in the 21st Century
---
About the Book
This book is told in beautiful, lyrical prose that swept me away … This book has great diverse representation and shows three girls standing up for what they believe in. This novel doesn't lament what we have lost as much as teach us to stand up and fight for what remains.
-Midnight Book Girl
I loved asking author Yaba Badoe questions about her novel Wolf Light (Zephyr, April 2019), a young-adult fantasy taking place in a few places in the world to which this World Eco-fiction series had not yet traveled. One thing she said in our chat reflected the reasons I began this spotlight series to begin with: "The climate crisis is global. To reflect on the scope of the challenge we're facing I wanted to create narrators from parts of the world I've visited that have fired my imagination. I chose a mountainous area of Gobi-Altai near the Gobi desert of Mongolia, the tropical forest region of Ghana in West Africa, and the stormy moors of Cornwall in England."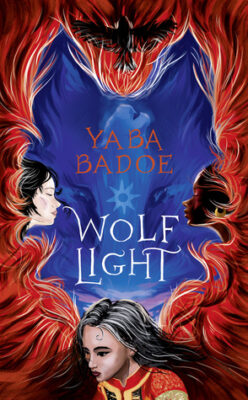 Born in wolf light, the magical dusk, in Mongolia, Ghana and Cornwall, Zula, Adoma and Linet are custodians of the sacred sites of their homelands. When copper miners plunder Zula's desert home in Gobi Altai, and Adoma's forest and river are polluted by gold prospectors, it is only a matter of time before the lake Linet guards with her life is also in jeopardy. How far will Zula, Adoma and Linet go to defend the well-being of their homes? And when all else fails, will they have the courage to summon the ancient power of their order, to make the landscape speak in a way that everyone will hear?
Rich in elemental magic, myth and the mysterious magical dusk, Wolf Light is Yaba Badoe's defiant call to protect our environment, to conserve our heritage and to hear the ancient power that connects us.
---
Chat with the Author
Mary: When did you first start writing, and what and who were your early inspirations?
Yaba: I've always loved listening to stories and reading them. So much so, that I started writing my own stories before I was ten. My grandmother, my mother's mother, was an early inspiration. Mame Soma used to tell me Ananse stories: Akan folktales of Anase, the spider-man, a cunning trickster who manages to wheedle his way out of trouble before hurtling towards his next adventure. I don't think I'd have survived leaving Ghana to go to prep school in the depths of the Devon countryside without stories. Immersing myself in Grimm's Fairy Stories, Greek Myths and tales of Robin Hood and his Merry Men saved my life.
Mary: How did Wolf Light come about? What sorts of things were you thinking about back then?
Yaba: The climate crisis has been on my mind for some time, but when I started making a documentary film in 2016 for Womin – a South African based NGO dedicated to social justice for African women impacted by mining and oil exploration—I saw first-hand how much rural women in Kwa Zulu Natal struggled to find water. Open caste coal mining uses huge amounts of water, and when there's an on-going drought at the same time, caring for family and livestock is almost impossible.  I'm greatly indebted to women whose stories I researched while filming in South Africa and Uganda.  But what finally compelled me to tell the stories in Wolf Light was seeing photographs of galamsey—illegal gold mining—in Ghana. My cousin, an environmentalist and research scientist, Dr (Mrs) Rose Emma Mamaa Ensua-Mensah showed me devastating images of ecocide: the poisoning and silting of rivers and the felling of trees for galamsey. If you think of the earth, as I do, as a living planet, seeing my cousin's photographs was like witnessing someone you love have their eyes gouged out. Dreadful. Absolutely dreadful. So dreadful that I felt I had to write a novel about what we're doing to the only home we have.
Mary: The story is a positive for girls rising to power while tackling environmental crises. It's wonderful to see this happening in reality as well as with literary heroes. Can you explain how you decided to create the characters Zula, Adoma, and Linet, who were all born in the Wolf Light?
Yaba: The climate crisis is global. To reflect on the scope of the challenge we're facing I wanted to create narrators from parts of the world I've visited that have fired my imagination. I chose a mountainous area of Gobi-Altai near the Gobi desert of Mongolia, the tropical forest region of Ghana in West Africa, and the stormy moors of Cornwall in England. Zula's father and grandmother are both shamans, Adoma's grandfather is a priest of African traditional religion, and Linnet's grandmother is a guardian of the Linet Lake on Bodmin moor. I hoped that by linking the girls to religious traditions that seek to care and partner the environment as opposed to dominating it, I could explore alternative ways of sharing the planet with our fellow animals.
Mary: It's wonderful to see these girls take to heart their sacred oaths to uphold their heritage, which includes their natural landscapes. In a world where authors are increasingly considering the natural world in their stories, can you talk more about these themes in your own fiction?
Yaba: I'd like to think that as a writer the world my characters inhabit—whether it's on land, in a city or underwater in lake or sea—is an important part of the story I'm telling. Is there light or shade in a scene? Is it wet or dry outside? Is there a whiff of cooking in the air or the scent of neem tree blossom?  Is the sun out? Will it be a full moon tonight? Does the character I'm writing about live in a desert or a forest? The natural world is a vital element in a writer's toolkit. It can help you create a context for your character's actions as well as generate tremendous drama. Is a storm brewing? Is the wind up? What effect is this having on trees and your character? For me, the challenge in writing is how best to capture the magic of the world we live in.
Mary: Have you read other recent novels that explore our natural world, and which ones engaged you? Is this something you foresee continuing to tackle in your own fiction?
Yaba: In the past couple of years, I've read two novels which have had a huge impact on me. Funnily enough they have the same title: The Wolf Road.
The first, a literary thriller by Beth Lewis, tells a compelling, visceral story that roams the vast landscape of post-apocalyptic British Colombia but remains close and claustrophobic in its drama. I literally wolfed the novel down, so taken was I by the narrator's voice. I shall never forget Elka and her story.
Richard Lambert's, The Wolf Road, is a gut-punch of a story about Lucas and his struggle to readjust to life in the Lake District with his estranged Nan after he loses his parents in a car accident. It's an astonishing exploration of love and grief and wildness rooted in the Cumbrian landscape, which heals Lucas as it reveals itself to him.
Mary: In your career, you're also a journalist and film-maker. I recently watched The Witches of Gambaga and felt that I learned quite a bit but was also horrified by what the women face. Your documentaries educate people on different facets of life in Africa. Do you have other such documentaries planned?
Yaba: I don't have any more documentaries planned at the moment as I'm concentrating on writing. But who knows how the future will unfold?
Mary: I am looking forward to all future work by you, and thank you so much for talking with Dragonfly today about your amazing Wolf Light and the inspirations to write it.
---
About the Author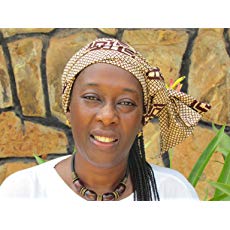 Yaba Badoe is an award-winning Ghanaian-British documentary filmmaker and writer. A graduate of King's College Cambridge, she has taught in Spain, Jamaica and Ghana. Her short stories for adults have been published in Critical Quarterly and in African Love Stories: An Anthology, edited by Ama Ata Aidoo. In 2014 Yaba was nominated for the Distinguished Woman of African Cinema award.
Her first novel, True Murder, was published by Jonathan Cape in 2009. Her debut YA novel, A Jigsaw of Fire and Stars, published by Zephyr, was shortlisted for the Branford Boase Award 2018 and has been nominated for the 2019 Carnegie Medal. Yaba is based in London.