Author: © Virginia Arthur
Publication Date: September 20, 2018
Ordering: Barnes & Noble, Kobo, Amazon
Social Media: Author's website, Goodreads
---
Excerpts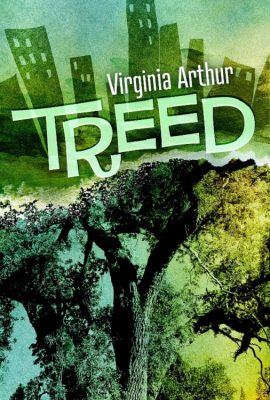 Wiping tears off her face, she returned to the hotel where an envelope from Millicent was waiting for her. Once in her room, she tossed the envelope on the chair and gave way to the bed. She stared at the ceiling. It had not even been 24 hours; there was still time. She called Millicent's cell phone. She left a message she was returning to Santa Barbara and to send any final paperwork to her address there, most importantly, the title.
The next morning she drove past the tree, a stone of dread in her gut. What if Tamara was right? No, she was the owner now. No one could legally touch the land, the tree, Millicent would see to that.
She was grateful for the long drive home even as her cell was alerting her she had messages. She turned it off. Thoughts of the tree were now taking up all the space in her mind; space previously taken up by grief and loneliness was now replaced with "what the hell have I done?" Which was better?
"What the fuck?" she said out loud, surprising herself because she rarely if ever used this word. "What do I do?" she asked no one. Fence it? Cut the kids out? Where else would they 'hang out'? In the parking lots of their apartment complexes, the strip malls, the drugstores, behind their computers? There was no place for them. What about Tamara's grandfather? What would he say about cutting the kids out, off? "Make it into a park" is what Millicent said. What about liability? What if something happened? This is why people fence land off from other people. Would the insurance company force her to do this? Obviously the little old lady that owned it never did…Millicent knew all about these things. Millicent would guide her.
Chapter 3
"I don't know," the professional young woman, a Planner I, said, pushing her ergonomically designed wheeled office chair away from her cubicle desk with her foot, the chair almost tipping completely back until she caught it just in time.
"Sorry, my chair almost dumped me out. What? Oh, yeah. Some old lady bought it I guess; bought it out from under them. Honestly, I don't really care. I got assigned the project and, well, whatever. Pain in my ass. Now they all want a public meeting. I guess I have to invite the old lady since she is the owner now. They want answers. I don't know if she will come or not but I told them I would try to arrange something." Pause. "No. They don't care about the tree. They want their Squirrel-Mart. I don't know if the lady bought it to crank-up the price and sell it back to Squirrel-Mart or what. I don't know why she bought it." Pause. "Yeah, it was Bock Realty. Yeah, it's Tank." Pause. "I don't know and I don't really care. I'm just waiting until this weekend when Josh and I can take off for Mendocino. GOD, I need a break."
She contemplated putting her feet on the desk like her boss, a Senior Planner III, did; her boss was out of the office. Then again, she was probably too new. It was too soon. After all, she was just a Planner I.
Once home, Maybelline brought in her suitcases, bags. She threw the envelope from Millicent on her bed and picked up her land line phone. The two of them beckoned–the landline was beeping she had messages, her cell phone was singing. Millicent again. She would listen later–tomorrow. She poured herself a glass of wine. She grabbed a "100% Natural and Organic" frozen lasagna dinner out of the freezer and tossed it into the microwave. While it was getting beamed, she tended to her plants, inside and out, her hummingbird feeders.  At least everything at home was fine. Her duplex neighbor, a 40-something commercial airline pilot, of course handsome as hell, was 35,000 feet in the air somewhere. Normally she would feed his cat but had bowed out due to her "sentimental journey". While she ate dinner out of the "100 % recyclable" cardboard container, she sorted through her mail, mostly ads for hearing aids, scooters, "less intrusive catheter bags"; she threw it all into the recycle bin. Moving outside to the covered part of her back patio, she positioned herself on a comfortable flowery chaise lounge where she could watch the hummingbirds fight for nectar space. She sat back, enjoyed her wine, and thought about her husband and the dog.
"I need that paperwork wrapped up," Millicent's message crackled into Maybelline's ear the next morning while Maybelline stared at the envelope sitting on her dresser. Hitting delete, she slammed the phone down and grabbed the envelope. Still in her robe, she sighed, surrendering to the kitchen table. Without reading any of it, she signed and initialed everywhere the little stickie arrows told her to. She shoved all of it into the postage-paid envelope Millicent provided. Accompanied by the word "shit", she put it in her mailbox by the front door for pick up. Was it too early for a glass of wine, she wondered? Lord, why was she even thinking this way at 11 a.m.? Disturbed, she decided to go for a walk.
She continued to ignore the calls and emails from Millicent. After a few days, they stopped, signaling to Maybelline that Millicent got the paperwork. She was restless so packed up her car and headed out to a "Senior Adventure" weekend canoe trip at a local lake. She'd be back on Sunday. She'd call Millicent Sunday night.
"I'm thinking another week until you get the title. I need you to know there's been a fuss. Do you read the Santa Rosa papers, say online, at all?"
"No. Tell me." Maybelline released a downhill sigh. "Just tell me."
"The locals want a meeting, want to know what you're going to do."
"Do with what?"
"THE LAND, Maybelline. What the hell do you think?"
"Why do they care? Why do I have explain to any–"
"The county will be getting in touch. Just see what they say. I told you there was some interest–"
"Interest?"
"Maybe they will like a park instead." Millicent launched into a coughing spasm just as Maybelline was imploring, "instead of WHAT?"
Millicent forced out, "ju–cough—hack–st wait. They'll–hack—cough—disgusting–clearing–of–phlegm–from–lungs–sound–get in touch. I've got to go." Then she hung up.
The next day, the preordained supplication arrived in the mail:
"The concerned citizens of Sonoma County, particularly the neighborhoods of Yerba Fontana and Oak Springs, would appreciate a public meeting regarding the new owner's plans".
The county was requesting permission to put her on the agenda for their monthly "town hall" meeting. This was no doubt Millicent's way of telling her, rewarding her for saving the land and the tree. She was touched. They probably wanted to thank her though she still wasn't sure what she was going to do with the land. A park, yes, but Millicent had set her to thinking about liabilities, insurance–the way people can be these days; but they were already all over the land! What would be different? She would have to clean it up. Would she have to fence it? What about the kids? She would ask them what she should do, involve them. There was a chance she could even revive, inspire the whole community. The county might even be planning some kind of ceremony to thank her. Maybe they would even ask her to run for office. She walked around twisting her hands in an anticipatory tizzy.
The letter instructed her to contact "Ms. Katrina Foulip, Planner I". It was signed by a Planner III. Riding on a warm sense of gratitude, even reverence for what she was about to do, she called Ms. Katrina Foulip, Planner I, right away. Ms. Foulip was "away" from her desk so Maybelline left a message. An hour or so later, Ms. Foulip was still "away" from her desk. She continued to be "away" from her desk until around 4:00 when she answered her phone. Sounding very put-out (which confused Maybelline), Ms. Foulip scheduled the meeting for Thursday of the following week at 1:00 p.m. Maybelline then called Millicent with the news. Millicent would try to be there if she could though she was feeling worse.
Maybelline spent the next few days grappling with the responsibility, the magnitude! She had never done anything like this before. How does someone accept the appreciation and gratitude of an entire community? Would they expect her to make a speech? Suggest they name the park after, heaven forbid, her? "Thank you for saving our tree!" they would proclaim. Oh if only Jay could see her now; maybe he can, she thought, inspired.
She began drafting her little speech when the thought of background music came to mind. She could bring her portable CD player. Perhaps something by John Denver, no, not Rocky Mountain High but maybe Sunshine on My Shoulder, I Am the Eagle? She deliberated between a poem by Frost or something by Whitman. It morphed into an hour+ spiel. She would have to cut it down. She paced back and forth stopping only to water a few plants and stare out the window. Her neighbor was home. She watched his handsome ass get something out of the trunk of his handsome car. She threw John Denver over in favor of something far more appropriate–Joni Mitchell's Big Yellow Taxi. Maybe she would hand out lyric sheets and everyone could sing along. Trying to sing like Joni, she sang a little of the song but it came out crooked, squeaky and not in a Joni Mitchell way, causing her to burst out laughing. It felt so good to laugh, she thought. So she did it again.
What to wear to the founding of a new park that includes the saving of a 300-year old valley oak? She went shopping. A khaki "safari" skirt with side-pockets seemed fitting. After searching specifically for a blouse with trees on it, she settled on a white blouse with multi-colored flowers arranged in a kind of paisley design. It was very pretty. Admiring herself in the dressing room mirror, she gandered she looked the picture of Jane Goodall in her new outfit, feeling in one moment a bit silly, in another, very important.
It had been such a long time since she had done anything like this–indulged. Mostly she lived a quiet if not lonely life on her side of the duplex, a typical life. She spent her time reading, listening to music, container gardening, watching her hummingbirds; she took in a little television (the Hallmark Channel, PBS, the news). She didn't go to church anymore (Unitarian) because she was coming to the conclusion she didn't really like people so why be around them if you don't have to? She did her time helping Jay out with his business. Some of his customers were such grumps. Husband/pet-less, she could travel, take off to exotic places, like Santa Rosa, California. She wondered what her life would be like if she and Jay had kids. Her regret about not having a kid was a lot like a hot flash. She would notice it coming on, wait for it to move through her then fade away; it always faded away. The world was on the wrong track anyway. Now it was all about smashing your face into a screen. She figured someday faces would be surgically replaced by screens, a possible upside being you could  turn any one of them off. Humans hated themselves, always trying to eliminate the imperfection and messiness of being human which led to constant exhaustion and frustration, never any introspection, redirection. She could have ended up like Millicent, sacrificed it all for the kids, and now Millicent was sick, the kids not all that grateful. Would they offer to take her to Paris? Did they ever? Maybe she could take Millicent to Paris; but Millicent probably couldn't go now…
That she owned the land and the tree and soon would face a room full of grateful citizens was sinking in. She couldn't sleep. Well before Thursday she was packed and ready to go. She had cut her speech or what she was now calling "an inspirational call to action" (after hearing this phrase on the radio) to 30 minutes complete with Joni Mitchell who would serenade in the background. If they all started singing with the music, she would just stop talking, turn the music up and let 'em at it. Hopefully things would not get out of hand. There would be cheering, maybe even tears. She stuffed tissues in her purse, adding in a few more to hand out. She also took a few packages of gum out of the kitchen drawer to hand out, then thought again. Gum? Why in the hell would she take gum? "You're welcome. Now would anyone like some gum?" She admonished herself yet again for her silliness. She felt her age. This isn't what she had planned so how did it get to this? She was healthy, well-off, retired. Why wasn't she sitting on a beach in Maui, or taking ballroom dancing, Thai cooking, knitting, anything but creating a new park for a big tree? Constantly vacillating between feelings of anger and gratefulness toward Millicent, she knew this was more about Millicent than her. Millicent wanted this. So why didn't Millicent just buy the damn land? At that thought, the phone rang. The dentist's office. A diversion. Yes, she would take the earlier appointment that day.
Chapter 4
Giving in to her excitement, anxiety, she left a day early. She was staying at the same hotel as before and as  expected, a message was waiting for her from Millicent, "call me before you go to the meeting. It's important". Maybelline engaged in the phone tag and left Millicent a message but by noon the next day, just one hour before the public meeting, there was still no word from her. Maybelline called again. By 12:30 she was on her way to the county. Too busy rehearsing her "call to action" she got lost, arriving fifteen minutes late.
Flustered and irritated with herself for being late, little boom box in her hand, tote bag over her shoulder (carrying her speech, lyric sheets, tissues, and yes, gum), she shoehorned herself into a seat five rows back from the front. Within a few seconds of sitting down, she was struck dumb. She would stay dumb throughout…
The room was full of mostly fat old white people, outside of fat, people she looked very similar to. Where was Tamara? Bojangles (or whatever it was)? The kids from the land? Who were these people and why were they so angry?
"Well? Is she here yet?" a dumpling-shaped senior citizen with a bald spot on the back of her head asked a sharply dressed young woman standing in front of them. The young woman, sporting closely cropped black hair and very stylish zebra-striped glasses, wearing a sharp black blazer and skirt, the skirt a little too short, seemed a bit overdone considering the neighborhood and clientele.
"I've only spoken to her on the phone," the stylish young woman that Maybelline deigned to be Ms. Katrina Foulip, Planner I, replied.
"Only spoken to her on the phone? What the hell is THAT?" answered old baldy. With that there was much muttering and complaining by the others in the room.
After Ms. Katrina Foulip, Planner I, got them quiet, she called out, "is Maybelline Emmons here? Mrs. Emmons?"
Maybelline stayed silent mostly because she was still struck dumb and her mouth was still hanging open. Somebody sang out, "Maybelline, why can't cha' be true?" People laughed.
"Apparently, she's not here. I can still try to inform you about what we know: Mrs. Emmons now owns the land, not Squirrel-Mart."
"How is that even possible?" a pear-shaped old man wearing a fedora bellowed out. "She bought it from Squirrel-Mart? They backed out?"
"We don't exactly know, uhm, only that Squirrel-Mart did not yet own the land. The deal was not complete. Apparently they didn't know there was another offer. They were just hours away from making an offer, if the information we have is correct."
"She bought it right out from under them!" another old woman with short curly gray hair in a short-sleeved purple polyester button-down shirt yelled.
"How is that even possible?" yelled the pear-shaped old man in the fedora.
"I will still have to drive 45 minutes to get my prescription and I don't know how long I will even be able to keep driving," somebody else in that same demographic griped.
"We want our Squirrel-Mart!" yelled baldy. Many joined in. Maybelline felt sick. She looked around for the nearest exit when the doors to the chamber opened and Millicent appeared with her little wheeled oxygen cart, one of the wheels squeaking as she walked down the main aisle. She looked around, made eye contact with Maybelline, then started in.
"You sons a' bitches!" she yelled out. They gasped. "You didn't want a Squirrel-Mart in YOUR OWN neighborhood a couple years ago but you're all ready to drop it into someone else's neighborhood without a care. Nothing's left of the old ranch anymore but that two-acre piece with that big old beautiful oak tree on it but you don't care when it's not your neighborhood. You should be ashamed of yourselves, all of you," and with that, she launched into a horrendous coughing fit swatting and cussing at the people who tried to help her sit down. After placing the oxygen mask over her face, she finally settled into a seat on the edge of the aisle one row behind Maybelline. The whole place went quiet. Maybelline's mouth was still open and now she was white as a sheet.
The silence was broken when a 50-something man of quite robust 'd.b.h.' slowly stood up and after experimenting with the best commanding pose, finally settled on straddling his trunk-like legs a little more than shoulder width after which he ceremoniously crossed his rotund branch-like arms across his chest. Everyone immediately got quiet. After clearing his throat, apparently to add to the effect, he spoke.
"Y'all know what a "C" is. The letter "C"?" he asked in a sanctimonious manner. In keeping with his physiognomy, his voice was booming. Everybody nodded. "Okay then. In THIS case." He stopped to look around the room for effect. "In THIS case," he repeated only this time in a near whisper. "In THIS case," he repeated again at full volume, someone carping, "just get on with it Tank". He raised his hand for them to stop. "It stands for COM–MER–CIAL. C-O-M-M-E-R-C-I-A-L," he spelled out. Some grumbling broke out. He held his hand up again to quiet everybody–Moses had something to say about the promise land. "That lot was rezoned what, three years ago?" he asked glancing over at Ms. Foulip who was looking down at her foot as she twisted it back and forth. Recognizing he wouldn't get much from the new Planner I, he went on. "I think it was about three years ago it was zoned commercial meaning the lot has already been approved for development MEANING approval to cut down the tree has been issued." Everyone then looked towards Ms. Foulip for confirmation, agreement, anything, but she was still on the planet Zortar. The floor was his so he continued. "The tree takes up most of that lot so you can't develop unless you cut it down. It's old anyway, probably dying. The damn thing is surrounded by development." He paused. "What I am saying is the decision was made years ago. The tree IS getting cut down and soon. We got the rights to it. We got a signed contract for the wood and it's coming down, say what you will."
"That tree is a landmark tree protected by city and county ordinances. It's 300 years old. We preserve old trees because they are genetically superior. That tree has survived every and anything that has happened to it–for 300 years! NO ONE WILL BE TOUCHING THAT TREE! We will take up residence!" exploded out of the seat next to Maybelline. Startled, she looked to see from what holy vessel it emanated only to see a skinny yet attractive young man with a long blonde braid down his back, colorful glass beads braided within it.
"Tank" stood up immediately and faced him. The braided man didn't flinch. Everyone got quiet. You could have heard an acorn drop.
"Now don't cha' just love it when people like that show up?" He paused while a low rumble made its way through the room. "He doesn't live here. I don't even need to ask him because I just know. Where was he when we were going through the pro–cess those years ago, when the time to speak-up about the tree was BACK THEN? Where was he? In thinking about it, the approvals to cut that tree down have been issued for years. We could have, should have cut it down a long time ago. Second, to cut it down now requires something called miti–GA–tion meaning we have to plant hundreds maybe thousands of acorns to make up for it; third of all, that old tree is a fire hazard. Those branches, almost as big around as me, spread out in every direction and can transport a fire to all your apartment buildings like a charge to gun powder. Fourth of all, it's surrounded on all sides by development. The old ranch is looonnnggg gone. It's called infill now so you can't scream ordinances or anything else because the process is DONE."
"Is that true?" braided man demanded from the Planner I, still so busy looking down at her new shoes that looked so very chic with her black stockings she didn't really hear the whole thing. Startled, she looked up and answered a weak, "yes", so weak that mumbles went around if she actually even knew what she was "yes-ing". Braided man asked her again, this time calling her out.
"Ms…ah…Planner?"
"Planner I," some one corrected.
"Ms. Planner I, is what he said true?"
Finally catching up with things, she clicked her tongue and looked at Tank.
"I don't think the mitigation is to plant "hundreds if not thousands of acorns", isn't that what you said Mr. Darden? It's more like 20 or something with a success criteria of a minimum of 50% which would be like ten have to survive or around that; annnnddd' I'm pretty sure removal of the tree is contingent on proof of timber rights. You've provided this already Mr. Darden, correct?"
"What the hell is a "success criteria"?" somebody asked.
"Shhh," the braided man shushed. "Answer the question Mr. Darden. Do you have the legal paperwork proving you have the timber rights including egress and ingress?"
At that, Tank released a scoff and shook his head. "Whatdoyou' think?" he bellowed to the room.
"YES OR NO?" braided man yelled.
"That's just a stupid goddamned question," Tank said shaking his head in what was meant to pass for disgust.
Making eye contact with Maybelline, Millicent stood up and announced, "that's it. Maybelline, let's go."
With that, 67 pairs of eyes locked on to Maybelline who finally closed her mouth as she got up and filed past everyone in her row, trying hard not to let her little boom box bang against any knees, the background music in this case a chorus of gasps, jeers, ridicule, comments…
"Jesus, what's with the boom box?"
"She's been here the whole time!" someone yelled.
"Deception! Obviously it's something she's good at!" another voice chimed.
"Hurry up," Millicent demanded, sequestering Maybelline from the devouring herd. "Fuck all these assholes."
"And take your tree-hugger son with you!" Tank hollered. "And just to let you know, I love hunting, especially hippie birds. I'm real good shootin' 'em out of trees."
Maybelline's mouth once again went agape as she struggled, tried to answer "he's not my son," but nothing would come out.
"Mom!" the braided man yelled, rushing along behind her. Now feeling possibly on the verge of insanity, she turned her head and looked at him in horror while Millicent once again commanded, "let's go. I don't feel so good."
The three of them filed out leaving all the potential new Squirrel-Mart customers disappointed, now fully within the very incapable hands of the Planner I.
Millicent was very familiar with the sensation of fire, heat, smoke in and on her body per smoking for 50 of her 78 years so she could feel Maybelline's eyes burning through the back of her withered frame. Once outside, Maybelline found her voice.
"Squirrel-Mart?" Maybelline would have screamed but she couldn't get any air in her lungs since she was nearly hyperventilating, so it came out a little too breathy. It crossed her mind to ask for some of Millicent's oxygen.
"Yes, Squirrel-Mart," Millicent could also only choke out but for a different soon to be fatal reason.
Confused yet fascinated, Maybelline's 'son' stood by and watched.
"The day you called me, when I said–cough–I was just covering the phone to get a call for my daughter-in-law because she was about to get an offer for her first big commercial sale–cough."
"Oh my God," Maybelline gasped.
"Yes, YES–cough–how in the hell does a–cough–74-year old woman stay so–cough, cough–damned–cough–NAIVE? I swear to God Maybelline."
Millicent then went into a full-blown hack, inching over to an ornamental shrub where she coughed up a ball of blood and mucus. Worried she was going to collapse into the landscaping, she grabbed a hold of the branches. There was blood and mucus from her lips to the bottom of her chin. Maybelline quickly found a purpose for all the tissues in her purse while her 'son' held Millicent's arm.
"But why?" Maybelline implored, gently wiping the excretions off Millicent's face. "We need to get you to a hospital," Maybelline said, swallowing tears. Not able to control herself, she blurted-out "what about the old woman?"
"Goddamn-it Maybelline, the "old woman" is–cough—ME," Millicent hacked back at her, blood and spit flying off her lips landing on Maybelline's pretty new blouse. "The land was MINE. Why do you think I left so much of the paperwork blank, said I'd fill it in later?" She coughed while Maybelline's 'son' held one arm and Maybelline held the other. Shaking and swaying, she continued, "I hung on to the land, the last acres of the ranch, as long as I could then realized they would just sell it off after I died anyway, and you've met HER. She could care less. I know it was tearing Jim up so I caved."
"Oh Millicent," Maybelline sighed, "Why didn't you just tell me?"
"Sure. Just what you say to an old friend you haven't seen for 40 years–nice to see you now sign these papers to buy this land real quick–cough–because I'm buying it out from under my own son and his wife. Yeah, I'm screwing the family and the realty company we own together but never mind all that, just sign here! That would have gone over great. What would you have thought? Would you have done it?"
Maybelline bit her lip.
"Exactly. You were always the nicer of the two of us. I was always the bitch. I knew you would be too conflicted to move on it and anyway Maybell, a dying woman doesn't have time for diplomacy."
"We're all dying, Millicent," Maybelline said, further inflaming Millicent.
"God-damn it Maybelline," Millicent coughed-out.
"And they know? Your son and Laura, that you sold it to me?"
"Of course they know. Everybody knows. I mean, we just came from a god-damn public meeting or whatever the hell that charade was."
This explained the curt responses from Laura when Maybelline would call the realty office. This also explained why Millicent told Maybelline she never went to the office anymore, to always call her cell. She thought she was imagining…how rude Laura was on the phone but no…
"And that horrible man who said he was going to cut the tree down, has the rights?" Maybelline asked twisting her tissue into a very tight coil.
"Oh bullshit. That's Tank. He's talking out' his ass. Squirrel-Mart called him to cut it down and all of a sudden he claims he has the timber rights to do it. Deed doesn't say a damn thing about timber rights."
"You know that for sure Millicent? You read it?"
Millicent's face became pinched, tight.
"Millicent?" Maybelline pressed again.
"Yes, of course I read it, admittedly years ago, not recently. I don't recall anything about timber rights in the paperwork you just signed."
"That doesn't mean they don't have the rights to–" Maybelline's 'son' started to explain, forcing his way into the conversation until Millicent cut him off.
"That family destroys the environment for a living, ran a logging operation, mined, anything they could destroy for money, they did. Still do when they can. He isn't going to get to cut his tree down so he's mad. Anyone who could even think about cutting–cough, cough–that mag–cough–nificent tree down must be some kind of barbarian."
"It's always about the money," Maybelline's 'son' added.
"Of course it's about the GOD-DAMNED money. Isn't everything?" Millicent hissed. "Still, you would think even a logger would see how–"  She launched into another fit.
They slowly walked her to a bench and gently lowered her into a sitting position, Maybelline once again insisting they needed to get her to a hospital.
"Hear me out. We have to have this conversation right now," Millicent forced out before placing the oxygen mask over her face. Maybelline tried to compose herself. Millicent removed the mask and continued. "Then you showed up. I'm not religious Maybell. Neither are you but I'd been praying, and then you showed up totally out of the blue. It was a sign. It was meant to be." Millicent grabbed and squeezed Maybelline's hand, hard, as tears dropped down Millicent's sallow cheeks, her eyes deep in their sockets, dark circles, shadows underneath. Maybelline hugged her, shocked by how thin she was, letting her go so she could launch into another coughing spell.
"I'll watch her while you get your car," Maybelline's 'son' instructed. When Maybelline suggested calling 911 instead because neither she nor 'her son' knew where the hospital was, Millicent adamantly shook her head and coughed-out "no ambulance. Hospital's only about ten minutes…"
In the midst of loading Millicent and her O2 tank into the backseat of her Jeep, Maybelline found a second to ask her 'son' what his name was. "Oak," he said affirmatively. "Oak," Maybelline repeated, catatonically nodding at him. She let it go at that. Was there a blanket, a pillow? Oak asked. Maybelline swiftly opened the back, withdrew a pillow, blanket, and handed them to him. He climbed into the backseat of the car and gently placed the pillow under Millicent's head, covering her with the blanket. Plopping down at the other end of the backseat, he lifted her feet and laid them in his lap. Removing her mask, she announced, "I'm dying", her tears rolling off the pillow onto the seat and floor of the car.
Maybelline and Oak sat with her at the hospital until Millicent's family began arriving, Jim and Laura ("HER"), others Maybelline didn't know. When Millicent began to cough up a lot of blood, all but the immediate family were told to leave. When Maybelline got up to leave, Millicent, now installed in a oxygen tent, waved her hand wildly for Maybelline to return. Millicent squeezed Maybelline's hand hard once again. Lifting a corner of the tent, Maybelline kissed Millicent on the cheek. She watched one of her tears drip into Millicent's mouth, Millicent's lips rimmed by a crust of dried blood, pink blood on her teeth. Millicent motioned Maybelline down; Maybelline placed her ear next to Millicent's lips. "I'm sorry to have done this to you," Millicent forced out, "but you appeared before," she paused, "today, and I'm going to die today. It's a miracle Maybell, a miracle." Both crying, Millicent gripped Maybelline's hand and continued, "it's for us Maybell. It's the last thing for us."
Within the hour, she was dead.