From Crooked Cat & Darkstroke Books:
Tipping Point
What would you risk to turn back the tide?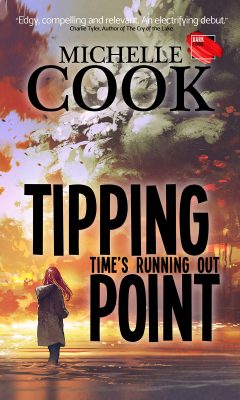 Essie Glass might have been a typical eighteen-year-old—had life not dealt her an early blow. Struggling to come to terms with the loss of her family in a terrorist attack, and left with nothing, Essie's not kidding herself about her world. She wants change, and she'll be honest about it, whatever the cost. From behind her keyboard, that is…
After all, this is England, 2035. Earth's climate continues its accelerating collapse. A powerful elite controls the disaster-weary population with propaganda, intimidation, and constant surveillance.
By all appearances, Alex Langford is a respected local businessman—until Essie discovers that he's a murderous conspirator who'd see the planet die for his fortune.
When their paths collide, Essie must decide: how much is she really willing to pay for her honesty?
Her choices, and the events she sets in motion, pit her against both enemies and supposed friends as she risks more than just her life to thwart them.
Will she succeed in revealing the truth? And will she survive?
Counterpoint
An explosive sequel to eco-thriller, Tipping Point
What is there left to lose?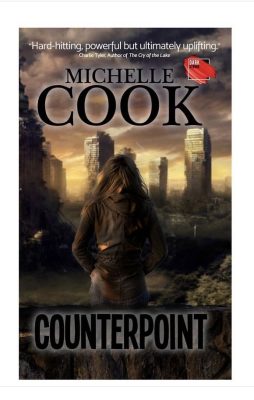 It's 31st October 2041 in England. On her twenty-fifth birthday, Essie Glass still grieves for her family, killed by a terrorist bomb when she was just sixteen. The signs of humanity and climate in decline are everywhere. Roads and communities crumble, floods and fires blight the landscape, and the sea reclaims the islands of the world. Unconcerned, the government tightens its grip on power with brazen propaganda and brutality.
Still, Essie has built a good life with Seth and their four-year-old daughter, Willow. If only she wasn't haunted by the events of six years ago, when Alex Langford, corrupt businessman-turned-Prime Minister, tried to kill her to conceal his conspiracy to suppress climate-saving technology.
Essie takes solace in her secret plot to build a new prototype. When tricked into revealing the scheme to powerful enemies, she is forced to abandon her cherished family and run for her life. Her flight drives her into the heart of a resistance movement she never knew existed.
Among the chaos, and in mortal danger, will Essie finally find hope for the future?