Click here to return to the series
The global novel exists, not as a genre separated from and opposed to other kinds of fiction, but as a perspective that governs the interpretation of experience. In this way, it is faithful to the way the global is actually lived–not through the abolition of place, but as a theme by which place is mediated. Life lived here is experienced in its profound and often unsettling connections with life lived elsewhere, and everywhere. The local gains dignity, and significance, insofar as it can be seen as a part of a worldwide phenomenon.
-Adam Kirsch, The Global Novel: Writing the World in the 21st Century
---


Today we travel to Borneo, to Sabah's Lost World, a wondrous and isolated basin that surprisingly has not been too explored nor exploited like many other areas in the world that contain such beauty and abundant natural resources, all within a montane ecosystem.  Nature explorers are allowed but must get advance permission from the Yayasan Sabah Group, a state-sanctioned organization in Malaysia, which designated the basin as a conservation area in 1981. Imagine rolling mountains and tall Agathis trees, white sands, and a jungle woodland snuggled beneath the place where the mist meets the sky.
Published in June 2018 (Austin Macauley), The Green Gold of Borneo, which author Emin Madi describes as docu-fiction, takes us there. Emin, a Dusun, was born in 1949 at Sinungkalangan, a remote village in Tambunan District, and grew up at Kampung Bayangan, Keningau, Sabah, East Malaysia. He served in the Malaysian Armed Forces for several years before quitting; he took up journalism in early '70s. He is still freelancing for the Malaysian National News Agency (BERNAMA). He and his wife, Siti Habsah Abdillah, and their two sons, Mohd Ezrie and Mohd Erwin, live in Kota Kinabalu, the state capital of Sabah. He is currently working on a book about his life in the army.
The docu-novel introduces a strong-willed journalist who fails to heed a Murut shaman's advice to conquer the unexplored, saucer-like forested mountain summit that sits in the middle of a 390 km remote nature paradise, better known as Maliau Basin (a.k.a. Sabah's Lost World), in the Eastern Sabah State of Malaysia Borneo. Before embarking on his quest, the journalist encounters unusual happenings and experiences strange events in unlikely situations. He suspects these weird incidents have something to do with his plan to conquer the summit. He's also suspicious that the Tingkaayoh have kept many secrets from him and dislikes the idea that anyone is about to reveal it to the world.
The book is a fast-paced read, which leaves the reader in suspense page after page. I caught a whiff of Socratic dialogue, somewhat similar to Daniel Quinn's My Ishmael. In The Green Gold of Borneo, a journalist named Erwin has interest in entering the basin–but he is also engaged by a shaman who has wisdom to share about the importance of spirituality and sacredness of the nature within the basin. One could call this a cautionary tale.
I talked with Emin about his book, which had put me under a spell. Imagine a faraway land, which seems too good to be true, and then imagine it really exists. Here's our conversation.
Mary: Can you tell us about your background and how it led to writing about the Maliau Basin?
Emin: The story incorporates historical and real life events, place and names of certain distinguished personalities, foreign and local institutions, environmental players, and environmentalists. The book also detailed the place and historical background of Maliau Basin Conservation Area (MBCA).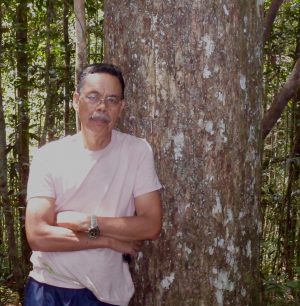 As a journalist, I had the opportunity to participate many resource and wildlife surveys inside Malaysian eastern state of Sabah's last remaining virgin rainforests. My first foray into environmental reporting was back in the 1980s, covering a scientific expedition in the now world renown Danum Valley Conservation Area in Lahad Datu, Sabah. The scientific research also involved foreign researchers, including from the Royal Society, UK.
Sabah has three premier conservation areas (totally protected areas): Danum Valley, Maliau Basin, and Imbak Canyon, which were established for the purpose of scientific research, recreation, protection of ecology, environment, and climactic conditions.
In 2013, I spent 10 days with a group of researchers at the 58,000-hectare MBCA, and that was where I got the idea to write an environmental-based docufiction or eco-fiction. I came to realize that natural wonders, and, in this case, the last remaining undisturbed wilderness in Sabah is a very interesting topic for creative writing.
I was even more excited after some expedition participants told me about mysterious events that took place around MBCA. So I used MBCA as a central theme for The Green Gold of Borneo and also based it on my own hands-on experiences working alongside scientists and researchers.
Being a journalist, I would say that environmental reporting was truly an awakening experience, because the survey and research works were meant to monitor potential threats to one of Southeast Asia's last remaining stronghold of virtually undisturbed rainforest.  In fact, the Danum Valley Conservation Area is one of the three leading rainforest research centers in the world, besides La Selva in Costa Rica and Baro Colorado Island in Panama.
My affinity for the forest must have come naturally, as my childhood upbringing is somewhat surrounded by great forest. My small thatched-roof house happened to be on the fringe of a vast virgin forest in the interior district of  Sabah (formerly a British colony), and almost every day I could hear birds singing, the calling of monkeys, and I watched all that crawls, leaps, and dances in its wake.  Unfortunately, the forest has since disappeared to make way for agricultural activities. However, I could never forget those wonderful feelings of traversing the peaceful and magical tranquility.
In hindsight, it was rather a misguided passion, because at that tender age I had no way of understanding the meaning of dipterocarp forest and ecosystem, let alone its great conservation importance.
Mary: What an amazing memory! What is "green gold"?
Emin: Green gold is a metaphor to describe the mindboggling wealth/value of the undisturbed natural resources (forest) in Sabah's most important natural heritage, i.e Maliau Basin, Danum Valley, and Imbak Canyon conservation areas.
From my own observations, despite realistic conservation efforts by the Malaysian Government, particularly the Sabah State Government, the fully protected forest would still be vulnerable, especially so if future political leaders or government of the day have little concern or passion for the natural environment, not to mention the threat from poachers, gaharu (Aquilaria or eaglewood) hunters, and illegal logging. The biggest threat would be destructive short-sighted political decisions, such as sacrificing the pristine jungle and wildlife habitat for "economic growth".
Sabah's wild is home to some 1,500 Borneo pygmy elephants, which are listed as endangered in the World Conservation Union (IUCN) Red Data Book.
Mary: Let's hope that no such destructive decisions happen in the area. Can you explain the spiritual beings in the book?
Emin: The shaman, spiritual beings, and certain characters are fictional and are based on my acquaintance with some local traditional healers, including the Murut people,  who are able to communicate with the spiritual beings.
Mary: You mentioned that the spiritual beings might feel the effect of global warming. Is the tie-in between spiritually and natural areas real or common in North Borneo?
Emin: These are purely imaginary and not in any way related to physical characters. I was simply assuming that the spiritual beings are also very disturbed about the destruction of their world (the forest) and therefore voiced out their grave concerns about its ecological impact, hence contributing to global warming. I used the spiritual beings as an advocate of a particular cause or idea. Betarak is probably a myth about a person performing a solitary animistic ritual, usually at a quiet and far away from human settlement, supposedly to gain supernatural power by submitting himself as 'students' to the spiritual beings.
Mary: Is it true that nobody has ever really explored Maliau Basin?
Emin: Some areas have been visited but not the highest part of the rim. It's difficult to say where the innermost part of the basin is, because as a basin shape area, the innermost part would probably be located on the valley floor or gorge of the river.
Dubbed as the "Lost World of Borneo," Maliau Basin is one area where all conditions for extremely rare human visitation combine. The MBCA Strategic Management Plan, in 2003-2013, did not specifically mentioned people having conquered Maliau Basin's highest part of the rim but stated that people have been to the basin often enough in the last few centuries for the local Tagal Murut to called it the "Land of Giant Staircase" from its step-like rivers and abundant cascading waterfalls. Maliau means bowl or basin. One reason why there is no official record of people reaching Maliu Basin's highest rim is because it is too rugged. The earliest reported sighting of Maliau Basin was in 1947 when a British pilot of a light aircraft, flying from the west coast of Sabah to Tawau, on the east coast, nearly crashed into the steep cliff rising 1,900 meters above the jungle floor.
It was reported that geological and soil survey teams passed nearby in 1960s and early 1970s. Only in 1972 did a Forestry Department team reach Lake Linumunsut at the foot of Gunung Lotung. None of these groups tried to enter the basin, and the first attempt of the forest botany group in 1976 failed in the near-vertical terrain of the northern rim. In 1980, a Sabah Museum team attempted the western rim but was hampered by malaria and lack of supplies.
Mary: This is all fascinating. Thank you so much, Emin, for bringing to light the delicate nature of this basin in Borneo. And thank you for the gracious time you extended in providing this interview.
The Green Gold of Borneo provides a fictional story surrounded by factual history and modern concerns about the basin; it's an interesting novel that takes us to a different world, but the potentiality for crisis is real, something that people everywhere might connect to. Nature Economy and People Connected says that the basin is an area under threat:
Scientific exploration has established Maliau as a global biodiversity hotspot, home to more than 270 bird species, many of which are IUCN Red Listed species. BirdLife International has designated it an Important Bird Area (IBA), marking its importance within global biodiversity conservation.

Besides this, vast stocks of carbon are stored in its trees and soil, which only underlines its environmental importance. Failing to secure this carbon reserve will further fuel climate change.
The article goes into concerns about deforestation and palm oil extraction in Borneo–something that the Maliau Basin has escaped so far. It is great to see that Yayasan Sabah and other organizations are protecting this land. With books such as Emin's, the forest–in myth, song, and nature–comes even more alive and important for those of us wishing to imagine it from afar.