Young Adult Fiction
Reviewed by Kimberly Christensen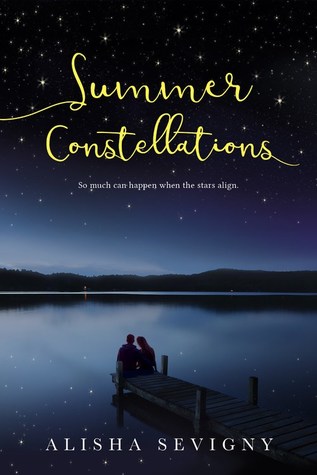 The summer after senior year of high school should be full of magic, but for Julia Ducharme, it's full of worry. Julia's younger brother Caleb is still convalescing from a serious illness, her former summer fling has a new girlfriend and to top it off, Julia's mom might be forced to sell the campground where their family lives and works.
With her best friend abroad for the summer, Julia has no one to talk to, so she seeks solace in the stars. Julia sets up her telescope at the edge of the lake and, while star-gazing, meets Nick – a handsome, guitar-playing guy who also happens to be her ex-boyfriend's cousin and the son of the real estate mogul who wants to buy the family campground.
Julia's feelings – and summer – quickly grow tangled. She sifts through her feelings for her ex as she explores her new relationship with Nick, and quickly realizes that she's scared to trust. While her trust issues are rooted in the father who abandoned her family, Julia's also struggling to accept Nick's attraction at face value because his dad wants to buy their land – and Julia is determined to find a different solution to the family's financial woes.
Nick is struggling with his own father, but for different reasons. A talented performer, Nick wants to pursue a career in music, while his father wants him to follow in the family real estate investment business. To prove that he's not acting on his father's behalf, Nick offers to help save the campground from his father's plan of developing it into a casino.
As the young people brainstorm ways to keep the campground in the family, they also fix-up Julia's grandfather's ramshackle cabin as a hideaway for Caleb. When Julia finds her grandfather's journal hidden in the cabin, new possibilities open for the preservation of the campground – but exploring her grandfather's ideas will require that the open herself to asking for help and to trusting those that are offering it to her.
Summer Constellations falls into the romance subgenre of young adult reading, which is not typically my area of interest. However, I was drawn to this book because woven among the predictable girl-thinks-she's-not-cute-but-the-hot-guy-likes-her-anyway plotline is a beautiful story about the importance of place. Julia has spent her whole life living among the beauty of lake, trees and stars, and the thought of moving away from it shakes her. Beyond wanting to fight for her family's ties to the place and their way of life, Julia is fighting to preserve the land itself, including the birds that nest there and the purity of the lake. Julia's fight doesn't grows out of a direct connection to this place and a deep love of it as a thing that is bigger and more important than the money people could make from developing it. So, even though the romance tropes were a bit tired, Julia's commitment to her family and her protectiveness of the land gave Summer Constellations a unique twist that kept me reading. 3.5 of 5 stars