About the Book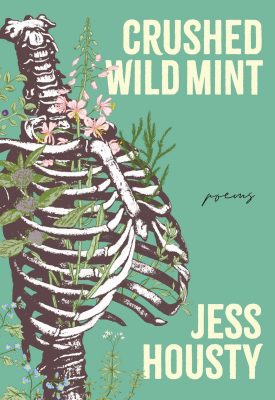 This month we travel back to Canada, to the beautiful temperate rainforest on British Columbia's west coast, to talk with Jess Housty, a writer and grassroots activist of Heiltsuk (Indigenous) and mixed settler heritage. They are based in their unceded ancestral territory within Bella Bella, B.C. We also introduce our first spotlight on a book of poems.
Crushed Wild Mint (Nightwood Editions, October 2023) is a collection of poems embodying land love and ancestral wisdom, deeply rooted to the poet's motherland and their experience as a parent, herbalist, and careful observer of the patterns and power of their territory. Jess Housty grapples with the natural and the supernatural, transformation and the hard work of living that our bodies are doing—held by mountains, by oceans, by ancestors and by the grief and love that come with communing.
Housty's poems are textural—blossoms, feathers, stubborn blots of snow—and reading them is a sensory offering that invites the reader's whole body to be transported in the experience. Their writing converses with mountains, animals and all our kin beyond the human realm as they sit beside their ancestors' bones and move throughout the geography of their homeland. Housty's exploration of history and futurity, ceremony and sexuality, grieving and thriving invites us to look both inward and outward to redefine our sense of community.
Through these poems we can explore living and loving as a practice, and placemaking as an essential part of exploring our humanity and relationality.
Chat with Jess
Mary: There's so much I want to ask, but first I'd like to thank you for answering these questions, and also acknowledge where I'm writing from: the ancestral home to the Mi'kmaq First Nations. But I lived in British Columbia before now, though have not been further north of Bella Coola, which is a beautiful place I'll forever treasure. I want to start with some of your background. Where did you grow up, and what are some of your favorite childhood memories?
Jess: Aíkuxvs w̓iúɫ! I was born and raised in my maternal ancestral homelands in Bella Bella (Heiltsuk territory), though I also have mixed settler roots on my father's side. It was a wild and peaceful place to grow up, and it feels important to raise my own kids here too. I grew up in a family that spent a lot of time out on the lands and waters, so being on the boat or in the forest felt like a second home to me. The result was that I grew up feeling deeply connected to my homelands with a strong sense of place.
Mary: Can you talk some about the Qqs (Eyes) Projects Society?
Jess: I serve my community as the Executive Director of Qqs (Eyes) Projects Society, which is a Heiltsuk charitable non-profit that's spent the past 25 years working with youth and families both in Bella Bella and out in our homelands on everything from cultural resurgence to environmental stewardship to food sovereignty and much more. It's incredibly rewarding work responding to community-identified needs and supporting my community to thrive!
Mary: That sounds fantastic and rewarding! I enjoyed the selected work found at your website. You share your memories, hopes, activism, and love for the land with writing. What led you to write your debut book, Crushed Wild Mint?
Jess: I've always quietly written poetry in the margins of my busy days, and it's been an important grounding practice for me throughout my life. When the opportunity arose to pull together a whole manuscript, it felt like an invitation to give myself some much-needed space to prioritize wellness and self-reflection. And that's one offering I hope people feel: that it can inspire similar moments and reflections for themselves as well.
Mary: What I got over and over when reading the book was a sense of respect, silence, awe, and playfulness we have in and of the natural world around us. Can you talk about the importance of living with and writing about these things?
Jess: I was blessed to grow up in a family and community that remain deeply interconnected with our lands and waters. That's my normal: daily commutes by boat, being out in the weather, knowing the land intimately, and understanding the lands and waters and animals as non-human relations. I know this isn't how everyone lives or can live, but this intimate connectedness is the backbone of my personal ethics around social and environmental justice, and I think we all have a responsibility to be informed advocates for the world around us. So it felt important to write my normal, to invite people in, in the hope that they'll build their own pathways to connection—and to advocacy.
Mary: In Hakai Magazine, in your article, "Thriving Together: Salmon, Berries, and People", you said, "Increasingly, I meet Western scientists who recognize the power of Indigenous knowledge systems: they factor this knowledge into their study designs, include Indigenous knowledge keepers on their field teams and academic papers, and have the humbleness to recognize the biases they bring to their work." Can you talk some about Indigenous knowledge systems and how they also make their way into your poetry?
Jess: It's a little bit hard for me to separate out because it's so intrinsic to the way I was raised and the culture I come from. But, essentially, I'm blessed to be part of a long legacy of interconnectedness between Heiltsuk people and Heiltsuk homelands. Our place-based sense of identity is rooted in relationships to what's around us, plants and animals, lands, and waters. We hold systems of knowledge that have been honed over millennia of interrelationship. And one of the ways that I codify and transmit the knowledge and values that underlie my sense of identity is through poetry!
Mary: So now that your book is out, have you been busy promoting it—and what a beautiful time of year to do that? How's that going?
Jess: It's been a vulnerable experience! Writing has always been a very solitary practice for me, and sharing deeply personal words has been an exercise in trust and humility. But it's also been a really wonderful opportunity to build community with strangers and connect with people who care deeply about land, culture, and relationships.
Mary: Is there anything else that you would like to add?
Jess: Just gratitude that people are willing to build a community around words!
Mary: Thanks so much, Jess! I really love this conversation and appreciate your time.
About the Author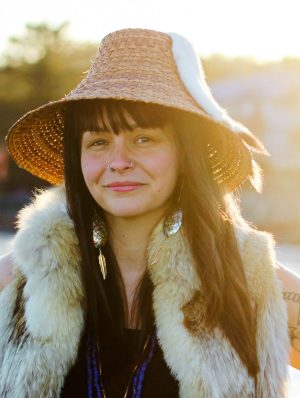 Jess Housty is a Haíɫzaqv parent, poet, and land-based educator living in their homelands and the community of Bella Bella, BC. They're the Executive Director of Qqs (Eyes) Projects Society, a Haíɫzaqv charitable non-profit focused on supporting our youth and families to thrive through community and cultural programming. They also work in community organizing, food systems resiliency, and decolonial philanthropy through a variety of consulting and voluntary positions within their community and in the wider world.