The Light in the Lake by Sarah R. Baughman (Little Brown, 2019)
Middle Grade Fiction
Review by Kimberly Christensen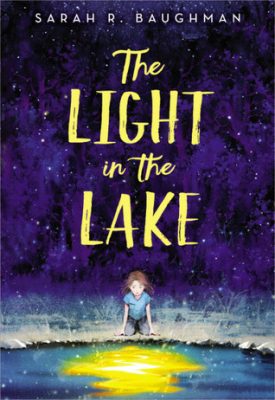 In rural Vermont, twins Addie and Amos lived at the edge of Maple Lake, a place that had been home to generations of their relatives. Everyone loved the lake, with its pristine, glacial beauty, its teeming fish, and its cool waters that were perfect for swimming. Then, Amos drowned in the lake and everything changed. When Addie's parents no longer want to visit the beach or go fishing from their boat, it's like Addie has lost two things – her brother and her favorite place in the world. 
Worse yet, Addie knows why Amos had been out on the lake, by himself, the day he died: It was because she hadn't believed him. Amos had said that he'd been seeing a mysterious glittering presence in the deep. When Addie had laughed at his belief in magic, Amos had started collecting evidence in a notebook in an attempt to convince her that he wasn't messing around. Addie's sure that he had been trying to collect more data points on the day he died. 
Burdened by her guilt, Addie takes up Amos' quest of examining the lake for a mysterious being. She joins a Young Scientist program which will take her out on the lake in order to research possible pollutants that are impacting the water quality. No one in her part of Vermont wants to believe that lake – with its deep, glacial waters – can be polluted, and her parents don't want her out on the lake because their fearful that she could drown too. But Addie's determined to do right by both Amos and the lake. With her new friend Tai, she collects evidence of pollutants and of Amos' mythical creature. As she wrestles with her developing sense of identity, Addie also drives her family to decide who they want to become in the wake of Amos' death. And once her research is complete, she spurs her community to decide who they want to become in the face of discomfiting scientific evidence. 
The Light in the Lake is a beautifully written, lyrical work that instills a love of place alongside love of family. The undercurrent of grief and loss is skillfully woven throughout the book as Addie, her parents and her extended family struggle to find their center after Amos' death. Baughman speaks eloquently to both the personal and communal aspects of grief and to the multitude of ways people express it. At the same time, she weaves in an interesting and more scientific story of how changing communities impact their environment, and the struggle to balance the needs of people alongside the needs of the places where they live. The story tackles thorny issues like that of "outsiders" vs. locals, the urbanization of rural places, and the impact of the local economy on both individuals and the land. 
I simply inhaled this book, falling in love with Addie and her inquisitive mind. Her growth in understanding the vital role of wonder in science reminded me of Arthur C. Clarke's assertion that "magic's just science that we don't understand yet." Although a sadness pervades the book – Amos' loss is fresh and palpable – the interweaving of the different storylines keeps the novel from becoming too sorrowful. Instead, its focus is on growth and healing, and the amazing resilience of both the human heart and the natural world. 5 of 5 stars.