Middle Grade Fiction
Reviewed by Kimberly Christensen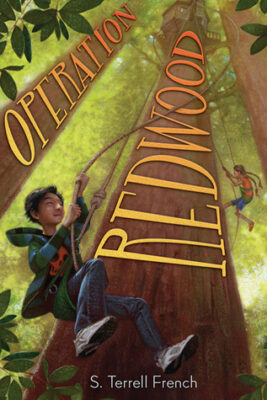 Shuffled off to his aunt and uncle's house in San Francisco while his mom takes a work assignment in China, everything looks bleak for 12-year-old Julian Carter-Li. No one besides his cousin and his best friend seem to care much about what happens to Julian, and he suspects that his aunt and uncle hate him. Then he intercepts an email that proves him right; his uncle has terrible things to say not just about him, but also his mother and his dead father. To make it worse, Julian learns that his aunt and uncle plan to ship him off to math camp all summer.
As Julian's staring at the email trying to figure out what to do next, another email comes in, this one accusing his Uncle Sibley of being the sort of terrible person who would chop down an old growth redwood forest. Julian forwards this message to his best friend Danny before deleting it from his uncle's account. Over the course of the next few weeks, Julian and Danny correspond with the email's sender Robin, a girl from Willits, California, who lives on a farm next door to the property in question. She educates them about the planned logging and asks them to help stop Sibley's plans.
Thus, the adventure of Julian's life begins. He fakes heading off to math camp, only to take the Greyhound to Willits, where he stays with Robin's family as a summer exchange student on the farm. By working side-by-side with Robin's family, Julian learns many sustainability skills, like small scale farming, woodworking, and trail building. He and Robin hike into the threatened forest as often as they are able to, brainstorming ideas–with Danny via email–for saving the redwoods and admiring an old treehouse that Robin's older brothers have promised to teach her how to climb into later in the summer.
Then Julian's deception is uncovered and his aunt shows up at the farm with threats of kidnapping charges for Robin's family. Julian is forced to return to San Francisco, worried that he has destroyed the relationship that he built with Robin's family. He's also worried that the logging project is going to continue as planned. But his best friend Danny refuses to give up, and so the three kids continue to research and plot. After a failed attempt at releasing a fake press release from Uncle Sibley's company and a show down with his uncle's family, Julian's grandmother takes him into her care. With her help and Robin's work behind the scenes, Julian and Danny are able to return to Robin's farm to put Operation Redwood into play.
With grit, optimism, and the secret treehouse, the kids force the planned logging of the redwoods into the spotlight, bringing activists and reporters to the land. When Julian's cousin contacts their shared grandmother, aka Sibley's mother, the momentum finally swings in their favor. Julian and his fellow operatives manage to prevent the clearcutting of the forest, while Julian learns that family doesn't have to just include blood relatives. He has the power to surround himself with people who love him and see the good in him.
Overall, Operation Redwood is an enjoyable read with lots of educational moments about sustainability that don't come across as didactic. It features kids who find their voices and willingness to speak out about the things they believe in, and models adults who support the children in exercising their activism. Up until the final scenes, the scenarios are believable and there are consequences for the children's oversights. However, the plot resolves with the help of a deus-ex-machina that makes the ending really unsatisfying. I would have liked a more realistic outcome, especially since the remainder of the book did a great job of exploring different avenues for protecting the redwoods and millionaire relatives are notoriously hard to come by.
One thing I really appreciated in Operation Redwood was the inclusion of Julia Butterfly Hill's work in saving the Headwaters Forest. This book would pair well with a study of real-life activism or her biography. Four of five stars.