Not a Drop to Drink by Mindy McGinnis
Young Adult Fiction
Reviewed by Kimberly Christensen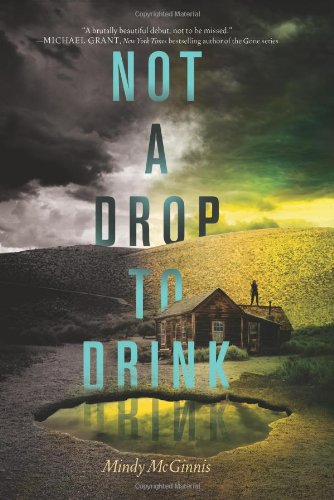 From the very first line, Mindy McGinnis sucks the reader into an apocalyptic world in which water–and its scarcity–determines every move made by sixteen-year-old Lynn and her mother Lauren, two women surviving in what's left of rural, dystopian Ohio. The women live alone, barricading themselves nightly into the basement of their family home, and spending the days purifying water to prevent a cholera outbreak like those that have plagued the city. They also defend their pond, killing anyone who tries to steal from their only source of water. Their water cannot be shared if they want to survive another year.
Lynn and Lauren live a completely isolated life, surviving on their hard work alone like a futuristic pioneer family all alone in the American West. McGinnis's world building in these early chapters is immersive, the sparseness of the landscape and the economy of emotion mirrored by her prose. She makes it easy for the reader to imagine themselves facing the hardships of this futuristic world where everything hinges on survival of the fittest and demands hypervigilance. The potential for violence lurks everywhere–even in the two encampments that the two women can see from their rooftops. Neighbors–except for Stebbs who has lived on the property next door for Lynn's whole life–are unwelcome. There is simply not enough water for everyone.
Then coyotes attack. Lynn, trying to protect her mother, accidentally shoots her and is suddenly orphaned in a harsh world with no one to rely on except herself. She has the resources to survive on her own, as Lauren taught her well. But when Stebbs approaches her with offers of an alliance, Lynn realizes she might not have to go it alone.
Job one is for Lynn to investigate the encampment of people who are living by the seasonal stream at the far boundary of her property. Stebbs, with his lame leg, stays back to guard the pond. Lynn's prepared to evict the trespassers by force. She's unprepared to find a family living there, including a young girl and her very ill, heavily pregnant mother. When the little girl's uncle, Eli, who is caring for her mother, implores Lynn to take the little girl for a while, Lynn agrees despite reservations. It's just what she needs, however, and soon caring for little Lucy helps Lynn face her grief over her mother's death.
Little by little, Lynn learns to trust outsiders as she befriends Stebbs and then Eli. But the Ohio winter and its hardships are coming, and Lucy's mother is due to give birth. Larger threats loom as well, like the marauders who steal from encampments and who threaten Lynn. As their raids become more brazen, Lynn, Stebbs and Eli plan a counterattack. In the fast-paced battle the ensues, Lynn's life is forever changed but surviving in the Ohio wilderness becomes a little bit easier.
Not a Drop to Drink is an engrossing read. The first two-thirds of the book are a gritty and somewhat slow-paced journey through the futuristic world of the book. The demands of physical survival give way to the emotional journey that Lynn takes from being cutoff from the rest of the world to tentatively building community with those around her. Her mother's outlook had been very black-and-white, and Lynn learns to navigate the shades of gray.
The book builds to a climactic confrontation with the group of marauders, who have stolen and intimidated their way into a black market scheme that threatens the well-being of all of the people living off the grid in rural Ohio. However, from this climax to the end of the book, events happen at a breakneck pace. While McGinnis adequately resolve her plot and subplots, there's a rushed quality about it that doesn't mesh with the slow unfolding of the first two-thirds of the book. I would have liked to see more of Lynn's emotional opening, and to have witnessed more of the juxtaposition between what her mother had told her of the outside world and her own experience of it.
Nonetheless, the world-building and themes in this book are superlative and I thoroughly enjoyed it. 4 of 5 stars.