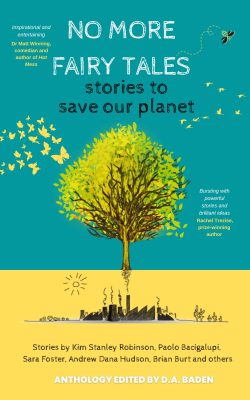 The Green Stories Project, in association with Herculean Climate Solutions, brought together sustainability experts and experienced writers, such as  Kim Stanley Robinson, Paolo Bacigalupi, Sara Foster, and others, to compile an anthology of 24 top climate solutions wrapped up in engaging stories. The anthology is a collection of inspiring, funny, dark, mysterious, tragic, romantic, dramatic, upbeat and fantastical short stories. Their aim is to inspire readers with positive visions of what a sustainable society might look like and how we might get there. The stories are diverse in style, ranging from whodunnits to sci-fi, romance to family drama, comedy to tragedy, and cover a range of solution types from high-tech to nature-based solutions, to systemic aspects relating to our culture and political economy.
We made these available at no cost to the thousands of delegates and attendees of COP27. The hope is they will be inspired by solutions in the stories and think 'I can make something like that happen in my country.' Each story has an associated webpage accessed via a QR code with more information on how we can achieve the climate solutions proposed.
Available free to COP27 delegates and on request, or buy eBook direct here. Paperback available now on order from your bookshop, via Amazon or direct from the publisher.