Same Sun Here
By Silas House and Neela Vaswani
Middle Grade Fiction
Review by Kimberly Christensen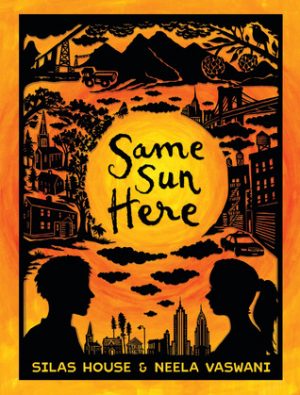 When middle schoolers River and Meena become penpals, the two students form a fast friendship. Meena recently immigrated to New York City from India, and lives in a small flat with her mother and brother. Her father's job takes him away from the family during the week. River lives with his mother and grandmother in Kentucky's coal country. Since the local mine downsized, his father has been working in Mississippi and returning only for holidays.
The two tweens bond over their common struggles while also sharing about the things that make them unique. Meena recounts her young childhood in the mountains of India with her grandmother. River shares his self-consciousness at having an Obama-voting grandmother in small town Kentucky, and how he doesn't feel like he quite fits in with the other boys on his basketball team. Both children love their respective mountains, and both are inspired by their respective grandmothers, which ties their arcs together nicely.
As their friendship grows, the teens disclose deeper challenges including Meena's fears around being an immigrant living in an illegal housing situation and the dangerous new mountaintop removal mining project that threatens River's home. The two friends offer support, ideas and encouragement to each other as each faces problems that endanger their family's stability and well-being.
Same Sun Here does a lovely job of bridging urban and rural life, native-born American with immigrant-American, and male-female friendship. It touches on many topics and themes that are increasingly relevant in today's America. However, it loses some of its punch because of the epistolary format. While Meena and River are sympathetic characters, their individual voices are weakened by the narrative voice, and they can slip into didacticism that feels too mature for middle grade. Three of five stars.