Click here to return to the series
The global novel exists, not as a genre separated from and opposed to other kinds of fiction, but as a perspective that governs the interpretation of experience. In this way, it is faithful to the way the global is actually lived–not through the abolition of place, but as a theme by which place is mediated. Life lived here is experienced in its profound and often unsettling connections with life lived elsewhere, and everywhere. The local gains dignity, and significance, insofar as it can be seen as a part of a worldwide phenomenon.
-Adam Kirsch, The Global Novel: Writing the World in the 21st Century
---
In August, I kicked off two parts of a feature that heads to Italy to talk with novelists there who tackle climate change and ecological themes in their fiction. Thanks to Antonia Santopietro for her collaboration on these features. Today we publish the second and final part of this feature. The authors provide insight to their localities, experience, and environmental issues, lifting our gaze to something outside our own back yards but perhaps reflecting on similar feelings that we all have. The fiction we concentrate on today takes place in the Northwest Passage, in the mythical world of the sirens beneath the ocean, and in the Italian Alps.
The authors we meet today are Maurizio Corrado, Laura Pugno, Claudio Morandini. I ask them each two questions: can they tell us something about their writing and most recent novels, and what it is like for them with the coronavirus pandemic happening? Thanks to Antonia for working with the authors and translating their answers.
---
Maurizio Corrado
My writing vision starts from the consideration of the Deep Time of our history as humans. We are the result of a very long process in which we appeared 300,000 years ago and then in the Neolithic, in 10,000 BC, became sedentary and invented the borders, the property, the house, the city, what we call civilization. Compared to Deep Time, our lives take place in the last five minutes. For the rest of our existence we lived outdoors, with rocks, water, air, and plants.
We are part of this, a tiny part, especially if we think that humans make up just 1/100,00 of the biomass on Earth. As long as we say "We and Nature," there will be no way to make that cognitive leap that can allow us to consider ourselves as a part of that hyperobject that we call Nature. There is no separation. There is no "We and Nature"; this is a dichotomy born with the Neolithic culture. It is necessary to overcome it. This is my vision, and it reflects on my narrative work that was already going in this direction intuitively, long before I got there with the study.
My last eco-novel is "Viaggio al polo"; it's based on from the true story of Captain Franklin's Arctic expedition, searching for the Northwest Passage. This story is inspired by the TV series The Terror, produced by Ridley Scott.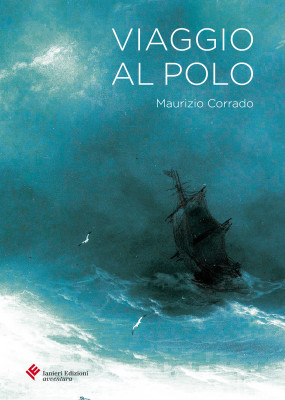 I immediately experienced this period of "forced staying home" as an extraordinary opportunity. Since I was at university, I have always been on the move. I have rarely spent two whole days in the same city, and staying at home for a good period of time was an absolute novelty for me. I find it curious to hear complaints like "house lockdown" from the same people who complained of being forced to go out to work.
This pandemic is only one of the Anthropocene scenarios in which we are immersed; it is not the first and will not be the last–it is only the most evident one. Climate change, ice melting, pollution, and ocean issues are concepts apparently far from our daily life. It's a punch right in the face that sooner or later we had to receive something that has woken up some, but I fear will leave many survivors to sleep peacefully.
I find it important for a writer to work on the imaginary of the Anthropocene as a whole. If you only work on the pandemic, you haven't understood that it is only one possible scenario. It is necessary to imagine a larger map on which we can move.
Bio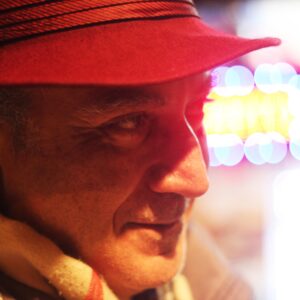 Maurizio Corrado is an architect and writer. He has studied the ecology of projects since the mid-nineties. He has worked for newspapers and television, organized exhibitions and cultural events, directed editorial services and magazines, and published essays on design and ecological architecture, fiction, and theater. He teaches at the University of Camerino, at the Academy of Fine Arts in Bologna and Verona. He is considered one of the leading Italian experts on the relationship between plants, architecture, and design.
---
Laura Pugno
Every writer, in my opinion, works on a relatively small number of personal obsessions, of which we may or may not be aware, and at times are just partially or intermittently aware. Fighting against an obsession, or bringing it forward into the light, can be a reason for writing; however, biographical reasons are not important. Some of my obsessions are on the border between humanity and nature, passionate strategies against loss and disappearance of what is loved, and the survival of love itself under extreme circumstances–taking on, at times, in order to survive, an almost unrecognizable form. A search for unity, a deep unity of Self with Self and Self with the World, above and beyond dualism–Heraclitus metamorphosing into Parmenides, and so on. Metamorphosis is at the core, our obsessions being in a process of constantly changing from one into another, which is what our environment and our bodies and minds do all the time around us and to us–metamorphosis being the real form of nature and of self.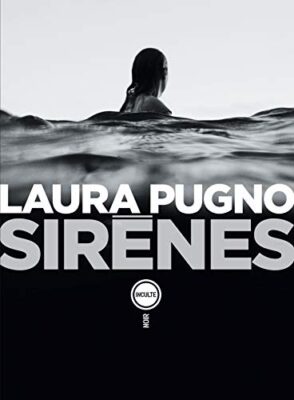 From time to time, a book can change its form, its substance, so while staying the same, it also becomes another book than the one we originally intended to write, as it happened with In territorio selvaggio, my first essay (Nottetempo 2018). A literary essay about the novel, it has been widely read as an environmental essay, which has been of extreme interest to me, since I could see new forces operating under the surface of my writing through new readings of it. In a sense, it is a proof of the deep unity, and the coincidence, between literature and the world, the literary world, and the world at large. Something similar happened to my first novel, Sirene (Einaudi 2007, Marsilio 2017, now translated into French by Marine Aubry-Morici, Sirènes, Inculte 2020). I wrote it in 2005 and originally published in 2007; however, since it come out again in 2017 (as Sirenes), in a world becoming more and more dystopian by the hour, it has, in turn, become a changeling, a novel becoming something each new day, while at the same time retaining its original, almost-radioactive, alien quality.
I spent confinement in a rather solitary and spacious place, a XVII Palace in the center of Madrid, which is the seat of the Italian Institute of Culture, where I both work–as the director–and live. I was, technically, in a foreign country, albeit one which is not foreign to me, since I spent the best part of almost 12 years in Spain. My husband, family, and friends were far away, and I could not travel to see them. I knew that, should something bad happen, I would not be able to reach them. So, as with many among us, I entered a sort of survival mode, not an altogether unknown feeling or state of mind. Marianne Moore said that the cure for loneliness is solitude, and this is what writing does to the writer. At times I wrote a few lines that had a sort of diary-like quality, but most of my writing time was spent on other preexisting projects. Spaces of writing that seemed closed to me opened suddenly, which is what the American poet Robert Duncan calls The Opening of the Field." Maybe it was my secluded state, or not. Writing and translating kept me centered, in another dimension, in another mental space, which was not the one I mentally and bodily inhabited in the rest of my waking  and sleeping hours.
Bio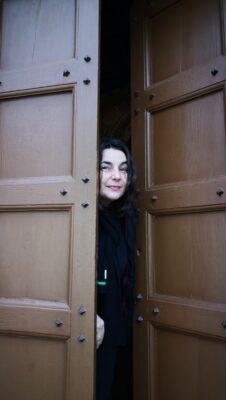 Laura Pugno was born in Rome in 1970. Poet, novelist, and essayist, since 2015 she has been the Director of the Italian Cultural Institute in Madrid. She has published poetry: Tennis (with prose by Giulio Mozzi, NEM, 2001), Il colore oro (with photos by Elio Mazzacane, Le Lettere, 2007), DNAct (ZONA, 2008), Gilgames (Transeuropa, 2009), La mente paesaggio (Perrone, 2010), Bianco (Nottetempo, 2016), I legni (Pordenonelegge, 2018), and L'alea (Perrone, 2019). She has also published novels: Sirene (Einaudi, 2007–Marsilio, 2017–Inculte (Paris), 2020, translation by Marine Aubry Morici), Quando verrai (minimum fax, 2009), Antartide (minimum fax, 2011), La caccia (Ponte alle Grazie, 2012), La ragazza selvaggia (Marsilio, 2016, Premio Campiello Selezione Letterati), La metà di bosco (Marsilio, 2016) and la raccolta Sleepwalking, Tredici racconti visionari (Sironi, 2002). Essays: In territorio selvaggio (Nottetempo, 2018) and Oracolo manuale per poete e poeti, with Giulio Mozzi (Sonzogno, 2020).
---
Claudio Morandini
Some years ago, when someone told me that in many scenes of my novels there was closed air, I obliged myself to accompany characters out from their rooms, en plein air: breeze was needed, light and movement, too! Life is not a sitcom (even in sitcoms, you can occasionally find outside scenes). It was a singular challenge to me, a discovery, too, about the multiple perspectives of the outside compared to monochrome of the inside. In a certain way, I forced myself to include nature in my pages, finding a style and a language to represent it. I had in mind what it should not be. For a long time I've assumed what it should instead be, stepping out by exclusion. (However, when I'm absent-minded, my characters return to hide in the penumbra of the rooms, attics, and cellars. When they have no houses they search for caves or dig a tunnel in the ground).
Mountains are present in my last novel "Gli oscillanti," where the protagonist is a young ethnomusicologist who has decided to conduct research on the ancient phenomenon of night songs by which the Crottardian shepherds converse mysteriously from one mountain to another.
I'm focusing on mountains more than nature in general. That's why otherwise I can't say where I could end up (on the Po River delta, or where I would set a story in a complete horizontal landscape). I'll start saying I'm aware that the mountain can exist without me: it would remain itself without us, and perhaps it does not even notice us. I love the mountains, from afar, and I respect the distance they impose upon us. I don't want to tame them, and I do not want to figure them out, but I don't want mislead myself in assuming that there is something to realize about them. What interests, intrigues, and disturbs me (and that sometimes I'm able to narrate too) is not what I see–the summit, the hill, the twist and turn of the paths–let's say the official nature of the mountain landscape, the aim to be achieved, the challenge, the effort–but what is outside my visual angle and which moves or lies around me. What escapes my senses, and how can I grasp it since I'm too small or humble? What's hidden and opaque about which I can only make hypotheses? This continuous feeling is even stronger in the mountains due to the accumulation of visual, olfactory, auditory, and tactile details–and due to the deceiving perspectives. I'd like to catch everything, but I cannot. I'd like to get everywhere, but I cannot: these feelings of inadequacy and frustration, even when not dramatic, are a positive thing when you're about to tell of nature without reducing it just to a landscape.
Maybe this explains why my books are teeming with remnants of nature: rock rubble, debris, fallen branches, crumbs, little bones, rot mushrooms, cobwebs, foliage, insects, empty snail shells. I'd like to tell about the mountains that heal our pains, and which recovers spaces colonized and abandoned by humans, about lodges in ancient grazing lands, still full of tools which we are not able to use, the carriage ways invaded by vegetation, the grass creeping out from the asphalt, the ski slopes at too low of an altitude, and scandalous building sites at high altitude, where grass covers everything.
The messy, chaotic, and overwhelming nature–the beaches cluttered with dry seaweed, the impractical and smelly undergrowth of putrefaction–all that, in short, is not human, which goes against our needs and our aesthetic sense and which is therefore ugly, which it has nothing of the rough locus amoenus sung by Alpine literature. And I would also like to tell what the mountain will be like later, when climate change will have transformed places that are familiar to us or that we believed ours forever, and will have diluted the glaciers, made the Alps a single immense landslide, and created small lakes with a precarious life.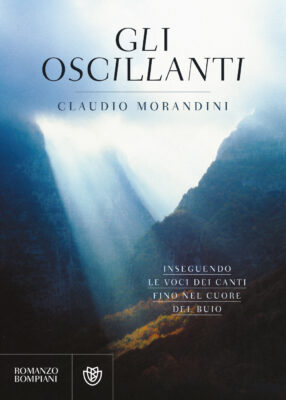 I'll describe my weeks of mixed emotions. First of all, I'm worried about people I care about. After that, I'm bewildered by the short-sightedness of many who don't place the phenomenon in a wider perspective–for example the connection with climate change. I'm irritated by those who go on with bad behaviors, for those who inspire their life from commonplaces, for those who are happy with slogans of convenience, for those who speak without being informed ,and for those who want to go back to a life as it was before, assuming that before were the best condition. I feel annoyed by those who talk about war against the virus and by those who can only mention catastrophic films as a way to explain our cultural issues.
I stay between a cautious optimism (my humanitas suggests that we'll come out changed, more prudent, thoughtful, better finally) and a non-melodramatic pessimism (nothing will change, and human beings won't learn). I also have curiosity: after all, we are all subject to a big social and anthropological experiment, with complex dynamics and an unpredictable outcome.
Of course, the fact that we're a part of the phenomenon prevents us from having an analytical gaze and the detachment or the distance useful to observe or to grasp connections and relationships; it even modifies perspectives and can provoke a sense of suffocation. Thus, it offers us the opportunity to see each other and to observe ourselves in real time.
I don't know how much of this will be part of my future writings: as I said before, I need distance. I don't like writing by instinct, the I-subject present in so much literature today and the cameras fixed on the actors, the feverish or blink writings, the declamatory urgency, the emphasis from instant-book. Maybe in a decade (when I am seventy years old), after a short decantation period, I will be able to recover a piece, a small part of the experience that we are all living this year; but it will be an elliptical, translated, allusive thought, a half-digression, or, more likely, it will come out from my fingers like something involuntary, like a blunder.
Bio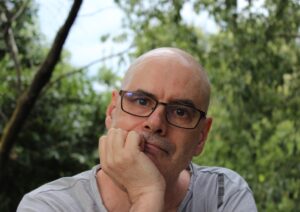 Claudio Morandini was born in Aosta, Italy in 1960. He has written several novels, including Le Maschere di Pocacosa (Salani, 2018), his first children's book, and Gli oscillanti (Bompiani, 2019), which tells unusual mountain stories. His books have been translated into several languages.