The Final Six by Alexandra Monir
Hardcover, 352 pages
Published March 6, 2018 by HarperTeen
Reviewed by Kimberly Christensen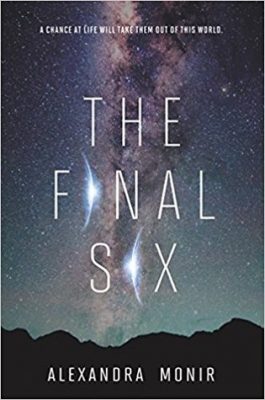 The Final Six is a young adult science fiction novel that leapfrogs the reader into a dystopian future in which space colonization is humanity's best hope for survival. With megastorms, rising seas, drought, and unpredictable weather patterns battering the Earth, humankind has decided that it's time to execute Plan B: terraform Europa, one of the moons of Jupiter.
An international committee of scientists, the ISTC, announces that 24 teenagers will be drafted from across the world and compelled to leave Earth forever in order to give their fellow humans a shot at survival. But surviving the mission to Europa is not a given. Astronauts from the Athena crew have already died on its surface.
Leo, an Italian teen who lost his family in the flooding of Rome, sees no brightness in his future and is ready to end it all – until he learns that he's been chosen as one of twenty-four finalists who will train for the mission. With his strong swimming abilities, Leo will compete with three other teens to serve as the mission's underwater specialist.
Naomi, an Iranian-American wunderkind from Los Angeles, seems a natural choice for the final twenty-four. Her command of computers, her strong science background, and her ability to think on her feet would make her an important asset to the team – except that she does not want to leave her family and her brother is too ill for them to join her on Europa if the mission is successful. Plus, the underground reports of The Space Conspirator have lodged themselves in Naomi's brain, and she can't stop wondering what the finalists are not being told about the Athena mission.
The twenty-four teen finalists attend space camp where they are put in the pressure cooker of intense physical training, competition for slots on the mission, and a deluge of technical information that they must learn in order to survive the journey and be ready to inhabit Europa's surface. Add in treatments to protect them from radiation and cutthroat behavior from some of the finalists, and it's not surprising that some of the students start to crack.
But Naomi suspects there's something deeper going on, and she's determined to expose it, both to protect the other finalists and to get herself kicked out of the program so that she can return to her family. When she and Leo fall in love, her feelings about leaving the program grow more complicated. With the final selection of astronauts approaching, Naomi works frantically to learn the truth, even though she's no longer certain that she wants to return home and Leo is dead set on seeing the mission through.
The Final Six is a fast-paced ride through space camp, like a dystopian teen version of The Right Stuff compounded by the threat of climate change. The protagonists, Leo and Naomi, explore complicated questions about making personal sacrifices to help others, finding meaning in a world that seems doomed, and even the ethics of sending humans to colonize – and potentially ruin – other planets. These questions are raised amid thrilling space simulations and tender moments, which gives the reader the chance to contemplate them within the context of the story.
Is the book perfect? No. A reader must overlook the improbability of such a short timeframe for the training and buy into the concept that a committee would have time to screen every teen in the world as a candidate for camp. Moniz relies heavily on a mean boy trope, creating an antagonist with seemingly no redeeming qualities. The story would have been better served by developing this character more. Also, it feels unlikely that a candidate like Naomi, who really does not want to be part of the mission, would be selected when many other teens with smarts and nothing tying them to Earth would volunteer to leave the planet.
Despite these flaws, the story pulls the reader along for the ride, ending with a spectacular cliffhanger that will leave the reader wishing that book two was already available. 4 of 5 stars.