Depart, Depart by Sim Kern
Young Adult Fiction
Reviewed by Kimberly Christensen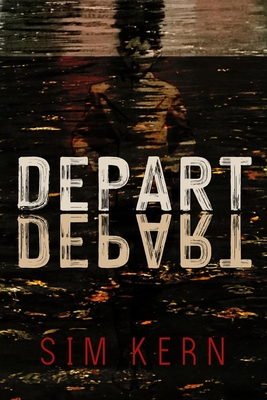 The boy first appears to Noah in the moments before Noah's Houston neighborhood is engulfed by catastrophic flooding. He leads Noah to the relative safety of a parking garage, then disappears. In the wake of the flooding, Noah is rescued from the rooftop and transported to an emergency shelter in Dallas. As a Jewish trans man, Noah fears for his safety in the repurposed sports arena. The boy reappears, leading Noah to an alcove within the arena where a small group of queer folks have found each other.
Large parts of Houston have been obliterated by the storm and subsequent flooding, and it's likely that Noah's family–both found and birth–have perished. Most people, Noah included, evacuated without documents, medications, and other necessities. Communications networks are nonoperational. Thousands of people are trapped in the sports-arena-turned-shelter with only the goodwill of volunteers and a loose emergency response infrastructure to rely on.
Small neighborhoods form within the arena. One woman starts a school. Religious communities spring up, leading services and organizing mutual aid. Friendships develop among the residents of Noah's enclave. But safety is not a given in the arena, especially not for the LGBTQIA+ folks and people of color who suddenly find themselves living mere feet away from white supremacists, and who are "protected" by police officers who don't seem to see the problem. Everyone wants out, wants to return to "normal," wonders if there is a "normal" to return to.
The boy continues to appear to Noah whenever his safety is threatened. Noah comes to understand that the boy is his ancestor, Abe, who survived the Holocaust, yet passed on a legacy of trauma to Noah's family. As those with money and connections leave the shelter, and those without become increasingly desperate, Noah is forced to reckon with the weight of this trauma legacy and what it means to survive.
Depart, Depart is an important contribution to the body of climate literature, not just for centering marginalized populations in the telling of this story, but for its thought-provoking immediacy. This is not a dystopian future, but a complicated now. It blends the grim aftermath of Hurricane Katrina with the fractured socio-political environment of Trump's America, asking the hard question of how equipped are we–as individuals and as a country–to face our climate reality? Kern's answer is not very, and they lay out a plausible course of events that should serve as a wake-up call for every American.
Yet within the stark mirror that Kern uses to reflect the not-so-distant future, there is hope that we, even in moments of fear and trauma, can become our best selves. Kern makes us stare bias and fear straight in the face, realistically portraying the unsafe scenario that many find themselves in when large shelters are opened, and when the communities hosting them want out. But within that, Kern shows us the possibility for transformation, for letting go of generations old trauma and bias, for choosing to do the hard work of loving and supporting imperfect people.
Depart, Depart is an engaging, well-characterized, immersive and thought-provoking story. I recommend it to all readers, with a special nudge to those who have not considered the additional burden that marginalized people will experience as our climate continues to change. 5 of 5 stars.