The Thing About Jellyfish
By Ali Benjamin
Published September 22, 2015 by Little, Brown Books for Young Readers
Middle Grade Fiction
Review by Kimberly Christensen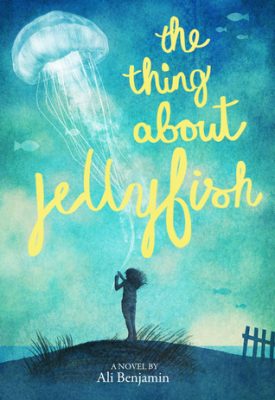 The summer before seventh grade, Suzanne's former best friend, Frannie, drowns while on vacation. Frannie and Suzy's friendship had derailed in that most painful of middle school ways–when Frannie became one of the popular girls, leaving Suzy to sit alone at the lunch table and to be gossiped about as the weird kid. Their final encounter, the day before summer break, was fraught with drama. Then Frannie dies. Their unresolved issues eat at Suzy, driving her further and further into herself until she stops speaking.
During the seventh-grade field trip to the aquarium, Suzy discovers the fascinating world of jellyfish. She chooses to study them for her science report, and devotes endless, friendless hours to learning as much as she can about jellies. Her research takes a deeply personal turn when she concludes that Frannie must have died as a result of a jellyfish sting. Suzy hasn't been able to process how her strong-swimming friend died of drowning, and jellyfish provide her with the first answer that makes sense.
But the more Suzy devotes herself to studying the jellyfish, the deeper into herself she withdraws. She won't speak to her parents or to the therapist they've hired to work with her. She won't speak at school, which reinforces her social isolation. Then she learns that her science project includes an oral report. She's going to have to talk.
As Suzy psychs herself up for this presentation, she develops a one-sided relationship with a jellyfish researcher in Australia whom she thinks can verify her theory that Frannie died of a jellyfish sting. She begins writing him letters that she never sends.
Suzy manages the oral report and even earns a top mark, but her clear passion for the subject leads to ridicule among her classmates. Even worse, no one understands the subtext of her report – Suzy's hypothesis that Frannie died from jellyfish venom. As her classmates begin to ridicule her, Suzy decides that her best plan is to find someone who understands her jellyfish passion. She plots a trip to Australia to meet the researcher whom she idolizes. Being a twelve-year old, this idea is nothing short of outrageous, but it leads to shifts in her family and friendship dynamics that help Suzy finally make peace with Frannie death, and with her own wonderful, quirky nature.
The Thing About Jellyfish is a beautiful and emotional journey through grief, paired with a deep sense of wonder for the natural world. Suzy's need to rationalize the death of her friend, and her choice to do so by formulating a hypothesis and discovering as much evidence as she can to support it, authentically expresses the places that the mind goes when experiencing loss, especially an unexpected loss. Benjamin portrays Suzy realistically and sympathetically, allowing her to reach dark places without judgment or sugar-coating.
Suzy also comes into her grief with other complexities, such as her parents' divorce and her own quirky personality which often leads to social ostracism. With grief of losing Frannie's friendship to shifting friend circles compounded by Frannie's subsequent death, Suzy must resolve her conflicted feelings about Frannie as much as she must come to terms with her death. The rawness of emotion in this novel had me sobbing my way through the last third, at times in sympathy for Suzy and her journey, and at times because of the realness of the parents' struggle to support their child during such a terrible experience.
Woven throughout the book is a deep appreciation of the mysteries of the universe, curiosity and a thirst for knowledge about the natural world, and demonstrations of the mental load on young people as they learn about environmental problems. Because the book is so rooted in Suzy's quest to learn everything she can about jellyfish, these explorations feel seamless and integral to the momentum of the story. They offer the reader the chance to learn about the environment alongside Suzy without feeling intrusive or didactic.
The Thing About Jellyfish is beautiful, pensive, sad, and thought-provoking. It's one of those books that, while written for middle-grade readers, will linger in an adult reader's mind for a long time. It's also a book that leaves the reader wanting to talk about it with someone else. While it feels like an important book for children–particularly those suffering loss, those with quirky personalities, and those dealing with divorce–it also feels like the sort of book that a parent who benefit from reading alongside their child. The themes and messages of the story could open the door to deep conversation.
I can't recommend this book highly enough. Five of five stars and strong encouragement to find a copy to read today!