A Wolf Called Wander
Middle Grade Fiction
By Roseanne Parry
Reviewed by Kimberly Christensen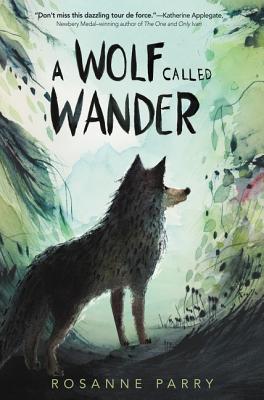 Wolf pup Swift, one of five pups born to his mother in the same spring, wonders what pack role he will grow into. His bigger brother, Sharp, is more dominant and already has his eyes on pack leader. Swift's smaller brother, Warm, is a small, gentle wolf who is drawn to helping guard the weaker members of the pack. Swift wants to help feed his pack by taking down an elk, but their father trains Sharp for this job.
Then the wolf pack is attacked by a larger, stronger pack. When Mother runs away to protect her newest litter of pups, one of the attackers pursues her. Swift—the fastest wolf in his pack—chases after this predator, drawing him away from Mother and the pups. But in doing so, Swift is separated from his pack and can't find his way back. Or, perhaps there is no pack left to find.
Now the young wolf has to make his way through the Oregon wilderness as a lone wolf. He misses his pack tremendously but tries to honor them by remembering their teachings. In doing so, he learns to hunt small game, to avoid noisy, smelly humans, and to observe the other animals around him. But his family hadn't prepared him for all threats, and Swift must navigate perils like injuries, highways, and loneliness on his own.
Things get better when he befriends a raven, who leads him to food sources in exchange for the leftovers, and the two travel together for a while. But when the raven finds a flock to join, Swift is alone once more—and alone, he faces his biggest threat yet: wildfire. As he races against the flames, he knows he cannot live alone much longer. Wolves need a pack. Once the danger passes, Swift commits himself to finding a mate and being the sort of leader that his father was—one who always provided food for the pack.
A Wolf Calls Wander is based on the true story of OR-7 (also called Journey), a wolf who wandered over a thousand miles in the Oregon and California wilderness before finding a mate. No one knows how he was separated from his birth pack, but he did go on to establish a new pack with a mate that he found in an area of the Siskiyou National Forest, where wolves had not been seen for nearly seventy years.
This book is a quick and engaging read that teaches about the lifecycle and natural habitat of wolves through the specific story of Swift. Although I am not a huge fan of stories told from the point of view of animals, the author does a good job of communicating the sensory experiences of a wolf in a way that seems neither too anthropomorphic nor too saccharine. She also doesn't shy away from describing death and difficulty, and manages to avoid making these subjects traumatizing to the reader, while still communicating the severity of their impact.
The back matter rounds out the story by providing information about the true story of OR-7, as well as educational material about the ecosystem of the Western Cascades and the plants and animals that inhabit it. The illustrations by Mónica Armiño are a beautiful addition as well. A Wolf Called Wander would make a great classroom read. Five of five stars.