Wind Book Review
Reviewed by Mary Woodbury
Book information
Author: Ellen Dee Davidson
Publication date: February 1, 2022
---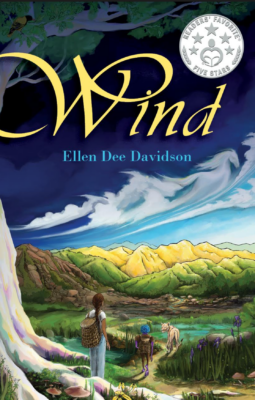 Wind, by Ellen Dee Davidson, is a wonderful novel for children and adults alike. Starting with an adventurous and colorful book cover and getting right into the main character Katie's whimsical daydreaming during class, one immediately gets a sense of her ordinariness and also her imagination and strength, making her a new kind of everyday hero. A tree outside her classroom window begins talking with her; does she ignore it? No, of course not, despite her classmates immediately laughing and making fun of her. Katie braces herself, showing empathy and suspension of belief that sets her on a quest journey to an ecologically rich otherworld with nature at its core, an aspect that enriches the novel.
The fantastical events of Wind begin during an earthquake when Katie falls through a crack and meets a purple-skinned gnomish creature named Za, who is looking for his orb light. Together they set out on an adventure. She wants to find home, of course, as does Za—to his home Stella—but they soon find themselves in a cave with a mysterious woman named Dania and her beautiful lion Kira. Every step they take, every sound they hear, every scent they breathe is eloquently described and full of wonder: the ancient trees of the forest and the way the sun shines through them, the shrubs full of lush fruit, the ring of mushrooms, the lulling call of a stream, the unique birds and animals hooting and rustling through the woods.
From beneath this green canopy spring hopes, fears, dreams, and memories, which humanize Katie and the magical characters she meets along the way, including Za's guardian, a being of light and universal elements, who Dania summons, and who sings a journey song, warning them that three moons will pass and they have only until the third moon wanes to finish their quest. An adage of the guardian is "Sometimes we have to do what we must, and not what we wish," and the way Davidson injects such wisdom throughout the story not only helps guide us but gives characters an inspirational depth that carries them through a difficult and possibly dangerous quest.
As the journey toward home passes under another moon, Za and Katie meet several more interesting characters: fog men in a swamp, a dragon, a talking scorpion, a fish-man, a horse, and more, including one of my favorites, a fairy. Some reviewers have compared Wind to Alice in Wonderland. It's true that mythologies are re-imagined, and new creatures come to life in this fun story. But what sets this tale apart is the context of today's world, wherein wilderness and nature is shrinking around us more than ever, a world in which we seem increasingly  confined to screens, to walls. Children (and adults) need to be reminded of the freedom and exploration that stories and the outdoors provide: from mythical beasts to fables that teach. Wind provides hope and resiliency, something we all need right now.