Back to the Indie Corner series
---
It was great to talk with Sonia Meyers about her first novel, We Have Something to Say!, a children's book.
Sonia Myers started her writing career at the Half Moon Bay Review newspaper, contributing articles and reporting on sports. She is currently a middle-school science teacher and a 2021 Grosvenor Teacher Fellow with National Geographic and Lindblad Expeditions. She lives on the California coast with her husband and daughter. We Have Something to Say! is her first novel. Find out more at her website educationforchanges.com.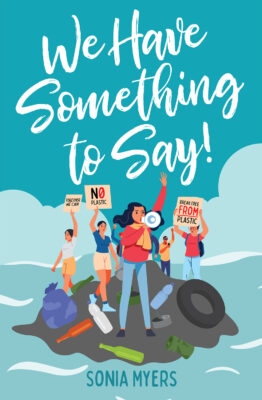 Mary: Tell us about yourself, your life so far and how you got started in writing.
Sonia: Well, let's see, I currently teach middle school Earth Science and Agricultural Science. I have been teaching for eight years now, but before I went into the classroom I worked at the Half Moon Bay Review newspaper and magazine. It was a rough start taking classifieds and delivering papers, but with time I was given the opportunity to write a few pieces. I went on to contribute articles for the magazine and report on sports.
Way before adulting, my sister and I grew up to my dad's stories before bed. He's a great narrator and oral storyteller. My grandmother—his mother—read to us often when we were young. She scoured garage sales for children's books, and read to us whenever we spent time with her. I am thankful for that early exposure to stories. The writing part came naturally to me. I wrote down my dreams and autobiographies, and jotted down what I was thinking every day. It didn't make me a great writer—it was more cathartic—but through the practice of daily writing, I built the stamina to finish longer pieces.
 Mary: What do you love about We Have Something to Say?
Sonia: There are two things I love about the book. The first, I have to say, is the cover! It was actually my daughter who came up with the concept. She suggested having students on an "island" of trash in the middle of the ocean, holding signs, yelling out, "We Have Something to Say!" I sent her idea along with some others to my design editor, and when he came back with his designs, I was incredibly pleased. It's a big message wrapped up in comprehensible artwork.
The second part that I love about the book is the ocean theme. While there are many who live along the coastlines throughout the world, there are more that live inland. The ocean is for everyone, but when you cannot see it, it can be difficult to care for it. The ocean affects all of us, and it makes up 70% of our planet. I love that the characters in the book live inland (though, not too far) and yet come to understand that they can be part of the solution of keeping our oceans clean, but also that what they do matters, even if they don't live by the beach.
Mary: Who is the intended audience, and what's going on in the story?
Sonia: We Have Something to Say! is written for middle grade readers, those 8 to about 12 years old. However, I believe many more readers can enjoy it. The story hits on many environmental topics that are written in an easy-to-follow manner, without going in too deep, and yet it gives readers a basic understanding of some of the climate stories happening at this time. Jenny Barajas is the main character, and she is currently struggling with finding her place; She feels inadequate as a learner, and inconsequential in the company of her older sister. This school year, however, when her science teacher, Ms. Morgan, inspires her to watch a documentary on plastics in the ocean, Jenny can no longer unsee what is happening. This fuels her to spread the word, which catapults her out of her comfort zone. Jenny is concerned with over-consumption of plastics and how those plastics are entering the waterways, and destroying marine life and habitats. Digging deeper, she realizes there is a lot more devastation happening to the planet. While overwhelmed, she finds that small steps can make a difference, and though she may be just one young girl, change can happen.
Mary: How were you inspired to write this novel, and what background work did you do in building the world and characters?
Sonia: In 2019 I had a class that really wanted to save the planet! They wanted to talk about it, they wanted to learn more, they wanted to show their art, they wanted to teach other students, they wanted to clean up everything, they wanted to do whatever they could to be a part of our Earth's health and longevity.
A few months into the year, after beach clean-ups, boat trips, original songs, plays, keynote presentations, ocean models, and plastic art collections, I sat down with my laptop and started writing a fictionalized story of a class who put their efforts into ending single-use plastics. There was decent momentum, and I started reading chapters aloud in class without telling the students that I was the author. I wanted to see what they thought, or if they were at all interested. Pretty soon after I started writing the story, the pandemic hit, and the writing was put to a halt with all the changes that were occurring. I didn't revisit the project for one year. It took a while to get back into the groove of writing, and to simply find time. Like the way our lives were changed because of the pandemic, the story also took on a new life. It morphed into one girl's journey of ending single-use plastics, by learning to tap into her community and not being afraid to raise her voice, and lift others at the same time.
While the class that I had a few years ago was the inspiration to start the process, it was truly every single person in their generation, and those to come, who made the story what it ultimately became. Writing this book was something I felt compelled to do. It was important to me that I take my love for our natural world and put it into words that could be understood by a younger generation. I combined two things that I love: writing and environmental literacy and sustainability, and that's how I wrote We Have Something to Say!
Mary: What sorts of other ecological themes does your novel have?
Sonia: The book has an overarching theme of plastics in the ocean, and how young people can become solutionaries in the battle to fight plastic consumption. Throughout the story, however, many topics emerge as Jenny continues to do her research to become more ocean-literate. She discovers environmental injustices happening around her: food waste, lack of girls' education around the world, and the harmful effects of fossil fuels. All the while Ms. Morgan teachers her students about ocean gyros, erosion and weathering, the ocean conveyor belt, La Niña and El Niño, the ocean floor, and the local waterways. It's packed with science and the environment, all while speaking up about what is important to you.
Mary: Are you working on anything else right now?
Sonia: In fact, I am! I'm working on another middle-grade novel, and this time the theme centers on coral reefs. The main character has moved with her family to the island of Mauritius where her parents are filming a documentary film on explorers of the coral reefs around the island. The main character struggles making friends and finding her place on the island, until she meets a young diver, her own age, who has been volunteering with The Oceanic Project to protect the coral reefs. The rest you will just have to read when the book is released!
Mary: Awesome! Let's talk again sometime. I'd love to hear more about your novel on coral reefs.