About Watch Your Head: Artists & Writers Respond to the Climate Crisis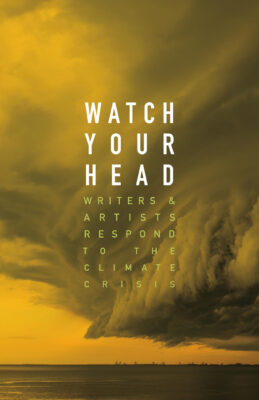 In Watch Your Head, poems, stories, essays, and artwork sound the alarm on the present and future consequences of the climate emergency. Ice caps are melting, wildfires are raging, and species extinction is accelerating. Dire predictions about the climate emergency from scientists, Indigenous land and water defenders, and striking school children have mostly been ignored by the very institutions—government, education, industry, and media—with the power to do something about it.
Writers and artists confront colonization, racism, and the social inequalities that are endemic to the climate crisis. Here the imagination amplifies and humanizes the science. These works are impassioned, desperate, hopeful, healing, transformative, and radical.
Find more at:
Proceeds from the anthology are donated to these climate justice organizations:
RAVEN raises legal defence funds to assist Indigenous Peoples who enforce their rights and title to protect their traditional territories
Climate Justice Toronto: Climate justice and youth-focused group
---
*Sidenote: This is the 900th book posted here at Dragonfly!