Reviewed by Kimberly Christensen
Trouble at Turtle Pond
by Diana Renn
Middle-grade fiction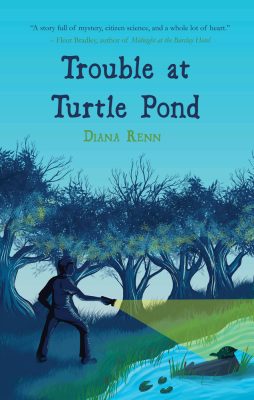 Miles Kaplan, animal lover, moves to a new town with a terrible secret: Last year, he accidentally let the class rabbit escape and it was never seen again. The fallout was bad enough that Miles and his family moved to a different town with a different middle school for Miles to attend in the fall. His parents are determined that Miles leave behind the "Mayhem Miles" moniker that he'd been given at this old school, and as part of that, they want to help Miles develop some more skills for managing his ADHD. Miles wants this too, though mainly he just wants to fit in and not attract negative attention.
In the weeks between the family's move to Marsh Hollow and the start of the new school year, Miles' parents determine that he needs an activity. They give him a nature journal and encourage him to learn about the place they've moved. Miles, though resistant at first, quickly discovers his inner naturalist. His interest is piqued when he learns that the lake near their house is a refuge for an endangered species of turtles, the Blanding turtle. In fact, one such turtle has laid eggs in his next-door neighbor's yard! Miles vows to keep an eye on the nest, and to help the scientists who are tagging turtles and monitoring their recovery.
Miles is not the only kid on the block who wants to help the turtles. His neighbor Pia has started a ranger club for kids who want to raise money and awareness to help the turtles. The rangers need more members, so Pia quickly drafts Miles. While part of Miles loves Pia's enthusiasm and wants to jump into ranger work, the other part wants to be accepted by two of the boys in the neighborhood who often play basketball together.
Pia's enthusiasm for the turtles is irresistible, and soon Miles is learning all about the local species. Then the kids discover that someone is sabotaging the scientists' turtle traps. What's more, it looks like they are removing the turtle tracking devices as well. When two turtles that are being rehabilitated go missing, Miles is sure that there is something nefarious going on. Even though the adults caution the kids about getting involved, Miles and Pia can't stop themselves. If someone is kidnapping turtles and selling them as exotic pets, they must be stopped!
Miles and Pia recruit more kids to the cause, using baby monitors and web surveillance to try to uncover the turtle poachers. But the adults are right—poachers are dangerous—and the kids are putting themselves at risk. Then Miles makes a mistake that makes it look like he could be involved in the poaching ring. He has to rely on his friendships, new and old, and the communication skills that he's been practicing to set things straight, and to get to the bottom of the turtle-poaching mystery. Otherwise, the nest next-door could be the next target!
Trouble at Turtle Pond is a fun and mostly believable story that reads like a Nancy Drew mystery set in an endangered turtle habitat. The kids use a combination of research and daring to help protect the turtles. Their friendships, although new, feel solid even as they are tested by misunderstandings and struggles with different priorities. The author does a great job of teaching about the endangered Blanding turtles as well as vividly portraying the role of scientists in helping them recover. There's a nice balance of excitement and education.
Miles' journey toward making new friends, learning to manage his ADHD, and discovering what's really important to him feels relatable. His penchant for building things out of cardboard is delightful, especially when he begins to make turtle sculptures. Anyone who has ever had a special interest and experienced how it can take over all their waking hours will seem themselves in this book!
Four of five stars.