The first ever Year's Best African speculative fiction anthology with 2020 reprinted works from some of the most exciting voices, old and new.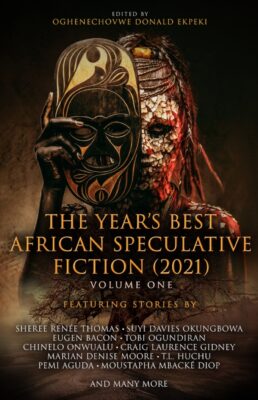 Short stories and authors: "Where You Go" by Somto O. Ihezue, "Things Boys Do" by Pemi Aguda, "Giant Steps" by Russell Nichols, "The Future in Saltwater" by Tamara Jerée, "The ThoughtBox" by Tlotlo Tsamaase, "The Parts That Make Us Monsters" by Sheree Renée Thomas, "Scar Tissue" by Tobias S. Buckell, "Ancestries" by Sheree Renée Thomas, "Breath of the Sahara" by Inegbenoise O. Osagie, "The Many Lives of an Abiku" by Tobi Ogundiran, "A Love Song for Herkinal as composed by Ashkernas amid the ruins of New Haven" by Chinelo Onwualu, "A Curse at Midnight" by Moustapha Mbacké Diop, "A Mastery of German" by Marian Denise Moore, "Are We Ourselves?" by Michelle Mellon, "When the Last of the Birds and the Bees Have Gone On" by C.L. Clark, "The Goatkeeper's Harvest" by Tobi Ogundiran, "Baba Klep" by Eugen Bacon, "Desiccant" by Craig Laurance Gidney, "Disassembly" by Makena Onjerika, "The River of Night" by Tlotlo Tsamaase, "Egoli" by T.L. Huchu, "The Friendship Bench" by Yvette Lisa Ndlovu, "Fort Kwame" by Derek Lubangakene, "We Come as Gods" by Suyi Davies Okungbowa, "And This is How to Stay Alive" by Shingai Njeri Kagunda, "The Front Line" by WC Dunlap, "Penultimate" by ZZ Claybourne, "Love Hangover" by Sheree Renée Thomas, and "Red_Bati" by Dilman Dila
Published: September 28, 2021 by Jembefola Press
Read a review at Lightspeed Magazine.