The Drowning Bay, the third book in The Trilogy for Freedom, is about Allison's quest for freedom after getting out of prison, which hinges on keeping a secret from an adopted refugee boy.  His mother is missing, but with the hacking skills that sent her to prison, Allison discovers the environmental activist's unpublished blog—the boy's mother has sacrificed her family to save the bay. She will never come home.
See ordering information here.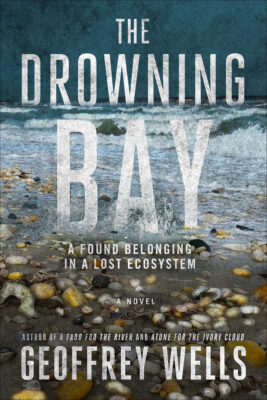 To win her back Allison's grieving ex-boyfriend breaks his commitment to the United Nations High Commission for Refugees and joins her search to reunite the activist with her son. But a treacherous detective in the pocket of an unscrupulous developer is planning to have them join the body that floats with the fish and osprey in the poisoned bay. Can Allison learn about belonging from the tides of the lost ecosystem?
Can she find freedom?
If you liked, Where the Crawdads Sing and enjoy delving into the psyche of a committed character who must weigh ethical choices against a global responsibility to the environment, then read this book.
"Both delicate and powerful, The Drowning Bay is a thrilling ecosuspense that weighs personal accountability against a global responsibility."
~Lauren Rico, award-winning author of the Reverie trilogy, a psychological thriller series, set in the world of competitive classical music.
"Geoffrey Wells has done it again! The Drowning Bay is compelling from beginning to end. This book, the third and last in Wells' Trilogy for Freedom, continues Allison's story as she tries to rebuild her life after her time in prison. She soon finds herself on a suspenseful trip into the world of ecological terrorism. Wells is adept at mixing genres, so there is plenty here for fans of thrillers, suspense, romance and action. One of the things I enjoy most about Geoffrey Wells' books is that I am entertained and educated, while also prompted to think about some interesting ideological questions. While reading The Drowning Bay, I thought a lot about the topic of law-breaking for the greater good, and whether altruism at large is more important than those people in your inner circle. I can't recommend The Drowning Bay highly enough!"