Click here to return to the series
The global novel exists, not as a genre separated from and opposed to other kinds of fiction, but as a perspective that governs the interpretation of experience. In this way, it is faithful to the way the global is actually lived–not through the abolition of place, but as a theme by which place is mediated. Life lived here is experienced in its profound and often unsettling connections with life lived elsewhere, and everywhere. The local gains dignity, and significance, insofar as it can be seen as a part of a worldwide phenomenon.
-Adam Kirsch, The Global Novel: Writing the World in the 21st Century
---
About the Book
I'm always excited to talk with authors living in and writing about different places around the world. Steven Kotler's newest novel, The Devil's Dictionary (St. Martin's Press, November; hardcover in April), takes place in an abundance of locales, including London, LA, Seattle, Pacific Rim, Crystal Bay, Lake Tahoe, and New York City. What's more, the author precedes this novel with well-remarked nonfiction titles, including Bold. Bill Clinton said of Kotler's ideas in one of his recent nonfiction bestsellers:
Bold is a visionary roadmap for people who believe they can change the world.
Kotler extends his visionary thinking in The Devil's Dictionary, an important and eye-opening fictional exploration of a future, wherein empathy is at the core of how we relate to animals. Publishers Weekly also celebrates the new novel as an "action-packed techno thriller."
Lion Zorn has a heightened sense of empathy that allows him to connect with animals and other living creatures as well as predict future cultural activity. After gaining infamy by revealing the truth about the drug Sietch Tabr, Lion keeps a low profile until he hears about a new drug called Evo from two of his friends. Though he reluctantly agrees to investigate, soon those friends vanish without a trace, leading Lion to realize that Evo may be more sinister than he thought.
Lion's investigation into Evo and his friends' disappearance takes him to the Pacific Rim mega-linkage, a passage that allows animals to move freely throughout the land. Run by his former boss, Sir Richard, the mega-linkage has been the site of two recent disappearances. As Lion investigates the disappearances, he finds animals that have been genetically modified in shocking new ways and later learns that they're connected to the bigger scheme behind Evo.
Soon, Lion finds himself in the middle of a corporate clash as he pieces together all the information he's been collecting. When he realizes where (or, rather, who) everything leads back to, it's up to him and his team to finally uncover the hidden truth.
Chat with the Author
Mary: The Devil's Dictionary follows Last Tango in Cyberspace. Can you explain to our readers what's going on in these novels, and will there be more?
Steven: Both of these books are sci-fi thrillers set in the near future. They depict a version of our world, some fifteen to twenty years from now, where the major environmental catastrophes we currently face—climate change and mass extinction—have been averted. In a sense, these novels tell the story of the major societal changes required for us to get to this greener future.
And yes, these books are designed as a series, and there will probably be more.
Mary: What background experience led you to want to write fiction dealing with environmental tragedies like climate change?
Steven: I've been a lifelong animal geek. I started my writing career as a journalist, often covering animal-related topics. I hung out with lemurs in Madagascar, spent time on Komodo Island with the dragons, explored the Amazon, did alligator research in the Everglades, did insect research in the slot canyons of Utah—that sort of thing.
Everywhere I went, the scientists I met were seriously concerned about species-die off and the crucial need for conservation. It was the destruction of habitats and ecosystems, and the death of so many of the plants and animals that I had gotten to know and love, that pulled me deeper into environmental work.
Since then, I've covered environmental topics as a journalist and a an author. I wrote a book about the relationship between humans and animals (A Small Furry Prayer) and wrote two novels that cover similar issues, including this new one, The Devil's Dictionary.
Additionally, my wife and I have spent the past sixteen years working on canine welfare issues and running Rancho de Chihuahua, a hospice care and special needs dog sanctuary. I'm also a co-founder at Planet Home, an organization that works on the climate crisis and other ecological issues, and a co-founder at the Fire and Forest Collective, which is a network of individuals, organizations, and institutions devoted to ending catastrophic wildfires and restoring forest health to the American West.
In other words, while people may know me as an author and a human performance researcher, I've also been working on environmental issues.
Mary: Who is Lion Zorn, and what is an empathy tracker?
Steven: Lion Zorn, the protagonist of Last Tango in Cyberspace and The Devil's Dictionary, is an empathy tracker or em-tracker, for short. The product of a novel genetic mutation that shows up in the early 21st century, em-trackers are a new kind of human with a wildly expanded sense of empathy.
In Lion's case, he feels empathy for humans, but he also feels empathy for plants, animals, and ecosystems (or what scientists call "cross-species empathy"). What's more, his empathy isn't just individual; it's cultural. Lion can feel how cultures collide and blend, the Darwinian mash of memes, the winners and losers, and what truths remain. He's like a lie detector for potential futures, an emotional prediction engine for how the we fractures, the us becomes them, and comes back together again.
Mary: I'm intrigued by the appearance of exotic animals not seen before on Earth showing up in an international park. Tell us some more about that (without spoiling it!).
Steven: We're on the cusp of an enormous revolution in genetic engineering. We're starting to learn—via technologies like CRSPR—how to write DNA code. This makes it possible to create new species and hybrid species—aka, chimeras—in a lab. And this work is going on today, but primarily with microorganisms and plants. All I did in The Devil's Dictionary was to follow this line of development out a few decades and ask questions about what happens when we start tinkering with whole animals.
Mary: The Devil's Dictionary is more hopeful than not, which is like a wave of fresh air after the many gloomy novels about our eco-catastrophes. Can you talk about that?
Steven: I wrote The Devil's Dictionary to provide an alternative vision of our environmental future. If we can't imagine this possibility, we'll never be able to create this future. I wanted to bridge that gap but had no interest in creating a perfect utopian world. I wanted a near-term version of our world where we've battled back the worst parts of species die-off and climate change. I wanted to explore the shifts in society that would be required to fight back against these issues.
Mary: You deal with ways in which technology can help us get through our climate issues. Do you think humankind can push forward that way? Or are we stuck with greed and fossil fuels forever?
Steven: From a big picture perspective, Ray Kurzweil, author, futurist, inventor, and the Director of AI at Google, has argued that we'll experience twenty-thousand years of technological change before the end of this century. This means we're going to go from the birth of agriculture to the industrial revolution twice over the next eighty years. I've written three books (Abundance, Bold, and The Future is Faster Than You Think) that explore how we can use all of this accelerating technology to solve our largest environmental and social problems.
That said, I'm not a techno-utopian. I do not believe that technology alone can solve our problems. It's also going to require the largest cooperative effort in history—that means, humans, aided by new technology, working together like never before. If this can happen, then yes, I absolutely believe that fossil fuels are a relic of our ecologically ignorant past and will be entirely gone within two or three decades.
Mary: This is great to hear, Steven. Thanks so much for your books and your time in chatting with me.
About the Author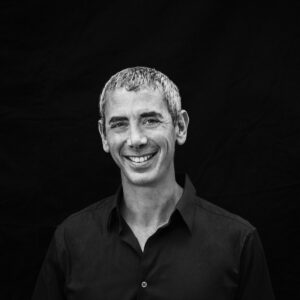 Steven Kotler is a New York Times bestselling author, an award-winning journalist, and the Executive Director of the Flow Research Collective. He is one of the world's leading experts on human performance. He is the author of nine bestsellers (out of thirteen books), including The Art of Impossible, The Future is Faster Than You Think, Stealing Fire, The Rise of Superman, Bold and Abundance. His work has been nominated for two Pulitzer Prizes, translated into over 50 languages, and has appeared in over 100 publications, including the New York Times Magazine, Wired, Atlantic Monthly, Wall Street Journal, TIME, and the Harvard Business Review.
A lifelong environmentalist and animal rights advocate, Steven is the co-founder of Planet Home, a conference/concert/innovation accelerator focused on solving critical environmental challenges, and the co-founder of The Forest + Fire Collective, a network of individuals and organizations dedicated to ending catastrophic wildfire and restoring forest health to the American West. Alongside his wife, author Joy Nicholson, he is also the co-founder of Rancho de Chihuahua, a hospice care and special needs dog sanctuary. Steven is also the co-host of Flow Research Collective Radio, a top ten iTunes science podcast, appears frequently on television and radio, and speaks widely on topics ranging from human performance to disruptive technology to radical innovation. Check out his latest talk at Google on The Science of Maximizing Human Potential. You can also see Steven speaking at TEDxABQ on "How to open up the next level of human performance."
Steven has a BA in English and Creative Writing from the University of Wisconsin, Madison, and an MA from Johns Hopkins University in creative writing. Whenever possible, he can be found hurling himself down mountains at high speeds.