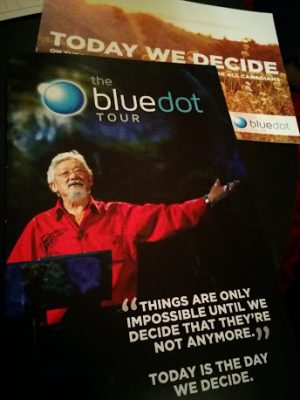 If you look at our planet from space, it is a blue dot, a beautiful little blue dot. The David Suzuki Foundation, which has promoted environmentalism in Canada and around the world since 1990, recently did a "Blue Dot Tour" across the nation, featuring artists in different cities, from September 24 to November 9. The tour calls for recognizing Canadians' rights to a healthy environment–clean air, fresh water, healthy food, and a say in decisions that affect us.
I went to see the final performance (last night in Vancouver), which was emceed by Jason Priestly and included poet Shane Koyczan, Neil Young, Feist, Barenaked Ladies, Hey Ocean!, Raine Maida, Raffi, and Wanting Qu, as well as novelist Margaret Atwood and painter Robert Bateman. First Nations welcomed us into Musqueam territory and spoke to us about their thousands-year legacy on this blue dot–and how they have always been connected to the forests, mountains, ocean, rivers and streams. They are still fighting, like many of us.
It was a beautiful and riveting experience where hundreds, perhaps thousands, joined in together–listening, singing, and being inspired to make a commitment to support our right to a healthy environment. Poets and musicians used their art to tell the story of the importance of nature. There was a strong feeling of an encroaching movement of ordinary but extraordinary people like you and me who will step up to work toward our rights to a healthy environment, which is needed for any sort of future world, which we are passing onto innocent future generations.
I was mesmerized by the love in the concert hall. I was nearly moved to tears when a father spoke about how he taught his children and grandchildren to get out into nature. Loving and respecting nature, he said, are how people get inspired to protect nature. Getting out into nature relieves stress, opens our eyes to the world that sustains us, and brings us back to a central core of being that often gets lost in every day routines. David Suzuki talked a lot about the importance of wealth, but not the kind you get with money and power–the kind you get with experiences with your family and friends and community. He reminded me of my own dad who expressed similar values–who has now passed on–and who left behind his thoughts in me and his other children; none of us became rich or sought material wealth, but all of us know the great riches we were so fortunate to realize: the continuity of love and wealth in our relationships, not just to each other but to the world around us, including nature.
When Neil Young came onstage with his familiar guitar and harmonica, I experienced a slight freeze. Here was a musician who has eclipsed my entire life. I heard his voice from my earliest beginnings as a baby and young child on up through my whole life. Others who I have known throughout these years are far away, some long gone, but here he was in person, right in front of me. When I was 13 and learned to play the guitar, his "Heart of Gold" was in my first chord book. In high school I was obsessed with "Like a Hurricane" and "Cinnamon Girl", among other songs. When I learned about the travesty that happened in Kent State (before my time), I was glued to "All Dead in Ohio" (Crosby, Stills, Nash, and Young). As an adult I continued to be enamored by Neil's songs and was delighted when I moved to Canada and learned that he was against the oil sands and was spreading the message through song about how polluting, unfair, and dirty the oil sands are. I had studied this oil and written about it and its harmful effects in the Boreal forests in Canada, and in local communities where residents are subject to air and water pollution–as well as pipeline potential in the expansion of the TransMountain, Keystone XL, and new Northern Gateway. And here Neil sang, in person.
When the midterm elections happened, I felt mildly depressed. I try to promote the awareness of our planet and its importance here and at my press. This whole site is dedicated to a long legacy of narratives in fiction and other art that move people to appreciate and hopefully help to renew and protect nature. And suddenly, in a nation that has contributed strongly to climate change–whereas Obama had been making slight headway (not enough) on climate change policies–deniers and skeptics were voted in who were all ready to vote yes to Keystone XL and continue to ignore science and promote industry that worsens this climate crisis, which is already past the point of no return.
Like anyone, I felt alone, powerless, and scared. However, last night re-energized me and so many others. During the concert, one of the speakers told the story of a hummingbird legend among the Haida, which may also be a wider legend among BC and other Canadian First Nations. The story is of Little Hummingbird who was frightened by a fire in the forest. She began to pick up a droplet of water at a time to drop it over the blazing fire. The other animals took notice of this action and wondered what they could do. The fire was so large, but none could carry enough water over it to make a difference. They felt small against the large fire. They felt that they could not do anything. Finally Big Bear asked Little Hummingbird, "What are you doing?" And Little Hummingbird answered "I'm doing all I can." And this is what we have to do. What we cannot do is ignore the fire.
While Margaret Atwood was not there in person, she was beamed in via satellite and spoke about how in the past several rivers in eastern Canada and the northern US were completely choked to death. The Detroit River actually caught fire due to the chemicals in it. Nobody thought it was possible to clean up these rivers. But they did, Ms. Atwood pointed out.
Like previous environmentalists, we just have to continue to do all that we can. There is no other meaningful action.