Click here to return to the series
The global novel exists, not as a genre separated from and opposed to other kinds of fiction, but as a perspective that governs the interpretation of experience. In this way, it is faithful to the way the global is actually lived–not through the abolition of place, but as a theme by which place is mediated. Life lived here is experienced in its profound and often unsettling connections with life lived elsewhere, and everywhere. The local gains dignity, and significance, insofar as it can be seen as a part of a worldwide phenomenon.
-Adam Kirsch, The Global Novel: Writing the World in the 21st Century
---
I virtually met author Bijal Vachharajani this past summer at Scotland's CYMERA Festival of Science-Fiction, Fantasy, and Horror Writing. We talked with host and author Lauren James, along with author James Bradley, about how we were motivated to write stories that focus around climate change. The talked aired on YouTube, June 5, if you're interested in watching it. Bijal's work as an editor and children's book author intrigued me, so I wanted to talk more with her about her newest book, A Cloud Called Bhura: Climate Champions to the Rescue, as well as dig more into her life, creative imagination, and other work. Thanks so much to Bijal for joining me!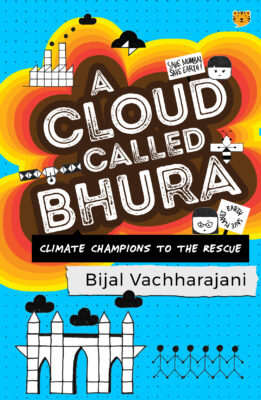 Mary: I'm so happy to have recently met you at a climate writers' panel during this summer's CYMERA festival. I learned that you are a prolific writer of illustrated children's fiction that's environmentally pressing. What books have you written?
Bijal: It was so lovely to meet and talk to you as well, and I must confess your website is such a fabulous resource! My middle grade green books include A Cloud Called Bhura: Climate Champions to the Rescue, which is about a motley crew of tweens and teens who tackle a brown cloud of pollution that's taken over their city. It won the AutHer Children's Book Award in 2020; and So You Want to Know About the Environment which is a non-fiction book about climate, food, waste, water and wildlife. Apart from that I have written three picture books about the environment, What's Neema Eating Today?, The Seed Savers, and PS What's up with the climate? I have co-authored two books, The Great Indian Nature Trail with Uncle Bikky. with Rohan Chakravarty; and 10 Indian Champions who are Fighting to Save the Planet with Radha Rangarajan. There's more on my website, bijalv.com.
Mary: What are your thoughts on the importance of relating to children the planet's ecological demise? It's a scary subject, but many authors have found a way to tell the stories in a more positive way.
Bijal: When I was studying climate, I came across studies that talked about how climate communication needs to be framed more positively. I was quite fascinated by that, because as a children's author and editor, I do believe in stories that are laced in hope. It does not have to be straight-up giddy hope, but even a glimmer, a silver lining. And I think it's a mix of telling the complexities of the climate crisis with the imagination and hope that make for compelling stories that are being published more and more for children. For me, my work with children has led me to believe that children care. Fact is, we protect what we love. And it's being resonated in the kind of work being done by children across the world, demanding a better future. For these children, we need stories that fire their imagination, that give them answers to the ecological crisis, and give them space to ask questions.
Mary: When growing up, were you inspired by any particular environmental fiction?
Bijal: I grew up in 80s India, and the only books we had in our libraries were Enid Blyton's, Nancy Drew's, Archie's Comics, and Russian picture books. A lot of Blyton's portrayals about nature and animals stayed with me, as well as the natural landscape in those picture books. I realise now that perhaps the magical faraway tree is nothing but a metaphor for the marvelous worlds you find when you climb a real tree, with its canopy shyness, its visiting birds and insects and squirrels. But more than that it was the stories that my grandmother and mother told me about sparrows that come visiting, and invitations to the moon to visit that influenced me. And of course, Target Magazine, which sadly no longer exists, but I waited for it every month, to read about adventures and nature facts and nature stories by Ruskin Bond.
Mary: It's hard to find one book of yours to focus on, since several of your picture books are relevant! But let's talk some about A Cloud Called Bhura. How did you come up with this story?
Bijal: I was at The University for Peace, pursuing a Masters in Environment Security in 2012 and that's when I read about the atmospheric brown cloud phenomenon (bhura means brown in Hindi). As I researched more, I started to wonder, what if a brown cloud was to come and hover over my home city, Mumbai. I was mostly fascinated by how people respond to climate change, whether its governments, private sector, civil society, media, they are the ones who influence what people think about this crisis more than just science. And so, I began writing a story about the different perspectives of fictional people—scientists, policy makers, media professionals (and unprofessional), film stars, industries, the works—who live in this city and how it informs everyone else, rapidly making a climate story more political, more of a trending topic, a matter of contention, than decoding the science to find solutions.
Mary: What's going on in the story, and how did you imagine and create the characters?
Bijal: Amni and Tammy wake up one morning to find the sky taken over by a huge brown cloud. Where did this cloud appear from suddenly? Along with their friends, Mithil and Andrew, they start finding out more, while their city starts reeling from the changes the cloud brings to the weather. Bhura Cloudus, as the media calls it, contains noxious gases, causes scalding rain to fall, makes birds flee the city, and suffocates every living thing. It's a book about the changing global climate and the havoc it can cause, as well as the forces of friendship, trust, and community that give hope and will help counter this deadly threat to humanity.
I have always believed in kid-power, so I decided to let the children of the story do the investigations. The stories are told from the perspective of Amni and Tammy, who are friends but are also very different. And that raises questions of social justice and climate vulnerability as well. Mithil is of course all of our best friends, we all need someone who will bring along a snack when on an adventure. Plus he has a dog! Andrew is that wise-alec friend who reminds you there is homework to be done while saving the world. In fact, while editing the book, my editor Sudeshna Shome Ghosh made me go back and add more of Andrew in the book, and am glad I did (almost always listen to editors). Then there's a bunch of politicians, bureaucrats, journalists, and twin scientists, and of course Bhura's a poor rhymester of a cloud.
What I also love is Aindri's illustrations (art directed by Maithili Doshi), giving this really distinct view of the cloud, the city and the world as it unfolds because of this havoc, a microcosm of the spaces that children inhabit today.
Mary: Of course, friendship seems to be important in your stories. How does friendship help children overcome frightening reality?
Bijal: You are so right! I was a painfully shy child, and different forms of friendship helped me change my world view but also the way I navigate this world. Fictional friendships do exactly the same; they help the reader seek refuge in an empathetic buddy, see themselves in the fights two pals might have (while of course rooting for them to stop being silly soon), and also realise that friendships can be of different kinds. It doesn't have to be human friendships. In my chapter book, Kitten Trouble, Rajiv Eipe illustrates this moment where the scared young protagonist finds that a warm kitten can be a friend (and vice versa). In fact, it was my editor Sayoni Basu whose editing highlighted this relationship even more. Then there are friendships with a visiting bird, a caterpillar, or a dog are so meaningful and powerful in forging future nature relationships.
 Mary: Are you working on anything else right now?
Bijal: I haven't been able to write much in the second wave of the pandemic. However, I just finished the first draft of my book for Hachette about a girl who is dealing with the loss of her father, and finds solace in shared grief and an ancient magical tree. It's with my editor Nimmy Chacko right now so am spending sleepless nights hoping she likes it. The YA book looks at nature and grief, and it's written in the wake of the loss of my partner, so it's a bit raw for me! I am just starting work on a book with my editor Smit Zaveri at Puffin, about a boy who thinks his mother is up to something sinister, like perhaps gobbling him up! And waiting for a launch of an anti-plastic book with WWF-India. Phew!
About the Author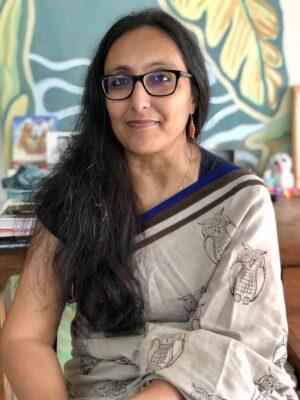 Bijal Vachharajani is the author of multiple children's books, including A Cloud Called Bhura (which won the AutHer Award for best children's book), So You Want to Know About the Environment and Kitten Trouble. Her picture include That Night, PS What's up with the climate?, What's Neema Eating Today? and The Seed Savers. She has written essays for Rohan Chakaravarty's comic book, The Great Indian Nature Trail with Uncle Bikky, co-authored Ten Indian Champions Fighting to Save the Planet with Radha Rangarajan, and contributed short stories for two anthologies, Prankenstein and Grandma's Tales. 
She has three upcoming books with Hachette, PRH and WWF-India.
The former editor of Time Out Bengaluru, she has been a communication consultant with Fairtrade Asia Pacific and Humane Society International/India and writes about children's literature and sustainable development as a freelance journalist. She was also a columnist with The Hindu-Mumbai. In 2019, she was recognised as a distinguished alumna at SNDT Women's University. She has a masters in Environment Security and Peace with a specialization in Climate Change and Security at the UN-mandated University for Peace in Costa Rica. She co-curates the Instagram handle, BAM! Books.