Parts per Million, the debut novel by Julia Stoops, is forthcoming April 2018. The manuscript was a finalist for the PEN/Bellwether Prize.
Three activists let a photographer with a hazy past join their unorthodox household in Julia Stoops's debut novel, a finalist for th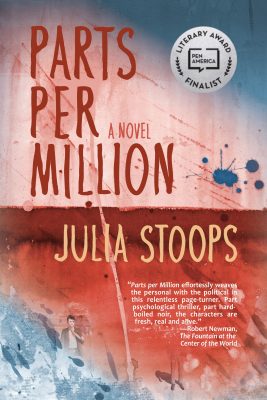 e PEN/Bellwether Prize for Socially Engaged Fiction. As the scrappy crew takes to the streets in anti-war protests and reports on the explosive political climate, the newcomer's secret threatens to destroy their alliances—even as they uncover the biggest scoop of their careers. Set in Portland, Oregon, in 2002, Parts per Million dives into the space between ideals and reality, where risk and love twist into a tragic climax that challenges everything the activists believe. The novel throws a timely spotlight on recent American history, illuminating the power of individual transformation during social upheaval.
The little-known history of West Coast, Left Coast eco-activism in the early Aughts bursts to life in this timely and important book, full of finely drawn characters and outrageous intrigues. Eco-fiction at its finest, Parts Per Million is one of the origin stories of the resistance, and a primer for the fight to come.
—Susan DeFreitas, author of Hot Season
While Julia Stoops documents activism of the early 2000s, Parts Per Million couldn't feel more relevant today. The struggle to remain faithful to the ideals—and hard work—of activism, the thrill of the rare, hard-won victory, and the navigating of personal politics, gives this book a thrilling narrative and makes it an inspired wake-up call to all of our inner activists.
—Ben Parzybok, author of Sherwood Nation