---
The 22nd spotlight takes a look at Benh Zeitlin, Lucy Alibar, and their masterpiece Beasts of the Southern Wild, a 2012 American film directed, co-written, and co-scored by Benh Zeitlin, and adapted by Zeitlin and Lucy Alibar from her one-act play Juicy and Delicious (where the main character Hushpuppy was a boy instead). The film won several awards including the 2012 Sundance Film Award. I've seen this film many times and have read Alibar's one-act play. The images in both the play and the movie are stark and symbolic–particularly that of the once great aurochs, frozen in ice sheets, now thundering into life after huge chunks of ice begin melting and falling dramatically into the ocean.
In Beasts, a young girl named Hushpuppy lives in an area known as the Bathtub, which is cut off from the rest of the world by a levee, in a bayou in southern Louisiana. A big storm causes the Bathtub residents to do what they can to stay alive while surrounded by rapidly rising waters and then to rebuild their home–but the water is contaminated from a saltwater surge. Hushpuppy's mother's whereabouts are unknown, and her father is sick with heart problems. After the storm ends, a mandatory evacuation occurs, and officials find and take most members of the Bathtub community to a shelter/medical center. The community is rough around the edges but also wishes to remain dignified and rebuild on their own. Their independence is something they pride themselves on. Hushpuppy leads their escape out of the institution so that they can return to the Bathtub.
A boatman takes Hushpuppy and a few of her friends to a floating bar known as the Elysium Fields. In Greek History, the Elysium (or Elysian) Fields were a concept of the afterlife. According to Homer, they were at the western edge of the Earth. The bar is a restaurant/brothel, but like in the rest of the Beasts story, it is also a place of dignity, and in Hushpuppy's case, comfort. She finds good food and a woman she dreams might be her mother. But she and her friends leave the paradise to go back home to the Bathtub, where Hushpuppy becomes the village's hero by confronting the aurochs.
What may strike film watchers is the despair and desperation among the community in the Bathtub. Homes are made out of whatever old materials are available: corrugated tin, cardboard, and old furniture and appliances that have seen much better days. Some drink too much. A teacher, Miss Bathsheba, is rough around the edges but imparts wisdom to the youngest of the community, including the story of the aurochs who will be free once humans die out on Earth. People rely on booze, chickens, crawfish, and, well…each other. There's something pulsing beneath the desperation–dignity and strength.
The Atlantic's Silpa Kovalli states:
In pop culture, poverty in America is commonly portrayed as unnecessarily hopeless or bleak. A protagonist's origins, when humble, are almost exclusively presented as something to escape, an obstacle on her or his road to self-fulfillment. Zeitlin strongly resists this portrayal. While he doesn't gloss over bleaker aspects of Beasts' run-down setting, he certainly places them in context. Hushpuppy lives with her father, who is often drunk, abusive, or neglectful, but who cares for her deeply. The closest thing she has to a maternal figure is her schoolteacher, an erratic woman who imparts the values of the Bathtub to her captivated classroom. "This is the most important thing," she tells a group of attentive pupils in one of Beasts's few heavy-handed moments. "That y'all learn to take care of the things that are smaller and sweeter than you."
That y'all learn to take care of the things that are smaller and sweeter than you.
It is some sweet-ass advice that, if we all followed, would definitely change the world. I like Kovalli's response to this movie, because it asks us to respect this culture of the Bathtub.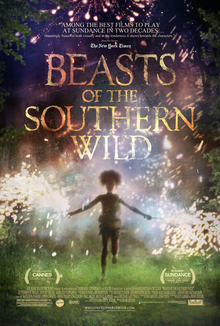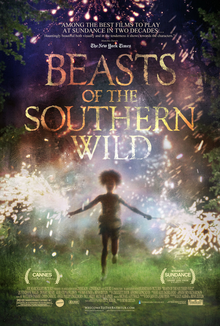 The potency of this film has to do with its acting as well, particularly the incredible Hushpuppy, played by Quvenzhané Wallis (nominated for an Academy Award). She is an old soul and has a deep, warm, and authoritative voice but is also vulnerable. Some of her film quotes:
When it all goes quiet behind my eyes, I see everything that made me lying around in invisible pieces. When I look too hard, it goes away. And when it all goes quiet, I see they are right here. I see that I'm a little piece in a big, big universe. And that makes things right. When I die, the scientists of the future, they're gonna find it all.
All the time, everywhere, everything's hearts are beating and squirting, and talking to each other the ways I can't understand. Most of the time they probably be saying: I'm hungry, or I gotta poop.
Sometimes you can break something so bad, that it can't get put back together.
The whole universe depends on everything fitting together just right.
There  is simply no film like it. It's one of my favorite in the field of fiction dealing with climate change because of its power. Jim Dwyer, author of Where the Wild Books Are: A Field Guide to Ecofiction, called such fiction disaster or cautionary fiction, and stated in his field guide: "Ecofiction rarely fares well in escapist Hollywood." I believe this is true, given a few pop culture hits that failed miserably at the box office and which also claimed to give caution to climate change. Beasts has a strong impact. Like written fiction, the tale succeeds when the story has depth and heart; with film you also find wonderful acting and cinematography. But maybe why it works so well is that despite being a movie in which magical realism takes place, the concept of the Bathtub is all too real if we imagine how climate change has affected communities–and how it will continue to do so. It creates new myths: we don't need white men in capes and suits to save us. Neither will armchair analysts. The film breaks our culture's divide of skin color, age, gender, and rich vs. poor down into an "everyone working together in a crisis" situation.
I like Patricia Yaeger's take in Southern Spaces:
The film's rags and wastelands—its killing fields—become powerful emblems of the Southland's (and our nation's) commitment to toxic inequality.

But something else rages in this film; it refuses the realism of social critique and advances instead into hubris land, into a new realm of myth making for the twenty-first century. "We's who the earth is for," boasts Hushpuppy, echoing her father's view of the racially mixed population of the Bathtub. This community bristles with carnivores, meat-eating women and men unashamed of their appetites, alcohol, and impoverishment. Nurtured, imperiled, the child creates a wild set of gods: demiurges, mother figures, aurochs, and sirens to inhabit a world dangerous and ecstatic. She forces us to ask: what myths do we need to live in an era of global warming where every coastal community may soon look like the Bathtub?
We can look at Katrina to see a real example of the Bathtub, so, though fiction, this story is not far-fetched.
Beasts came out in 2012, but it is more relevant than ever, and I encourage you to see it if you haven't already.
---
Authors
Lucy Alibar is an American screenwriter & playwright who has been nominated for an Academy Award, a BAFTA award, and the Scripter Award for the film Beasts of the Southern Wild. "Beasts," which was Lucy's first film, was an adaptation written with Benh Zeitlin based on her play, Juicy and Delicious. Beasts of the Southern Wild also earned the Sundance Grand Jury Prize and the Cannes Film Festival Camera D'Or.Lucy is also the winner of the Ray Bradbury Nebula Award, the Humanitas Prize, and the Nantucket Film Festival New Voices in Screenwriting Award. Read more here. Check out one of Lucy's latest projects, "We Trump Hate":
Born in New York City, Benh Zeitlin is a director, screenwriter, cinematographer, editor, composer, animator, and founding member of the Court 13 independent filmmaking collective in 2004. He majored in film at Wesleyan University. Benh lives in New Orleans, Louisiana, with a pack of wild animals. Source: Tribute.ca.
According to IndieWire, in March 2017, "Benh Zeitlin May Finally Be Shooting His Follow-Up to 'Beasts of the Southern Wild' in the Caribbean". (I haven't heard more about this, but will be watching!) His newest film Wendy is in post-production: Set on a mysterious island where aging and time have come unglued, Zeitlin's mythological story tells the tale of two children from different worlds fighting to maintain their grip on freedom and joy. –IMDB
---