Click here to return to the series
The global novel exists, not as a genre separated from and opposed to other kinds of fiction, but as a perspective that governs the interpretation of experience. In this way, it is faithful to the way the global is actually lived–not through the abolition of place, but as a theme by which place is mediated. Life lived here is experienced in its profound and often unsettling connections with life lived elsewhere, and everywhere. The local gains dignity, and significance, insofar as it can be seen as a part of a worldwide phenomenon.
-Adam Kirsch, The Global Novel: Writing the World in the 21st Century
---
In November, we head to the USA, the first of the world eco-fiction travels to do so. Having spent a great amount of time in the Appalachian Mountains as a child (you can read more here), when I came across the anthology Mountains Piled Upon Mountains: Appalachian Nature Writing in the Anthropocene, I was immediately convinced I needed to read this book. I wasn't wrong. I fell into days of remembering the rivers, the coal miners, the pine trees, the isolation, the sometimes loneliness, the echos, the wildlife, the mountain people on old front porches who used to frighten me as a child but whom I am now fascinated by–and everything else I experienced when younger.  You could say that this book transcends time in a way, as it recognizes our current ecological crises, but it also brought me home.
Book Description
Mountains Piled upon Mountains (West Virginia University Press, 2019) features nearly fifty writers from across Appalachia, including indigenous voices, sharing their place-based fiction, literary nonfiction, and poetry. Moving beyond the tradition of transcendental nature writing, much of the work collected here engages current issues facing the region and the planet (such as hydraulic fracturing, water contamination, mountaintop removal, and deforestation), and provides readers with insights on the human-nature relationship in an era of rapid environmental change.
This book includes a mix of new and recent creative work by established and emerging authors. The contributors write about experiences from northern Georgia to upstate New York, invite parallels between a watershed in West Virginia and one in North Carolina, and often emphasize connections between Appalachia and more distant locations. In the pages of Mountains Piled upon Mountains are celebration, mourning, confusion, loneliness, admiration, and other emotions and experiences rooted in place but transcending Appalachia's boundaries.
Chat with Jessica Cory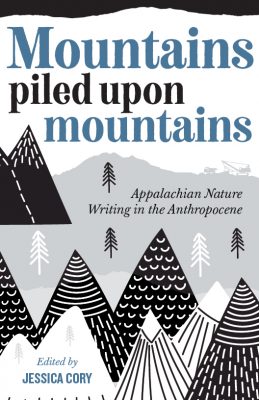 I'm so grateful to Jessica, the anthology's editor, for speaking with me about the book.
Mary: Mountains Piled upon Mountains is an absolutely breathtaking collection of powerful poems, fiction, and creative essays that bring a new level of understanding to readers about the culture and placed-based natural landscape–and the environmental concerns–of the Appalachian area. How did this book come about, and how did you find the authors?
Jessica: The idea for the collection started when I was living in Greenville, NC, actually. Here I was, living in the flatlands and I was really pretty homesick for the mountains. So I started reading some nature writing from the region. George Ellison has a couple of volumes that are really fantastic, and there are some other wonderful collections that represent the Appalachian connection with nature as well. But what I noticed was that all of the collections I found were quite regional. And I understand why, because the topography in one area of Appalachia is often far different than the topography in another area, but I suppose, as someone who lived at times in various parts of Appalachia, I wanted to read something that covered the entirety of the region. I was encouraged by a small handful of friends and mentors (my husband John, good friend Carrie Hodge, and longtime mentor Amritjit Singh, who teaches at Ohio University) to propose such a book to presses.
In order to find authors, I put out a CFP, a later modified CFP, and solicited some authors directly. When submissions began coming in, I was floored. So many wonderful, talented writers whom I didn't even know were trusting me with their phenomenal work! To say I was honored is the understatement of the century.
Mary: It's certainly phenomenal; I'm on my second read. I'm curious about your experiences in the Appalachian region. Can you share some of your favorite or worst times? What about the area speaks to your heart?
Jessica: I'm from southeastern Ohio, equidistant from West Virginia and Kentucky, so many of my memories are from that region, though I now live in another part of Appalachia, western North Carolina. One of my favorite memories from my current region is when I lived in Spruce Pine, NC, in a little house way back in the woods. We had a deck that wrapped around half the house and the land had a massive coyote population. In the late spring and early summer, the adult coyotes would come up almost to the deck and teach their pups to howl. I stayed inside, of course, so as not to scare them, but I would sit in my living room and listen to them for hours.
In Ohio, I would often hike (and still do, when I visit) the trails at Buzzard's Roost in Chillicothe, as well as the many trails Hocking Hills State Park and surrounding area, especially Conkle's Hollow. There's something in the air there. I don't know if it's the moss in the shade or what, but it just smells differently, almost more pure. I haven't found that scent anywhere else.
As far as some of my worst times, I often think more of environmental detriments rather than personal challenges, simply because the latter seem less tied to location, as least for me. I grew up hearing stories about the pollution of the Ohio River and other waterways in the area from my dad, who worked on the railroad for about ten years, changing employment shortly after I was born. He used to tell me how the paper mill in Chillicothe would pay to have its employees' cars repainted after whatever came out of the stacks ate the clearcoat and paint off their cars, because paying to have cars painted was cheaper than changing what they were doing. The air quality has gotten a lot better now, though. And when I read that the Bureau of Land Management had auctioned off part of Wayne National Forest to be used for hydraulic fracturing a couple years ago, I was pretty devastated.
Mary: I used to smell something really fresh like that in Eastern Kentucky, and I haven't been able to find it since. You are the first person I've ever come across who has described that.
The book title is in reference to William Bartram's "Travels"–early writing about the Appalachians. What about his memoir influenced Mountains Piled Upon Mountains?
Jessica: For starters, Bartram's Travels is some of the oldest Appalachian nature writing known, at least by someone of European descent. Obviously the indigenous communities who first lived here (and in some places, still do live in the region) had narratives about the land as well, but those may not be as well known, especially if they weren't recorded.
Bartram's work was inspirational in the fact that he wasn't exploring in order to exploit. Nearly all of the early explorers, especially those from Europe, but also from other areas, came with the goal to conquer, exploit, commit genocide, and claim the land and people for their own. Bartram was a rare exception to that. He was just curious and wanted to pass along what he felt to be the "truth." I use quotes because, as we know, the idea of truth is always relative, but it does seem that his motives were not self-serving and malevolent.
Mary: The book's stories capture individual and community spirit, emotions, and upsets in the quickly changing face of the mountain ecology–in regards to hydraulic fracking, mountaintop coal removal, deforestation, water contamination, and so on. Environmental concerns include human health concerns, and it's been the case for decades in this area. What is the community's reaction to the anthology?
Jessica: So far, I haven't received any hate mail. Overall, I think that even communities whose economic stability depends on degradation of the environment are aware of the impact to the land and the planet. Often, people are just trying to care for their families, and I don't think we can fault anyone for that. Many of the readings thus far have been in western North Carolina, where mountaintop removal and hydraulic fracturing aren't active, so I think that helps. Though readings outside of the area have gone smoothly as well. I think a lot of that has to do with the audiences being open to the ideas in the book.
Mary: People around the world will also relate to this book as they find themselves in similar situations, where natural resources are taken out of the ground, despite health hazards to all living things in the area. What we're seeing in the Amazon rainforests or the Canadian oil sands, for instance, is similar. Do you have any thoughts about this? In your mind, how does creative literature help culture?
Jessica: I have lots of thoughts on international exploitation of natural resources, but I think what I'd like to most emphasize is the way in which this exploitation is always intrinsically linked with how the corporations and people in charge view those people who inhabit the lands being exploited. Because it's never just about the land. This is why indigenous groups worldwide are some of the most severely affected by climate change and environmental exploitation. We're seeing this currently with the burning of the Amazon, but we can also look closer to home with uranium mining on Navajo land, and similar crises in other Native communities.
I'm not saying this to minimize the plight of Appalachians, however. After all, it's been argued before that Appalachians have been victim to a sort of colonization as well, the region's inhabitants being seen as "other" by mainstream America and discriminated against. While the notion of colonization of Appalachia differs in many ways from other hallmarks of colonization (I'm actually writing an article about this at the moment), the region's inhabitants have certainly experienced precarity at the hands of exploitation and its associated capitalism.
To address the second part of this question, literature reflects the culture it's created within, so it can serve as a mirror, which can then cause introspection and eventually, change. Creative literature also typically reaches a much wider readership, spreading awareness in a way that an article in an obscure journal might not, which increases the chances that change can occur. In addition to being a mirror and reflecting culture, it seems plausible that literature can also shape culture, or give voice to ideas that have been oppressed or repressed, expanding our ideas of culture and possibility.
Mary: I agree. In August I was listening to a podcast that covered Kentucky coal miners blocking a coal train in order to protest their former employer, due in part to being laid off. There's sort of the stereotype of the unaware blue-collar worker (backwoods "redneck"), but actually people in the Appalachian areas are often working in the only jobs available–and they're completely aware of the dangers and not at all the monolith of talking, looking, acting the same (as I read your description from Western Virginia University). How does the book speak to that?
Jessica: Oh, yes, the Blackjewel miners' protest! One of the things that really struck me about the protests was the way in which the community rallied around them. People brought food, cornhole boards, lawn chairs, and really just supported the miners in what they were doing.
And you're right in that people are often working the jobs that best support them and their families. Many people know the dangers, but often that's the risk they take for the reward. Appalachian people are often known for pride, and these difficult choices reflect that.
One of my hopes for the collection is to highlight the differences in the region, and really to build onto the larger body of work, both creative and scholarly, that strives to break down these stereotypes by letting Appalachian writers tell their own stories in their own words, including portraying Appalachian people in ways that fight against the time-worn caricatures.
Mary: There's quite a bit of literature and music creatively exploring the same issues as this book. For instance, I've been fond of the band Rising Appalachia as well as author Barbara Kingsolver. Do you have any favorite artists participating in making this area come alive for others?
Jessica: I absolutely LOVE Rising Appalachia and got to see them perform a couple years ago with Ani DiFranco at the LEAF Community Arts Festival in Black Mountain, NC. It was magical! I also really enjoy Barbara Kingsolver's work, particularly Animal, Vegetable, Miracle. I'm always striving to be more self-sufficient and I think she does a great job in that book demonstrating how that can be achieved in a variety of ways. Wendell Berry's The Unsettling of America: Culture and Agriculture is certainly a classic when it comes to farming in Appalachia.
I also often look at intersections of identity and environment. Some wonderful writers who are addressing these intersections of sexuality and environment include the phenomenal poets Savannah Sipple, author of WWJD and Other Poems, and Nickole Brown, especially in her recent chapbook To Those Who Were Our First Gods. doris davenport and Susan Deer Cloud, who are both featured in this collection, explore the intersections of race and environment in Appalachia, as does, of course, bell hooks. In addition to hooks, scholar Karida Brown in her book Gone Home and Crystal Wilkinson, particularly in Birds of Opulence, bring together environment and race, as does Marilou Awiakta, whose work is just phenomenal.
I'm also a huge Ron Rash fan, and I'm not just saying that because he's a colleague J I love that way that he incorporates environmental issues into his larger plots, for instance in Serena with deforestation and in One Foot in Eden with Jocassee Dam. Ann Pancake, who is in the collection and whom I was able to talk with for some additional scholarly research, is another fave for much the same reason as I love Ron's work. She's very much an activist-writer who's quite attuned to environmental issues.
As for music, doris recently invited me to attend a 100 Thousand Poets for Change event that she organized with her friend Joanne Steele. There were several wonderful poets and musicians who shared their talents, including Joanne, who wrote and performed some wonderful songs focusing on environmental and cultural concerns, including a song about children harvesting coffee beans, which was heartbreaking. I do love a good protest song, even if it's not specifically Appalachian or environmental.
Mary: That's interesting about the 100 Thousand Poets for Change event, as Michael Rothenberg (who founded the world-wide event) and I have been good friends for decades, and I have done many similar events in Vancouver, BC. Just goes to show that the artist movement in the Anthropocene is really world-wide and yet so important locally. Thanks for all these great recommendations and for taking the time to provide such insightful answers.
About the Editor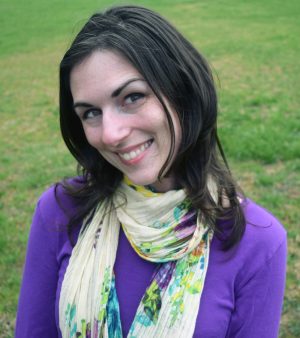 Jessica Cory teaches in the English Department at Western Carolina University and is also a PhD student in the English Department at the University of North Carolina–Greensboro. Her creative and scholarly work has been featured in the North Carolina Literary Review, A Poetry Congeries, Menacing Hedge and other fine venues. When not writing or researching, she enjoys gardening, yoga, hiking, reading eco-literature, and spending time with her husband and young son.
The anthology's authors include Chris Bogiano, Taylor Brown, Ben Burgholzer, Kathryn Stripling Byer, Wayne Caldwell, Sarah Beth Childers, Jessica Cory, Chauna Craig, Thomas Rain Crowe, Stephen Cushman, doris diosa davenport, Ed Davis, Susan Deer Cloud, Lisa Ezzard, Katie Fallon, Carol Grametbauer, Jesse Graves, Jane Harrington, Lisa Hayes-Minney, Laura Henry-Stone, Scott Honeycutt, George Hovis, Gene Hyde, Libby Falk Jones, Madison Jones, Julia Spicher Kasdorf, Bill King, John Lane, Jeanne Larsen, Laura Long, Brent Martin, Michael McFee, Jim Minick, Felicia Mitchell, Ann Pancake, Ellen J. Perry, Mark Powell, Heather Ransom, Jeremy Michael Reed, John Robinson, Rosemary Royston, M. W. Smith, Larry D. Thacker, Gail Tyson, Rick Van Noy, G. C. Waldrep, Meredith Sue Willis, Amber Wright, and David R. Young.