Part XVIII. Women Working in Nature and the Arts, Maia KB Chowdhury

I am thrilled to chat with Maia KB Chowdhury, a multi-talented architect, artist, and author. Maia is an award-winning Registered Architect and author of a love story about fracking, The Erenwine Agenda. She is a contributor to Thrive Global, a worldwide wellness movement, and is an abstract artist who speaks, writes and teaches on creativity and architecture. Trained as a Reiki Master Teacher as well as a geographer and architect, Maia's work is informed by wellness strategies at every scale.
Raya Ani, Architect/Founder RAW-NYC Architects, 2017 President of American Institute of Architects (AIA) Middle East described Maia's recent novel:
A timely and contemporary novel about love and care for the world–The Erenwine Agenda helps us understand how we might navigate from a place of non-communication to a place of resolution. The primary characters, who are both of mixed ethnicity but of different cultural backgrounds, live a clashing breakdown of the polarities within themselves and in the environment around them. The story skillfully takes the reader from one event to another until Superstorm Sandy shocks the characters into redefining a new position in the world. The story feels very real as it puts us head on in conversation with ourselves, with the corporate structures that govern our lives, and by extension, with our idealism. The Erenwine Agenda crosses disciplines, crosses cultures, and crosses opposing viewpoints to arrive at a more compassionate and empathetic place.
Mary: You seem to have a wide variety of talents and skills–architect, artist, and author–with a passion for using art for political and environmental change. What is your background, and how did you arrive at this place today where you are accomplishing so much?
Maia: I'm a Reiki master teacher and mom to two boys with my husband Tom, who is also an architect. I write poetry, fiction, and non-fiction. I teach workshops to kids and adults about architecture, sacred space, and visualizing spaces,  and I make really good bread in my Zojirushi bread machine (my husband is the chef and vegetable gardener in the family… he is the most culinary person I know).
There has been a lot of interest lately from viewers and readers of my work about how I accomplish what I do. I've even been asked to write a book about it. All I can share that might be of use to someone else is this: I expect serendipity. And I expect it to work for me. That's about it! Well, Reiki is also a balm I suppose. I wrote a book about it called Reiki: a manual. It is an ebook, and I am considering putting out a print edition soon.
I am a first generation North American, born and raised in Vancouver, Canada, and living now in New Jersey, in the United States, and working in New York right across the rivers. I studied Urban Geography and Architecture at the University of British Columbia.
I have South Asian Bengali (from Indian and Bangladeshi sides of the border preceding separation) and Celtic/Anglo-Saxon/Scandinavian roots with a rather strong tendency toward both County Sligo, Ireland, and Derbyshire and Yorkshire in England. I know this very specifically as lately I've been delving into my family tree, and have gone back many hundreds of years. I'm enjoying the storytelling and graphic representation aspects of the tree. I may publish the genealogy as a book too, one day, but for now it is a family project. I will give it to my boys and their cousins.
In the genealogy, I am not doing or using DNA research: it is a story map of who we have thought we were, who we have said we were, and what we preferred to keep hidden about who we have been. It is based on a combination of oral histories, historic documents and known genealogies. There is a fantastic weave of characters and lands; I love to play with them.
What I accomplish has to do with how aligned and fluid I am feeling; mediation is a great elixir for me, and has been since a child. I find things go better for me when I dance to the beat of my own drum, so to speak, and don't worry about what other people might be thinking. My productivity can certainly be tied to that sense of doing it for myself and not for others alone. It has taken me my life to date to figure this out, and I am still tweaking this understanding. With every creative project I have another opportunity for the proverbial do-over. I love that about the arts, and I love the personal expansiveness that results. Creativity nourishes the soul, and that soul gives back in multiples.
Mary: That's fascinating; thanks for sharing your background. Funny, I have been to County Sligo to get a taste of Yeats' home! Your novel, The Erenwine Agenda, is described as:
Amalia Erenwine–an environmental activist working in New York City as an architectural intern–takes on the natural gas industry in this visionary eco-fiction book by architect Maia Kumari Gilman. Amalia rails against the underwriting of her employer's work by a natural gas company involved with fracking. She clashes with the gas company's petroleum geologist, executive Mark Stone–and yet, a hurricane of personal and continental proportions triggers the two of them to open their minds to a new world view.
Can you tell the audience how you were driven to write this novel, and what some of your real experiences are that inspired this fiction?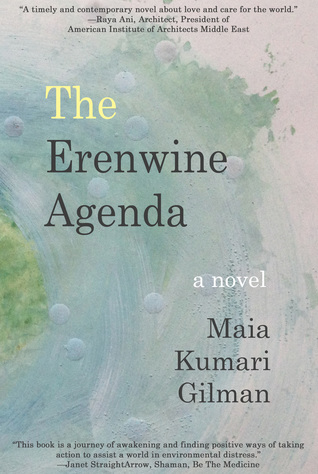 Maia: The idea for the novel literally popped into my head while I was hiking in New Hampshire with my family. I was halfway up Mount Willard (which if you read The Erenwine Agenda you will recognize as being a pivotal location) when the thought jumped in as "you should write a love story about hydraulic fracturing," and it was truly the last thing on my mind in that moment, which may just be why it was able to find its way in as a source of inspiration. I wasn't blocking it.
As for past lived experiences that tie in: there was a most definite basis in my practical work background for writing this novel. I've had and held an interest in green design, sacred sites, and architectural/community longevity from before I became an architect.
Mary: Amalia, the main character, is a green architect, like you. What kind of architecture do you do?
Maia: I have had my own private architecture practice for a number of years, focusing on environmentally friendly residential renovation and commercial tenant fit-out. In the past few years I returned to larger scale work both as a consultant for multinational engineering firms and as a full time employee for New York City, as a lead architect within the City's School Construction Authority. This returns me to my earlier work in Manhattan when I was a designer for other architects who specialized in historic restoration, including for New York City public schools. At present I'm overseeing the design of a 1930s school building renovation.
In my own practice, I'm currently designing virtual spaces that encompass all of my interests: archeology, architecture, art, books, and genealogy (in alphabetical order, not in order of interest!). I began to do this with the inspiration of a group art project at the United Nations, undertaken by a gathering of independent artists. It soon branched out into designing a virtual space for ASEI Arts, my publishing and art production company. Once I'd put it out into the ethers, so to speak, I began to receive invitations from others to collaborate on the digital aspects and the spatial/sacred space aspects of this. There are currently two tangible projects derived as a result of this exploration, neither of which I am at this moment at liberty to divulge. I will share more on those when my collaborators are in agreement about going public–which is to say, we are in development (very exciting development, I might add!).
Mary: Definitely exciting! Tell us about fracking and how it fits into The Erenwine Agenda.
Maia: I see fracking as a complicated and temporary step in our energy evolution, and I'm certainly of the "transition fuel" school of thought. I'm not inclined to come down too hard on one side or the other, because as working with my characters has taught me, we need to work from our starting point, while visualizing where we want to go. It's not a system that is going to reverse 180 degrees overnight, so let's see how we might transition, in a practical way. I believe we are going toward geothermal-solar-tidal-wind (presented in alphabetical order rather than of energy sector dominance), and yet even those energy forms present their own complications, as The Erenwine Agenda explores. We are not trading one set of hazards for an equally troubling set, but there are impacts to be mitigated along the way. I think diversifying now is the key, rather than focusing on one energy source and delivery system. And as the novel points out, the architectural profession has a key role to play in guiding these diversified choices, by making informed recommendations to architectural clients.
Mary: So the plot is really relevant for today. Can you tell the readers what's going on?
Maia: The Erenwine Agenda is a story about finding ways to communicate in areas of disagreement. It is about energy and power, enveloped in love and design: the story is tied by these forces. It is presented with a love interest at its core, and yet one could substitute that relationship for a work relationship, or any other, that has a power struggle within its borders. For this reason, I do not qualify it as a romance, even though there is a love story embedded. Every story is one of passion, whether for a person, place, thing or idea. The passion in this story is as much a love of land, as it is for another human being.
Mary: Who doesn't like a good love story? How did you develop the characters?
Maia: I'd been writing the character of Amalia into short vignettes for a number of years preceding the story (and even integrating the text of those vignettes into art pieces), and so when the idea for the novel dropped in, it was natural to put her to work. She started out more extreme in her positions, as did her counterpart, Mark – who emerged on the inspiration I received from watching a corporate promotional video from my research phase. Had that been a flicker of doubt I saw across that man's face, as he spoke and promoted his company? I was intrigued. And thus, the character of Mark was born. Characters Betsy (Amalia's boss) and Mildred (the irreverent reverend) came out of needing people to play those roles, and they were so strong in the initial drafts that I've brought them back as central figures (co-conspirators!) in my next two novels which are in progress.
I had so much fun writing a complicated and sexy novel about fracking, that I decided do it about medical marijuana and trains as well. In the same way The Erenwine Agenda is generally about energy and specifically about fracking, so are the next structured: Otter Coast (my working title for #2) is generally about creative states of consciousness and specifically about medical marijuana, and Rail (working title #3) is about the movement of goods and services and people, and specifically about the complexities of high speed rail transit. There is a weave of themes among the three books, and yes, energy sector issues will come up in all three. Can you start to see how they might? The first draft of Otter Coast is completed and I am sketching out ideas for Rail, while letting Otter Coast lie still for a little longer. ASEI Arts will publish them both.
Mary: I look forward to the other books. Speaking of the energy sector: How important do you think is environmental storytelling today?
Maia: I think it is as important as ever, no more and no less important than it might have been in Homer's day or in the storytelling over time of the Bhagavad Gita. We are more universally aware of its power now, perhaps. And so we can magnify that power through our focus on what we want, which is a good thing, I think. I've been developing a workshop series called "Script Your Space," which is loosely based on this idea. It is not yet launched but with you asking this question, it makes me think it is time. There has never been a better time to communicate our stories, because this present time is all we can be sure of. We might as well tell the story of what we want.
As for my own environmental storytelling: I enjoy playing with whimsy, and layers, in all of my work–whether it is in art, architecture, or writing. I find all of those forms to be different aspects of storytelling, and layering in some whimsy and wit makes for a good read or a pleasurable reception from the user's point to view, in my eyes. It gains an audience by its power of attraction, through an aspect of being appealing. Any good story needs to be appealing on some level. By being appealing, the story gains a foothold, and can engage others to come on side to a particular point of view. It is persuasive. Our world's environments are as diverse as are our storytellers and so by extension, there is not one right way of telling an environmental story. That said, I aim to hold space for multiple opinions in my work, or at least I did, when I wrote The Erenwine Agenda. You could say it is a whimsically layered novel in the manner it plays with different influences, whether social or spiritual or sensual.
Mary: Have you read any other novels that really moved you?
Maia: I love the work of Barbara Kingsolver. She manages to be both specifically scientific and community-minded, which I find very inspirational. Flight Behavior is a favorite of mine.
Chitra Banerjee Divakaruni's book Queen of Dreams touched me in a way I am still understanding. Something about its ephemeral and yet concrete artistry captures my imagination. She achieves that in all her work.
I've been thinking a lot lately about Virginia Woolf's A Room of One's Own, which I read many years ago and have on my shelf still. Something about its message resonates with me now. It is not a novel, but it is a treatise on novel-writing, to me. The "room" is metaphorical inner-space, and it is what one makes of it, that is everything. That inner-space transcends all conditions if you let it; it is spiritually spatial without necessarily being taken as a literal place or space.
Other novels I consider to be pivotal in my life include:
The L-Shaped Room by Lynne Reid-Banks
The Tale of Genji by Murasaki Shikibu
Woman on the Edge of Time by Marge Piercy
A Wrinkle in Time by Madeleine L'Engle
And seeing those grouped makes me realize their similarities: how women over time have addressed conflict in their lives and communities–surely a thread that runs through my own writing.
Mary: Regarding your art, I read that you moved from realistic paintings and drawings to more abstract expressions. I personally think this is kind of interesting because when I write fiction I think of the modern world, with extinction, dwindling natural spaces, and profound planet changes as a setting in which to write ephemeral stories.  Have you felt that way ever about your style of art?
Maia: I see us as changing… and it is change that interests me. There will always be something new, some evolution, some new turn, some unexpected or unanticipated development. I've often said, "there is no emergency, there is only emergence," which for me underscores our innate opportunity to choose how to regard a situation. Of course there are difficult situations occurring all over. I see and know that. I also know that I can select my response to those situations: do I want to go down a tunnel of darkness or through a doorway of light? I know which I choose. And my art does, too.
Mary: How do you use art as an agent of change?
Maia: It's powerful. It allows one to express with a voice that is both individual and collective, and it is limitless. It is like electricity, or water. Art has the potential to express, to craft, and to hone a vision for well-being beyond what most people believe to be possible. Through art, anything is possible. And so, it is one of the most powerful change-agents we have. I can't think of a more glorious way to think of it! As for how I use it: I use it to express an aspiration that I am feeling in the moment. I use it as a focusing mechanism. A mandala, if you like. I even make mandalas of ideas when storyboarding for a writing project. Sticky notes are great!
Mary: I'm really impressed by how you use your work to do good things in the world. How did you get involved with ASEI Arts, Habitat for Humanity, and the relief anthology? Is this anthology going to be a yearly thing?
Maia: Thank you! ASEI Arts is A-S-E-I which stands for A Salon for Environmental Inspiration, and it is my brainchild. I came up with it while walking in my local county park, which abuts a national wildlife preserve and bird sanctuary, during a time when I was seeking a home for my novel's publication. I had considered publishing with another company, and had talked to some publishers about it, yet hadn't found the fit I sought. There was interest and yet my work was so very specific that the publishers had concerns about reaching a broad audience.
And you know? I didn't care so much about that. I knew (and still know) that my work would appeal to some and not so much to others, and that it would reach those for whom it resonated. I felt inspired to share a living-room-salon space with those people who wanted to come, hence the idea of the salon. This was the birth of ASEI Arts. I soon found it to be so much fun and so satisfying that I decided to expand the options to include other authors, and I am now the publisher for other authors' writings, including two in translation. Those are projects in the works, and so we will share information when it is the right time, which is to say, when those projects are more fully cooked. I've certainly been inspired by Louise Hay, who started Hay House Publishing under her own steam, to publish some initial pamphlets that featured her writing. I figured if she could do it, I could do it.
ASEI Arts, by the way, is a division of my Reiki company, Light Vibe LLC. For a while I was teaching Reiki and offering Reiki for people's homes and businesses, and had been advised to separate the work out from my architecture company, so Light Vibe was created at the same time as I founded Maia Gilman Architect PLLC. For a few years I developed and sold Light Vibe essential oil sprays to lighten the home, all infused with my Reiki. I still do this for the occasional client.
I was at the Appalachian Mountain Club's Highland Center when the wave of hurricanes hit the southern United States and Caribbean, and, in the same way that I had connected those mountainscapes of New Hampshire with my own eco-fiction writing in The Erenwine Agenda, I was inspired to connect larger solutions in writing, with hurricane relief for the south. I remember sitting in a rocking chair looking out at Mount Willard, thinking of my protagonist Amalia, who had sat in the same spot, and before long I had come up with an idea and was on the phone with Habitat for Humanity in Texas. Sitting in that rocking chair, I talked with them in the days after the first hurricane, and developed what would later come to be our Anthology House project.
This is a visionary eco-fiction anthology that will benefit the now-named "Habitat Hammers Back," an initiative developed in the fall of 2017 to raise funds to rebuild hurricane-hit areas in the south and Caribbean.  We have an international group of authors from four continents who are donating their time and writing to this project, including ecological fiction and poetry authors Brian Burt, Elizabeth Esguerra Castillo, Marguerite Harrold, Anne Ipsen, Devanshi Jackson, Ndaba Sibanda, CE Wagner and Colin Waterman. I am also contributing a short story to the anthology, as well as writing the foreword. This is the first anthology to be produced by ASEI Arts.
Mary: That is so awesome, Maia. Is this anthology going to be a yearly thing?
Maia: It will be periodic, and it will benefit a different not-for-profit most times. I like the combination of fueling a community-minded organization while also giving authors a platform, all wrapped up in one project. Writing can otherwise be a somewhat solitary process. And publishing is a group activity for sure; it is communal at its heart. It is something I want to do with and for others, because it is satisfying on so many levels.
Mary:  You have also worked with the United Nations to help with refugee crises?
Maia: I was one of a small group of independent artists from North and South America who participated in an art exhibition at the United Nations in Geneva, Switzerland, called "Domus Terrae." We came together at the invitation of artist and attorney Lucia Vaca-Izurieta who herself had been asked to represent Ecuador to honor the world's first international negotiations on migration and refugee settlement. The Missions to the United Nations of Ecuador, Columbia, and Italy were sponsors of the exhibition, and the opening of the show featured musicians from Ecuador and Italy, along with an inspirational weave of speeches by the heads of the Missions, UNHCR and the UN in Geneva.
We aspired to honor and amplify the work of the negotiations by focusing on elements of the earth as our shared home. It was a marvelous event which we hope will be soon moving back to the Americas for showing on this continent. Our underlying themes of unity and oneness within diversity (or, you could equally say, diversity within unity and oneness) were reflected in all the participating artists' work.
I made a three-dimensional digital model of the entire exhibition which should be available online at some point in the near future.
Mary: This is all such good work, and I admire your projects. I think we could go on talking for a long time, but this chat will give readers an idea of the great many things you do. Thanks so much for being a part of our "Women Working in Nature and the Arts" feature.
Editor's note: Dragonfly's opinions on issues do not always equal the author's.