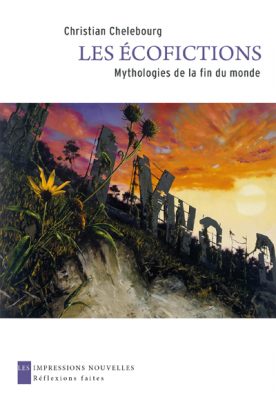 Thanks to author Christian Chelebourg for bringing to our attention his book of essays and thoughts about pollution, global warming, natural disasters, epidemics, and genetic engineering found in over two hundred novels, cartoons, essays, documentaries, poetry, and movies.
Pollution, réchauffement climatique, catastrophes naturelles, épidémies, manipulations génétiques font partie de notre quotidien, engendrant une culpabilité et des angoisses dont nous avons de plus en plus de mal à nous défaire. Les fictions, littérature et cinéma en tête, exploitent ces nouvelles peurs, réactivant d'anciens mythes et créant de nouveaux. À la lumière de plus de deux cents romans, films, bandes dessinées, documentaires, essais ou publicités, Christian Chelebourg démonte pour notre plus grand plaisir les mécanismes de ces écofictions qui nous divertissent autant qu'elles nous effraient, qui nous invitent à méditer sur notre fragilité autant qu'elles nous persuadent de notre puissance.
Please see the book's site for more information.