Kesterson by Craig Wilson
ISBN: 978-1662908286
Publisher: Gatekeeper Press
Publication date: May 14, 2021
Reviewer: Mary Woodbury
---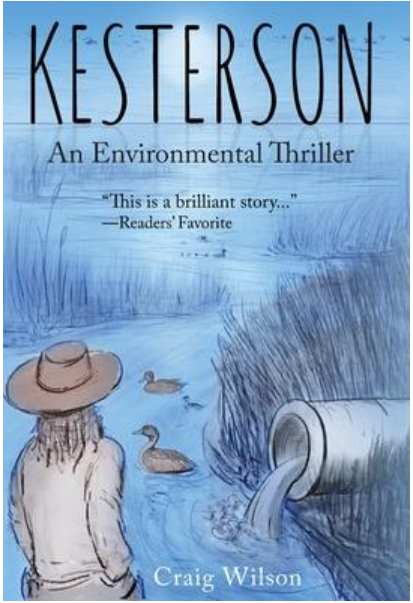 Craig Wilson's novel Kesterson (Gatekeeper Press, 2021) is a refreshing story I wish we could see more of these days. Full of political intrigue and mystery, the novel provides tension between good and evil characters, but because it's adapted from a real-life tragedy, the events feel even more immersive. Wilson has a lot of knowledge of the 1980s fate of the Kesterson National Wildlife Refuge in southern California, which was the site of sudden bird deaths and deformities and which had scientists, refuge workers, farmers, state water employees, and everyone else scratching their heads.
But first, Wilson, who worked as an attorney on the case, lays a back story from the 1970s of what would become a political drama about the wildlife park being poisoned. Before that ever happened, farmers in the nearby delta were running out of water and couldn't properly drain any excess water from their soil. Wilson weaves a cast of interesting characters into the story, including the shady dealers trying to profit off of others' misfortunes, in this case conmen swindling desperate farmers, whose water tables in the 1970s were decreasing and would be worthless soon, making it so that continuing to invest in their farms wasn't a smart decision.
The reader will learn some fascinating facts, such as how farmland irrigation works in an area that is often dry, and how some of the world's greatest civilizations, such as Mesopotamian and Mayan cultures, failed because they couldn't drain excess irrigation from their saturated soil. The story is both historical and cautionary and guides the reader through a long, involved process of how things work and don't work when it comes to what seems like basic infrastructure, like getting water to fields and wildlife sanctuaries.
After Wilson builds up the background of water diversion, he shows how the refuge became the endpoint for the flow of excess drainage water, which seemed at the time to benefit migrating waterfowl stopping there. The decision seemed to kill two birds with one stone: it allowed farmers water and proper drainage and provided water to the bird refuge.
All it really took was one eager profiteer to start the wheels turning to sell the farmers a dream, which in the end turned out to be a nightmare. In the novel, a petitioner turns up dead. Blackmail, secrets, buyouts, and other dirty work is always in the background. Theatrics followed, with those caught up in the machine eventually getting into politics, even at the federal level.
By the early 1980s, the first deformed mallard corpses were found, along with dead birds at the Kesterson refuge and nearby. A man named Max, who built a new duck hunting club near the refuge, noticed lower numbers of kills each year. Max also found a nest of deformities near his business. By June of 1982, out of 600 nests, 40% had at least one dead bird or deformed embryo. In the fall of 1983, after continued findings of sick birds, a nearby cow was found on the ground in distress from selenium poisoning. In December, a doctor found that the drain water held excess levels of the mineral.
Toxicology results showed that high amounts of selenium were found in bird biopsies. The birds were getting sick and dying from a bioaccumulation of selenium, which, it turned out, was in the drainage water being diverted from farmlands to the wildlife park, where so many migratory birds visited. Note that selenium is naturally found in trace amounts, where it isn't dangerous, but when occurring in excess, it acts as a poison to people and animals.
At a state board vote, toward the end of the novel, a variety of people give testimony, but the one I liked best was of a woman named Delores, whose parents were from the Yaqui tribe in Mexico. She shares a story about how migratory birds were a sacred part of her culture and folklore, and thus respected. When she went on to explain more later, she talked about how the birds wintered in the Sonoran region, and when the birds left, folktales formed about where they had gone. The inspiration from her stories seemed to nudge people into doing the right thing.
Wilson, a staff attorney at the State Water Resources Control Board back then, later stated, at UC Davis Magazine, that he never forgot those times and that the story is "almost an allegory to the larger picture—climate change." This is an important point to make because authors write cautionary tales to warn others. Sometimes the stories are historical, but stories like them did not stop after everyone learned from mistakes. Such environmental tragedies are still occurring, which means we have to constantly be reminded of the outcome of bad, and in many cases, initially uninformed decisions, sometimes even riddled with good intentions. Yet here we are, climate change hovering over us and changing our landscapes, killing wildlife, and breaking ecosystems down to be completely unsustainable. We need writers and artists to make us care about humanity's impact on the environment, and Craig Wilson has done just that with Kesterson.