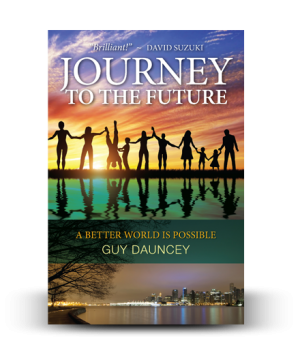 Thanks to Guy for letting us know about his new novel, Journey to the Future. Visit the website for more information. You can also view book buying options here. From the site:
In futurist Guy Dauncey's inspiring and timely novel, 24-year-old Patrick Wu journeys to a future world brimming with innovation and hope, where the climate crisis is being tackled, the solar revolution is underway, and a new economy is taking shape. Yet enormous danger still lurks.
Patrick has returned to Vancouver after spending his youth in Sudan, where his parents worked with refugees. After becoming deeply concerned by the state of world and the prospects for its future, he finds himself time-shifted to Vancouver in the year 2032, by when it has become one of the world's greenest cities.
For four days he explores the city, interviewing people, and asking a host of questions. How does a modern metropolis operate without fossil fuels? How are poverty, homelessness and affordable housing being tackled? What gave people the belief that they could change the world?
He visits a flourishing farm, discovers how healthcare and education have changed, spends time in a low income part of the city, attends a Friday evening Song of the Universe, and learns how a new cooperative economy is being built while capitalism itself is changing into something different. Politics and democracy are changing too, thanks to a popular uprising that has taken place known as the OMEGA Days.
The answers he receives are practical and detailed, and give him hope for a future that can actually be achieved. Although Vancouver in 2032 is vibrant and happy, its people are still troubled that the rest of the world is not changing fast enough. Their green sustainable city is a reality but, in spite of progress in switching to renewable energy, the climate crisis is still a massive global danger.
During his conversations Patrick also hears references to something called syntropy, a scientific self-organizing principle that operates through consciousness. Before he leaves the future, he attends a dinner party where he learns what syntropy is, and how it has the potential to inspire far greater change.