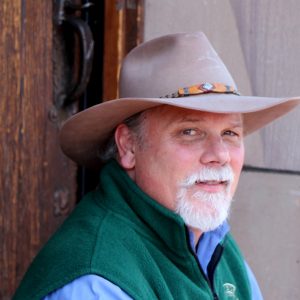 We're happy to welcome Samuel Marquis to our interview series. He is a bestselling, award-winning suspense author. An expert witness in groundwater contaminant hydrology, Samuel works by day as a VP-Hydrogeologist with an environmental firm in Boulder, CO, and by night as a spinner of suspense yarns. His first two thrillers, The Slush Pile Brigade and Blind Thrust, were both #1 Denver Post bestsellers, and his first three novels received national book award recognition. The Slush Pile Brigade was an award-winning finalist in the mystery category of the Beverly Hills Book Awards. Blind Thrust was the winner of the Next Generation Indie Book Awards in the suspense category, an award-winning suspense finalist of both the USA Best Book Awards and Beverly Hills Book Awards, and a Foreword Reviews' Book of the Year award finalist (thriller & suspense). His third novel, The Coalition, was the winner of the Beverly Hills Book Awards for a political thriller.
Former Colorado Governor Roy Romer said, "Blind Thrust kept me up until 1 a.m. two nights in a row. I could not put it down. An intriguing mystery that intertwined geology, fracking, and places in Colorado that I know well. Great fun." James Patterson compared The Coalition to The Day After Tomorrow, the classic thriller by Allan Folsom. Donald Maass, author of Writing 21st Century Fiction and two novels, compared The Coalition to The Day of the Jackal. Other book reviewers have compared Bodyguard of Deception to the spy novels of John le Carré, Daniel Silva, Ken Follett, and Alan Furst. The first thriller in Mr. Marquis's World War Two Trilogy, Bodyguard of Deception, is currently a Top 10 Best World War II Spy Book and Top 10 Fiction Book Set During WWII on Goodreads along with such WWII thrillers as Follett's Eye of the Needle and The Key to Rebecca, Daniel Silva's The Unlikely Spy, and Ben Mcintyre's Agent Zigzag and Double Cross.
Mr. Marquis lives in Colorado with his wife and three children and he plays competitive lacrosse, hikes, and skis on weekends when he isn't writing.
Mary: Thanks for taking the time to talk to Eco-fiction! Your mystery novels have won awards and been on best-selling lists, and some of them have environmental themes, such as fracking. You also have a career in geology. How did your science career inspire you to write novels?
Samuel: I have actually always been an author first and foremost. I wrote my first novel in high school (don't ask) and co-founded The Denison Journal of Geosciences in 1982 in college and wrote its first article (on Charles Darwin), so I have always enjoyed both literary and scientific writing. I am a professional hydrogeologist because I love geology and the natural world, and I have to find a way to support my family and pay the bills. My career as a professional scientist and expert witness in groundwater contamination cases has provided fodder for my Joe Higheagle Environmental Sleuth Series and the overall technically detailed style of my novel-writing. My other two series include my World War Two Trilogy and my Nick Lassiter International Espionage Series. With my technical background, I am similar to suspense authors like Preston and Child, Michael Crichton, and Tom Clancy in that I pack in a lot of technical information in my thrillers while still maintaining a brisk pace. So my science and expert witness background has contributed to my novels in that regard.
Mary: Can you tell us more about your World War II series?

Samuel: I have written two books for my WWII Trilogy so far, Bodyguard of Deception, which came out in March 2016, and Altar of Resistance, which will be released in January 2017. It is not a series in the sense that there are continuing characters, but rather is a trilogy of three different books about the Second World War, similar to Rick Atkinson's recent Pulitzer-prize winning non-fictional WWII Trilogy. In Bodyguard of Deception, the central theme is, Can the American and British Allies stop a German spymaster and his U-boat-commander brother from warning Hitler's High Command about their greatest military secret—a secret that could bring the Allies to their knees? The novel has been an Amazon Top 100 Bestseller on the Historical Fiction List for the past six months. It is also currently a Top 10 Best World War II Spy Book and Top 10 Fiction Book Set During WWII on Goodreads along with such WWII thrillers as Follett's Eye of the Needle and The Key to Rebecca, Daniel Silva's The Unlikely Spy, and Ben Mcintyre's Agent Zigzag and Double Cross.
The second thriller in the trilogy, Altar of Resistance, takes place in Rome during the German Occupation of 1943-1944. In this wartime setting, the Eternal City is a tinderbox of four conflicting parties grappling with one another: the Allies—represented by Major John Bridger of the American-Canadian First Special Service Force—trying to capture Rome as the first Axis prize of war but discovering instead stiff opposition; the Germans—represented by Waffen-SS Colonel Hollmann, the German father of John Bridger—trying to throw the Allies back into the sea, holding Rome hostage, and using it as a staging ground and supply line to the front; Pope Pius XII, deeply involved in the plot to remove Hitler from power, struggling to maintain Vatican impartiality and mediate between the West and Nazi Germany, and striving to save Rome and Vatican City from destruction and to protect the city's Jews and Catholics from extermination; and finally, the Partisans represented by Teresa Kruger, daughter of Hollmann and half-sister of John Bridger, who during the German Occupation is transformed from a passive member of Rome's elite to an active Resistance fighter. The novel is based on actual historical events and newly released OSS/CIA and KGB documents.
Mary: Have you ever had any feedback from readers who used to not worry about issues like fracking, but now do?
Samuel: I gave a talk and book signing at a book club on my earthquake-fracking thriller, Blind Thrust: A Mass Murder Mystery (Book 1 of my Joe Higheagle Environmental Sleuth Series), and the readers were very much worried about how closely the events depicted in the novel matched what is going on environmentally today. I wouldn't say they weren't worried about fracking before reading my novel and then Blind Thrust scared the wits out of them; it was more that by reading the novel and being invested in its characters, they understood the detailed science behind the fracking-related earthquakes and how these events could affect the everyday lives of people just like them.
Mary: Interesting. I have also seen the other side of the story where people don't understand the dangers of fracking. What are the latest scientific findings on earthquakes and fracking? And how do you incorporate these into a fictional novel?
Samuel: In deep-well hydraulic fracturing operations of every kind, there is and has always been a direct correlation between the volume of fluids injected into subsurface geologic formations and earthquake frequency. For my novel Blind Thrust, I researched every case of hydraulic-fracturing-related earthquakes in Colorado history and worked the details of these cases into my novel. The first of these Colorado man-made quakes occurred at the Rocky Mountain Arsenal between 1962 and 1967 when I was a boy growing up in Denver. The largest of these tremors was a 5.3-Richter-magnitude event in 1967. Six years old at the time, I experienced this particular earthquake firsthand. I was walking down the stairs leading to our basement at the time and I remember the ground shaking beneath my feet and being knocked down. Just like in my book, the Army was injecting hazardous waste down an injection well and causing small- to medium-magnitude earthquakes during this time period. Interestingly, the tremors were discovered and linked to the U.S. Army deep well injection operation by Consulting Geologist David Evans, a neighbor of ours who lived a few blocks away. Who knows, maybe Evans was subconsciously the model for my Joe Higheagle as he was reportedly something of a sleuth who maintained his own seismographic network in his house.
Mary: I have started reading the latest and love your writing, with its great pace and development of characters a reader can relate to on an emotional level. The other books you've written, including the forthcoming Cluster of Lies, are part of the Joe Higheagle Environmental Sleuth series. Tell us something about Joe and how the series evolves.
Samuel: My Joe Higheagle Environmental Sleuth Series (Blind Thrust: A Mass Murder Mystery and Cluster of Lies, Book 2 of the series, just released) is based on my nearly thirty years as a professional hydrogeologist involved in environmental health risk assessments, groundwater flow and transport modeling investigations, and serving as a groundwater expert witness in class action litigation cases. Joe Higheagle, the hero of the series, is a Denver-based, Northern Cheyenne geologist who solves environmental crimes. Like Sherlock Holmes, he works with a clever sidekick: his curmudgeonly grandfather, Chief John Higheagle, a former tribal lawyer and Contrary (a Cheyenne holy man who does things in opposites). The two are like the Odd Couple except the main source of conflict between them is Old vs. Young, Traditional vs. New. And yet they both embrace Cheyenne culture and their Indian heritage plays out in everything they do in the books as they attempt to bring corporate villains to justice.
The series evolves by Higheagle and his grandfather solving one major environmental crime after another, and the young, single Higheagle garnering a new love interest in each new book, a la James Bond. The first book in the series, Blind Thrust, is specifically based on my experiences in California and Texas as a Registered Professional Geologist in assessing earthquake hazards and fault classifications on behalf of real-estate developers in environmental site assessments. The original inspiration for Cluster of Lies, Book 2 of the series, was drawn from my professional experience working on the Rosamond cancer cluster case in Southern California.
In Cluster of Lies, Higheagle and his grandfather the chief solve the mystery of a childhood cancer cluster at Dakota Ranch outside Denver, Colorado, where four boys have been diagnosed with a rare form of brain cancer. Think Erin Brockovich, A Civil Action, and Michael Clayton. In writing the novel, I drew heavily from my actual professional experience working on the aforementioned cancer cluster case in the Southern California desert. Visiting the town of Rosamond, reviewing the documents on file in the local library, and interviewing the residents who had experienced the cancer cluster firsthand had a profound impact on me and served as both the inspiration and framework for the novel.
Mary: Personally, I thank you for taking on these issues in fiction; it is great to see authors caring enough to write great imaginary but reality based stories that connect us intimately to our natural environment.
Joe Higheagle is a native Cheyenne. How were you inspired to create this character?
Samuel: Growing up in Colorado, I have always been interested in stories of the Plains Indians and Wild Wild West, but what truly sparked my interest in Cheyenne history and made me want to have a Northern Cheyenne protagonist was when I dug into the history of my great-great relative, Thomas B. Marquis. Dr. Marquis (1869–1935) was a physician, author, photographer, and important chronicler of the 19th Century American West. He practiced medicine in Montana, was with the U. S. Medical Corps during World War I, and served as government physician on the Tongue River-Northern Cheyenne Indian reservation after the war. Because of his interest in Plains Indians, he eventually gave up his medical practice and devoted full time to learning Indian sign language, gathering historical data from the Northern Cheyenne, and writing about their culture and the Plains Indian wars. During the course of his medical career among the Northern Cheyenne, he interviewed many old warriors who had participated in the 1876 Battle of the Little Bighorn. He realized that these interviews could eventually lead to a book about the Custer Battle participants that would take into account both the Indian and U.S. Army perspective and dispel many Custer myths. Eventually, Dr. Marquis moved to Lodge Grass on the Crow Indian Reservation to interview Custer's Crow Scouts, and to be able to see and study the actual battlefield. The Indians trusted him, allowed him to photograph them, and told him things via sign language that they would reveal to no one else. His books include Wooden Leg: A Warrior Who Fought Custer (1931), Two Days After the Custer Battle (1935), Custer, Cavalry and Crows (1975), Keep the Last Bullet for Yourself: the True Story of Custer's Last Stand (1976), and many other works. It is because of Thomas B. Marquis that my protagonist, Joe Higheagle, and his curmudgeonly grandfather, John Higheagle, were created and why I weave the Cheyenne, Custer, and the Little Big Horn into my books. The Northern Cheyenne loved Thomas B. Marquis like a brother and he loved them back. Like him, I greatly admire the Cheyenne Indians, the finest horse people of the Great Plains along with the Comanche.
Mary: Who were some of your favorite authors growing up? Who today?
Samuel: My favorite authors growing up and as a young adult were Roald Dahl, Hawthorne, Fitzgerald, Hemingway, Steinbeck, A.B. Guthrie, Jr., and Larry McMurtry. I didn't read thrillers until ninth grade when I read Jaws and loved it. Today, my favorite literary authors are Michael Shaara, E.L. Doctorow, and Charles Frazier, and my favorite non-fiction writers are Robert Utley, Stephen Ambrose, Shelby Foote, Kevin Duffus, Ben Macintyre, S.C. Gwynne, Erik Larson, Rick Atkinson, Marcus Rediker, S.C. Gwynne, and Hampton Sides. My favorite commercial fiction writers are Frederick Forsyth, Gore Vidal, James Clavell, Dennis Lehane, Daniel Silva, Preston and Child, Ken Follett, Stephen Hunter, Richard North Patterson, Michael Crichton, and early Grisham. I tend to gravitate towards authors who tell stories in the same way I do and to subject matter dealing with my areas of research interest in the Pirates, Plains Indian Wars, World War II, the War on Terror, and modern science with a geological, biological, or paleontological component.
Mary: Sounds like a wonderful group of writers to be impacted by. Thank you so much for this interview, Samuel, and I look forward to your books.