Off Grid and Free: My Path to the Wilderness is the story of the journey Ron Melchiore undertook as a young man from the city, first to homesteading in northern Maine and then to living in the bush of northern Saskatchewan. He has lived off grid since approximately 1980 and speaks candidly about the joys and the tribulations of his chosen lifestyle. In this memoir, Ron shares the diversity of his experiences in an easy-to-read, humorous, and sometimes harrowing narrative.
The book includes his hiking of the 2,100 mile Appalachian Trail in winter, bicycling across the United States, homesteading off grid, and the terror of being surrounded by a wildfire and surprise encounters with bears, and more. For readers with an outdoors spirit, people with an off grid and self-sufficiency bent, and dreamers who like to read about adventure, Ron hopes to inspire others to "take the road less traveled."
Ron has been published in Back Home Magazine, Small Farmers Journal, Countryside Magazine, and Mother Earth News. Ron's site is inthewilderness.net.
Ron participated in the documentary Life Off Grid, which aired on BC's Knowledge Network.
Other media: Prince Albert Daily Herald, Allentown's The Morning Call, Regina Leader Post, Bangor Daily News, Mother Earth News, International Satellite Services, Vitchelo
You can follow Ron on Facebook, Pinterest, and YouTube.
---
Mary: Thanks for talking to a bunch of mostly fiction writers and readers who care about the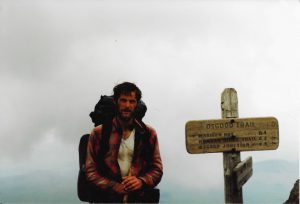 environment. It's a dream for many of us living on the grid and in the city to live a more sustainable lifestyle and get out into the wild. Your book, Off Grid and Free: My Path to the Wilderness, shows what led up to, and what has happened since, your decision to live off grid. You began your journey decades ago. For people in modern times, has it gotten exponentially more expensive to go off grid or to even buy land at the start?
Ron: I would argue in a few ways that it has gotten exponentially more expensive to remain tied to the grid. Has it gotten more expensive for somebody to go off grid today compared to 36 years ago when I first started out? In a word, no. There is still cheap land in the United States and Canada that people can purchase. Technological advances in solar and wind power equipment have brought prices down and efficiencies up. There is an overwhelming array of gizmos and gadgets that are available for those who want to go off grid that were not available at my start. Having said that, there is still something to be said for old technology. Sometimes, it's a whole lot better than new. An example of that is our old wringer/washer. I think society as a whole is in much worse physical shape than that of our predecessors. We've drifted farther from our down-to-earth roots. For anybody who wishes to consider an off the grid homestead way of life, my suggestion is to pick and choose carefully the technological advances you wish to utilize. Many things can be done the old fashioned way with a little elbow grease, effort and knowledge, thereby creating a savings in dollar terms when making the transition to an off grid homestead.
Mary: Now with climate change upon us, something that in the 1970s perhaps didn't get much attention, do you feel you're in a safe place by living off grid in Saskatchewan? What will happen if there is an increase of forest fires, heat, or rainfall? How can people really prepare, without being alarmists, for becoming self-sufficient in the future?
Ron: In regards to our specific circumstances of living off grid in Saskatchewan, we feel very safe here. Forest fires would be the biggest concern and because this area has burned in the last 15 years, there is no longer a big worry about them. We have survived numerous attempts by Mother Nature to burn us out of here, and we now have the confidence and knowledge that we'll survive again if need be. Every location on the planet has some weather potential to disrupt daily life in a big way. For us, it was forest fires. The east coast has hurricanes, the west coast has earthquakes, and the central United States has tornadoes. Everybody's circumstances are different, and preparation will need to be tailored to each specific scenario. The common thread with all this is to have an escape plan or plan of action if this or that happens. Don't wait until a disaster strikes and then make things up on the fly. Prepare in advance for the likely threat in your particular area. We don't consider ourselves "preppers," but off grid homesteading is a lifestyle that by its very nature enables us to be prepared. Weather is only one variable to look at. We are firm believers in having a game plan for all situations. We are also firm believers in being responsible for ourselves. Self-reliance and having basic homesteading skills gives the confidence to at least challenge the odds. What I'm driving at is this: weather is just one of many variables people might be faced with. Maybe it's a solar flare, a lethal contagious pandemic of some kind, or unforeseen geological event. A little knowledge will go a long ways in having the confidence to deal with the unknown.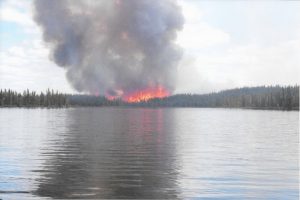 Mary: Bears. As you know, I'm a trail runner and hiker. My mother-in-law got me some bear mace and a bear bell recently. I have never run across the bear on a trail, and bear attacks around here are low compared to the number of sightings, but bears live here–and, I assume, are more prominent up where you live. They are a huge, maybe irrational fear for me. And I imagine for many folks. You once had a bear come around your house, trying to get in. You wrote about it in your book–how afraid are you? How does one psychologically prepare themselves for true wilderness off grid living and all the threats around, such as bears and wildfires?
Ron: We've had many bear experiences in our life. Last year, during the night, we did indeed have a bear that was determined to break through our bedroom window for a visit and it was a scary experience. But, in daily life, we don't go out scared. We are wary and we always have a watchful eye, but we don't live in fear. That bear at the window had to be an astronomically low probability event. Do we expect it to happen again? Hard to see it occurring again in our lifetime. In all the years we've lived out here, we've never had a can of bear spray. We do now, and we keep it handy in spring and early summer when bears are out aggressively foraging. Once a food source, such as berries, are available for the bears, I have far less worry. How does one prepare to live an off grid wilderness experience? The key word is prepare. Obtain the confidence, experience, and knowledge before ever attempting a lifestyle like this. Suck up knowledge like a vacuum cleaner. Try gardening and food preservation or experiment with solar panels in an environment that allows failure without catastrophic consequence. As far as a runner in bear country… Always make sure your running partner is much slower than you! And for anybody camping in bear country, don't smell like a piece of fried chicken when you go to bed. I refer to the time I was touched by a bear. That can be a story for another time. If it makes a person feel more secure, by all means carry some bear spray. Just make sure to read the directions and practice taking off the safety clip a few times long before you might need it. Know that it is really an infrequent event to encounter a bear and even more rare that the bear will be aggressive towards you. Still, my preference if I was running in bear country is to make sure I'm the fastest person in the group!
Mary: It's starting to feel like a bad idea when I run alone!
You have to be pretty fit to do all the work you've done for building a life off grid. Not to mention your previous hiking the Appalachian trail in winter and cycling across the country, coast to coast. Some of the work you've done to either build your home or afford it seemed also quite hard physically, such as managing your own forest and lumber mill. How would someone who is not in the best shape do what you did? Or is that possible?
Ron: It's true, a person needs to be physically fit to be a logger, ride across the country on a bicycle, or hoof the Appalachian Trail. But, along with the physical element is the mental toughness. I found the mental part to be daunting on the Appalachian Trail. To will my body down the trail day after day, mile after mile. Of course doing it in the dead of winter meant lugging additional weight from extra equipment, and dealing with cold temperatures, cold rain and snow, which didn't make it any easier for me. When I look back at my life and all that I've accomplished, the Appalachian Trail is at the top of the list as the hardest thing I've done. For those not in top shape, start slow. If you want to do a long distance hike, build up to it. My advice would be: don't run out of the office cubicle, buy top of the line gear, and set out to hike 2,100 miles unless you've built up your body and stamina to give yourself the best chance of success. It comes back to the same word I've used in relation to life off grid. Prepare accordingly. A person will have set themselves up for failure if they aren't prepared for whatever endeavor is being attempted. Worst case, a person doesn't make it all 2,100 miles, or a person doesn't make the bicycle trek all the way across the country. What's the metric used to determine success? Did the person have fun? Positive experience? Learn anything?
Mary: You are trying to sell your place and find something on the East Coast. Can you tell us about this decision to relocate, and how different do you think your new place will be?
Ron: Sure. As a young kid, I spent part of my summers at my grandparent's summer house in southern New Jersey. I grew to love the ocean. There's something really special about crashing surf and I can't get enough of it. Johanna and I are both adventurous spirits, and there's one last thing we'd like to do in our life before we hit the checkout counter, and that's to have an off grid isolated homestead on the Nova Scotia coast. It will be smack on the ocean or close to it. We've had 16 wonderful years living remote at Hockley Lake, but we're not getting any younger. There's no point contemplating a new start in a new location if we're 80. So now is the time to do it while we are still young enough and have our health. As far as the difference between current lifestyle and new one, I don't anticipate much difference other than climate. Compared to our northern location, with temperatures that have dropped to minus 57F, it will be as though we've moved to the tropics once we get to Nova Scotia. Although we have the northern climate gardening mastered, I suspect it will be considerably easier to have a garden at our new location. And, of course, our logistics will be immensely easier. We won't have the flight on a float plane to access civilization. A car will now suffice. Instead of shopping for food and supplies every six months, we will do it far more frequently, every three months, and we will also be able to pick up our mail regularly.
Mary: I previously interviewed your wife Johanna, who gave great advice: you do not have to go into the deep wilderness to live off grid, and you can turn any housing off grid (according to residential bylaws, I would imagine). How expensive it is that to do? How does one truly afford to become more independent and self-sufficient?
Ron: I can only offer a guess on this one since I have no experience with grid tie-ins. It may actually be cheaper for someone on the grid to incorporate solar/wind than it would be for us far removed from the grid. We have an upfront cost for all of our solar/wind pieces and parts. We accept the upfront cost and we take all the benefits with it. The advantage for someone already on the grid is the potential subsidies which might be in place to install alternative energy such as solar and wind if you are willing to sell excess energy back to the utility company. How nice is that? A homeowner can be tied to the grid and still have solar/wind. The homeowner has the opportunity to reduce his/her monthly electric bill by producing some of their power needs themselves, and if they have excess power, the utility company might end up paying them. Even without subsidies, this concept might still be quite viable. https://pureenergies.com/us/how-solar-works/how-net-metering-works/
Mary: Now that your book is published (Moon Willow Press, February 2016), how has your life changed?
Ron: There's only one change that comes to mind. That is an obscure, under the radar couple who live 100 miles in the wilderness, unknown to most of the planet's population, are now thrust into the limelight. We are relatively shy, private people who have opened ourselves up to the world with an open, honest account of our lives as written in Off Grid and Free: My Path to the Wilderness. Our anonymity is gone, at least for now. If all our efforts inspire one person to change their life for the better, it will have been worth it though. Life is short. If a person has a dream regardless of what it is, go for it! Grab it with both hands and pursue it with vigor.
Mary: Thanks for your time, Ron. I know these past few months have been very busy for you as you are promoting your book to off grid circles you've gotten involved with. The reviews and feedback have been wonderful so far–so big congrats!