Interview with Gary Robson, Who Pooped in the Park? Series
Gary D. Robson is an American author from Red Lodge, Montana. He is best known for his children's picture book series Who Pooped in the Park?, which teaches children about animal scat and tracks. The books have fictional characters who learn from each other as well as guides. The series currently comprises 20 books, mostly set in United States National Parks. The most recent book in the series covers Central Park in New York City. Thanks so much to Gary for chatting with us!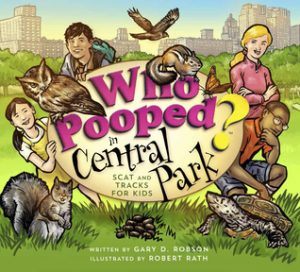 Mary: Wow, the "Pooped in the Park" series is pretty awesome. I love it as an adult, so I know I would have been intrigued by it as a child. It's both funny and informational. Good on you for providing children with facts about animals–and doing so in an entertaining way. You are up to your 20th pooped book (correct me if I'm wrong), with the latest being "Who Pooped in Central Park?" What inspired you to create this series?
Gary: The idea originally came from my kids. We had some hay bales torn apart on the ranch, and when we were cleaning it up, they asked me whether it was the cows that made the mess. I was showing them the deer poop by the torn-up bales and explaining the difference between cow hoof prints and deer hoof prints, and they said, "that's what you should write your next book about!" They'd be wanting me to do a book for kids for a while, and the Yellowstone Who Pooped book ended up being the first one.
Mary: That's amazing! You've been a technical writer, engineer, and teacher as well as storybook writer. It seems like a very well-rounded and creative life. Can you tell us something about the Red Lodge, which you run?
Gary: The bookstore? Actually, I've switched directions a bit. After 15 years owning a small-town bookstore in Red Lodge, I've become involved with a new community-owned bookstore in Billings called This House of Books. The new store bought out my old store and hired me as General Manager/CEO. We have over 200 member/owners so far, and last time I counted over 30 of them were published authors.
Mary: Congrats on the upturn!
I was also intrigued by you being the Scottish director of the Festival of Nations. How did you get involved with that? (I'm interested because we always go to the Highland Festival where we live, and it's a lot of fun, especially the whisky tasting–maybe I shouldn't focus on that in an interview about kids books!)
Gary: I've loved the Scottish side of my heritage since I started exploring it in my early 20s. My wife and I have visited Scotland a number of times, and searched out my family's old clan lands up in the highlands. I got my first kilt on our honeymoon, and started emceeing Scottish events about 15 years ago. I love the whisky tastings, too, along with the highland games, the food, the music, and the people.
Mary: Sounds like a lot of fun.
Back to the Pooped series: When I was a kid there were a lot of storybooks classifying flora and fauna (none I remember being as fun as your series), but it seems like almost a lost art–to educate kids in books about nature. The only little kids I'm around are playing Minecraft all the time or texting their friends. So have you gotten feedback from kids about your series? What do they say? What about the parents?
Gary: It seems like the majority of children that grow up loving reading are the ones who were read to as little kids. One of my goals in my books is to write something that the parents and children can read together. My grandson may play Minecraft all afternoon, but we still have reading time before bed!
As for the feedback, I get a lot of it when I do events. My favorite was the girls about 10 years old that came running up to me at a book signing and said, "I love your books! I had them when I was a kid!"
Mary: Do you do a lot of book signings for the Pooped series, and how do they differ (if you have experience) from book signings geared toward adults?
Gary: Absolutely, and thank you for the straight line here! I've done book signings for both my children's books and my adult-oriented books, and in fact my latest book is called Gary's Guide to Successful Book Signings. The biggest differences for me have been:
Location: Most of my books for grownups are fairly specialized or technical, so the signings tend to be at conferences, seminars, and so forth. More of my children's book signings are in bookstores, schools, libraries, and national parks.
Format: With children's books, I either do a straight signing or an informal reading. I usually keep them short & sweet. With adult books, it's either a straight signing or a formal seminar.
Audience: Book signings for children's books attract groups. Kids come with their parents, and we'll often get whole families and even bigger groups. The adult signings tend to attract more individuals.
Mary: I ask this of all the authors I interview: who were your favorite authors growing up?
Gary: A.A. Milne (Winnie-the-Pooh), Lewis Carroll, L. Frank Baum (Wizard of Oz series), and Beverly Cleary. And then I got very excited about an author that turned out not to exist: Franklin W. Dixon, who is listed as the author of the Hardy Boys series. In reality, Dixon was a group of writers, not a single person. Oh, well.
Mary: Thanks, Gary. Anything else?
Gary: I think you pretty well covered it!