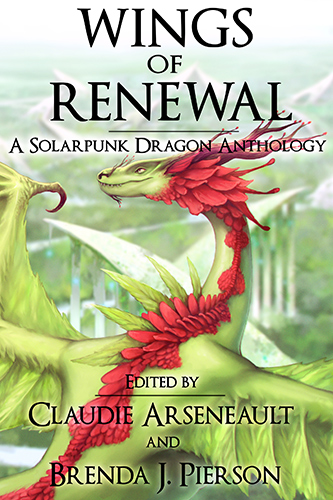 As I continue to explore the new genre solarpunk, I found an upcoming anthology titled Wings of Renewal: A Solarpunk Dragon Anthology, edited by Claudie Arseneault and Brenda J. Pierson. I recently got a chance to talk with Claudie about solarpunk, dragons, and the anthology. Wings of Renewal will be published October 25, 2015 by Incandescent Phoenix Books.
Mary: I am psyched about your upcoming Wings of Renewal: Solarpunk Dragon Anthology. For one, solarpunk is a positive way to imagine futures in a time when climate change and other crises are causing fear and uncertainty. And, second, who doesn't like dragons? So let's talk about this anthology by breaking it down. Can you describe solarpunk and why you are attracted to it? And also, exploring various solarpunk-related stories through the lens of dragons is a really unique way to approach this genre.
Claudie: When I first discovered solarpunk, I felt like someone had taken everything close to my heart and created a genre with it. At its heart, solarpunk imagines the future through a lens of sustainability, community, and diversity. It's a sci-fi subgenre that draws heavily on existing techs—solar and other green powers, permaculture, 3D printing!—and uses them to create worlds where we managed to overcome eco-disasters, dystopias, and capitalism. And I love the hope that brings! Solarpunk tells stories of fighting against oppressive structures, of leaving no one behind, and of eventual success, and I'm all for that kind of fiction.
When we decided to add dragons to the genre, we didn't think too much about what it'd mean. It just seemed fun, you know? But looking at our anthology now, it gave a lot of our stories a sense of fairytale-like wonder. This departs from solarpunk's real-world-solutions roots, but there's something very enchanting to it all, very powerful and ancient. A lot of our stories treated dragons as spirits or representations of nature, and that felt quite right.
Mary: What led you to create this anthology, and is this your one and only, or will there be more? If there will be a series, will they all be about solarpunk? Or about dragons?
Claudie: The start of this anthology is a short story of mine, which I wrote back in May for submission. I really wanted to write solarpunk, but the call was for fantasy, and I was obsessing about dragons…so I combined!
Brenda, my co-editor for the anthology, beta'd the short for me, and she became really excited about it, then about solarpunk…and soon enough she had her own idea for a short story! We talked about it, outlined what we wanted from this anthology, and proposed it to our publisher, Incandescent Phoenix Books.
For now it's the only anthology but…honestly, I've enjoyed this project so much, there might be more. Not right away, we both have our own novels to get back to and anthologies are a lot of work, but I would love to bring more solarpunk to the table. Not the dragons, though. I love dragons, but solarpunk has so much unexplored potential, I'd go in that direction.
Mary: How did you find authors to contribute to this anthology, and did they know what solarpunk was? Of the selected authors, what kinds of backgrounds do they have (i.e. writers, artists, scientists, engineers?).
Claudie: We wrote a call for submissions, put it on IPB's website, and then started talking about it on social media. I had a nice dragon banner to go with it, we both reblogged a lot, and we gave two months for people to submit, to increase our chances of the call being seen. It got a lot of interest, more than we ever expected! The Tumblr community was fantastic in spreading the word, and we landed an interview with Paper Droids. So that was great. 🙂
The final anthology has 23 authors (22 stories, we have one co-authored), and I think they're spread evenly between those who knew the genre and those who discovered it through the call for submissions. I don't quite know everyone's background, but we seem to have a lot of teachers (four or five), at least two scientists, a nurse, several writers and editors…and some of us double up as two of those things.
Mary: I think you and I may be in the same boat regarding the importance of taking on fiction and art to talk about current issues, mainly (at least in my work) environmental degradation and rewilding. This goes back to solarpunk a bit, which seems to have the potential to be a solutions-based genre. Even so, it's still fiction, so people might relate more to a story rather than a slew of data. You are also paying attention to social issues such as LGBT and other less represented genres. How does fiction turn the tide for the environment, for other issues?
Claudie: I do agree solarpunk is very solution-based, especially when it comes to near-future, still-fighting-for-our-solarpunk-world fiction. But even those stories set in universes where the change has happened, you can see how a lot of present day technologies are involved.
What fiction does, ironically, is to make everything real. A good story will draw you in and allow you to forget it's all in your head. By writing and sharing solarpunk fiction, we show how we can try to solve our problems, and what the result could be. The first is important because it lets readers see what they could do right now to help the change, and the second matters because it lets them see an ideal world and think "yes I want this." To me they're both necessary.
Furthermore, it's important for everyone to be able to project themselves in that future—which means paying attention to racial struggles, and the LGBTQIAP+ community, and how technology and disability interact, and religious minorities, etc. Everyone. I firmly believe that as a movement and a literary genre; we draw our strength from our diversity, and that if we ignore it—if we fail to hear, support, and amplify the voices of our minorities—we will fail.
Mary: I strongly agree. What's your background in solarpunk, and where do you see it going? I've seen a lot of art and ideas on the solarpunk Tumblr group, but not too much outside of that until recently. ABC Australia had a news article about it, and Arizona State University's Hieroglyph covers solarpunk. More and more it seems that there's a grassroots movement that explores solarpunk, sometimes at very individual levels–which is interesting. Is this another -punk like steampunk or cyberpunk? What's different about it, in your eyes?
Claudie: I came to solarpunk as a writer first and passionate of solar and other green techs second. Not that I didn't think they were important–I just wasn't too up-to-date on them. But the setting of my first novel, Viral Airwaves, is early-solarpunk (they were forced to switch to solar energy about thirty years before the story), and the themes deal a lot with activism and enacting change. And I had been looking for my story's genre for, well, years. You can imagine how excited I was when I discovered solarpunk! Since then I've been writing the occasional short story and participating in discussions about the genre, and now building this anthology! My contribution is very much fiction-oriented, because that's what I do best.
The genre is quite new (we calculate one year since the Tumblr post that kind of launched it all), although fiction that could fit within has been written over the last decade, and perhaps even older. So it's not surprising that it's just starting to reach bigger platforms than our community of solarpunk blogs.
One thing we hear a lot is that solarpunk isn't punk. That it's too hippy, too hopeful, and so it shouldn't claim that suffix. But really, solarpunk is all about fighting widespread and crushing oppressive structures. To reach the solarpunk ideal, you have to deconstruct capitalism, racism, classism homophobia, ableism…name it. Punk is fighting against the system, and honestly, if going against all the power status quo and wealth brings to these structures isn't punk, I don't know what is.
So yes, definitely a –punk genre, but to me it feels incredibly different from cyberpunk and steampunk. First because steampunk is an alternate future relying on outdated technology instead of a projected future. Plus, there's a big chunk of steampunk that deals in glorification of imperialist and colonialist ideas, which solarpunk really wants nothing to do with. One of the genre's struggles will always be to value the resourcefulness and ingenuousness outside of western culture without appropriating them.
As for cyberpunk, well, I like to think of it and solarpunk as two sides of a coin. With cyberpunk, new technologies have brought about an era of dystopian futures, where a rogue loner fights against large corporations. Solarpunk instead says two things: first, technologies can help us create better futures, and second, it's by banding together and working as a community that we will succeed.
Mary: I just saw Naomi Klein and Avi Lewis's "This Changes Everything" last night, and the documentary, as you may know, is based off Klein's book by the same name. The film gave the same kind of hope I see solarpunk giving, focusing on the community–the people who live in the places that corporations want to abuse–as a positive force. I see this movement as a very hopeful one in a mix of despair.
Who were your favorite authors growing up? What and who inspired your own writing and your masters? What are you studying?
Claudia: Growing up I read a lot of Tolkien. Over and over, haha—I basically read the whole Lord of the Rings trilogy a dozen times in a year before I moved on. I'm also from the Harry Potter generation (I was exactly his age as the books came out, and grew up alongside Hermione), so that too. Otherwise, I dug deep into the Forgotten Realms series from Wizards of the Coast, and adored Pierre Bottero and the Ewilan trilogy. Between those, and every single Hercule Poirot book I could find (and considering my mom owns almost all of them, that was a lot), I was quite busy reading!
Over the last years I've gone out of my way to discover new authors. I'm a hardcore fan of Guy Gavriel Kay, especially Tigana, which deals a lot with the link between language, culture, and memory. And Scott Lynch. I adore these two. The rest of my reading time is spent with small indie authors from diverse backgrounds, whose books reflect that diversity. I'm thinking here of Shira Glassman, Kayla Bashe, and Joel K. Cornah, all of whom are fantastic SFF writers who deserve more love. They all inspire my writing in different ways, and I love spending time in their universes.
As for my masters, I'm in immunology! I've been working on rheumatoid arthritis and trying to determine possible cause for its chronicity. Without getting too technical here, my lab focuses on how the matrix to which immune cells adhere might activate them, prompting the secretion of proteins that could further damage the articulation. I've always been fascinated by the immune system, and circumstances gave me the opportunity to write my masters thesis on it, so I did. And I just finished so yay for that!
Mary: Congrats! I'm also a lover of Tolkien–interesting. I see that you love geeky things, like video games and squids. I too love video games, though lately have not had time to play much, and/or I'm waiting on new games or expansions. What games do you play, and what types of characters do you prefer–and why?
Claudie: I play a lot of everything, but my favorite games are RPGs, strategy games and sandbox/management games. I love games with great storylines, and I love games where I can build something from scratch—they're both very rewarding. So Secret of Mana, Final Fantasy, Pillars of Eternity, everything Fire Emblem, Sim City, Sims (I totally have entire neighborhoods populated by my own characters oops), Roller Coaster Tycoon, and Minecraft. But I've played almost every classic Nintendo series, and Skyrim, Darkest Dungeon…a lot of different games. I don't touch FPS and racing games much, though.
As for characters, well, I love the villains, and I love the sassy ones. I can't for the life of me play Dragon Age: Origins without romancing Zevran; he's just too perfect. I'll gravitate to rogues and mages a lot, rather than fighters and healers. I think this has a lot to do with the fact that as a kid, when I played with my siblings, my older brother would have the fighters while my twin would play the support and healers.
Mary: I think video games and fiction have a lot in common. In games, you are more interactive in a fictional world than passively reading–though it can be argued that reading is not always passive (I am partial to playing druids myself, identifying with the ents in LoTR as well as with a class that uses nature to heal!).
Thanks so much for this talk, Claudie, and best of luck with Wings of Renewal: A Solarpunk Dragon Anthology.