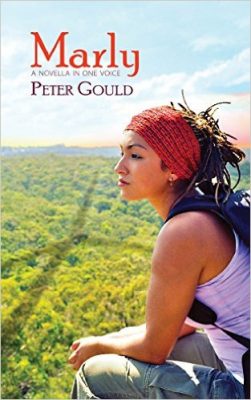 "Peter Gould — playwright, novelist, Shakespearean scholar, director, all around literary provocateur — is one of the most fearless writers alive. With Marly, he has again taken on an urgent subject, no less than saving the earth, with brassy humor, verbal pyrotechnics, and dialogue so vivid, it's as if a reader is standing right next to the characters as they philosophically riff, fling ideas back and forth, flirt and light up with moods and opinions. He gets to the souls of the young with intuitive genius. Gould is the dramaturge of our wordly problems and sense of wondrous possibility — he is a national treasure."
—Howard Norman, author of The Bird Artist, Next Life Might Be Kinder and I Hate To Leave This Beautiful Place
Mary: Thanks for taking time to talk with Eco-fiction, Peter. I had a good time reading your novella Marly–a great romp through a funny dialog–and want to introduce you and your newest book to readers of the site.
You have an interesting background, including several decades of work in environmentalism. You were part of the back-to-the-land movement in Vermont in the 1970s. Can you tell our readers about this experience? Do you find today's environmental movement different, and, if so, how?
Peter: The big thing to remember is that we were in the midst of a terrible, terrible war that most young people in the country opposed—the war in Vietnam. And it was the first war to be televised live every day on television. And we all knew people who were soldiers in the war. We knew people who were getting injured, or worse. It seemed as if the war could not be stopped, and about a million of us decided to, just, opt out of this society that was waging the war upon the Vietnamese, and in a way upon black people and women and youthful free thinkers: we moved to the country–all over the United States–pooled our money and bought old farms. We came to those farms just as the old families were ready to move, to sell, to die, and they were all too happy to find young energetic folk eager to learn from them. And so we did. We were the forerunners of today's environmental movement and today's farm to table food movement all over the U.S. When our farm became organic, this was an almost unknown, nearly lunatic fringe, kind of farming. And look at it today!
Mary: Driving through the interior of British Columbia, I've seen many of these farms that are still around, from people who escaped to Canada back then, who didn't think the war was right. A few of these communities are still thriving up here.
From that earlier experience, you wrote Write Naked, which won the 2009 National Green Book Award. A young adult novel, this features (similar to Marly's quirky character) unique teenagers who want to save the planet. What great experience(s) came out of Write Naked?
Peter: I've been able to go to high schools and talk about the book with students. I've thought a lot about how young people relate, particularly the ones who care about the environment. How they work in solidarity with each other. How they are so much more tolerant and accepting than the elders around them. I've been able to ask them to lock into what really gets them upset, or concerned, or wanting to be involved, and to write about that in a unique, individual, energetic way. The writing that they have shared with me has been quite inspiring.
Mary: Sounds like a really important thing to do, to talk to youth and see how they are relating to environmental concerns, which older people might be ignoring.
How did writing Marly (apart from being a novella) differ, and what inspired this new book? Can you describe how you came about the form of this novel?
Peter: It was magical, it was accidental. I was pondering how to write in a humorous way about deadly serious environmental issues, both local ones and global ones. And, all of a sudden, the idea for the character's voice, the person (Marly) he meets up with, and the unusual literary form—all popped into my head in one instant. At the beginning, I felt like, I'm just writing this down. This guy is talking to me and I'm just recording what he says. And what she says, too, in a way. And both of them made me care about them a lot, and made me laugh, too.
Mary: Marly is described as an interactive novel; how so?
Peter: Reading itself is interactive, in that–unless it's a graphic novel–you have to conjure up the images on your own. You picture what you're reading about; you see, in your mind's eye, the faces of the characters, and the places they inhabit. In Marly, there is no picture. There is no narrative, no description. So, you have to totally make up the images not from a writer's description, but from the main character's speeches. And then, you have to FILL IN everything that Marly says to him. It's gotta be fun! I didn't write this book so that it would not be fun.
Mary: The book succeeds in the fun area, for sure! When you were growing up, and into your adulthood, what authors and books most inspired you? How can novels change people into caring more about the environment? What particular place does humor have in this process, as opposed to fear tactics?
Peter: A smile is a universal expression, understood everywhere on the planet. Some of the worst leaders in the world, and many of their followers, are humorless. This does not bode well for the future. I absolutely feel that if you can get people to listen, to smile, to laugh, to embrace, we have hope to understand each other, to learn how to live together, and to share in the work of preserving our life on Earth.
Environmentalism is a people thing: learning to live together is the quickest way to unleash a lot of otherwise-wasted energy, to use it for planetary good. Smiling and talking and understand, we forget that we are separated. We find areas of agreement. So, a good novel that helps us along this path is a lucky thing to find. I hope Marly does that for its readers, as, it's clear that both these characters learn to appreciate each other, learn to laugh with each other, and will end up working together in a reasonable, caring way.
My vote for the greatest eco-novel in English is a book that is now seldom read. I wish everyone would read it. (Caution alert: it starts very very slowly.) It's called Green Mansions, by W.H. Hudson. I think it is the first ecological fiction in English, written in about 1890? Check it out. Made a big impression on me.
Mary: Thanks for the recommendation on Green Mansions, a book to add to this site. Also, "a smile is universal," so true and something to always remember.
Anything else that you would like to add?
Peter: I am writing a new novel set in the future. It's about a planet–Earth–that has suffered unintended consequences of the genetic modification of life forms. Most men are sterile. The only successful societies are matriarchal. I love this new story, and I hope I can bring it to a good end. I mean, I know how it ends, but I have a long way to go in my writing of it, to make the whole thing SING! In the meantime, Marly has been a great project, lots of fun, and I just wish that thousands of readers all over the country would pick it up and have a good time, and give some thought to how we can make alternative energy so popular, even in folks' back yards, or front yards, that we can seriously work to reduce carbon in our atmosphere.