Part XVII. Women Working in Nature and the Arts, Natasha Carthew
Thanks, Natasha, for taking the time to chat with Eco-fiction.com! Natasha joins us as the 17th feature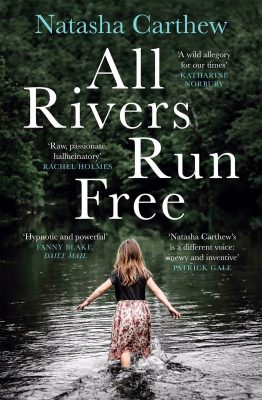 in our "Women Working in Nature and the Arts" series. She has been published previously as a poet and young adult writer and her books have been nominated for the Carnegie Award and shortlisted for several national awards including the Branford Boase. She lives in Cornwall with her girlfriend of twenty years and spends most of her time writing outdoors in all weathers. Her identity as a country writer has led her to become a survival expert, a trained walking-guide and to teach Wild Writing workshops.
Mary: You're from Cornwall, and I've read that you like to write in all kinds of weather–that you love being outdoors and give walking tours. Can you give us a sense of place where you live and how that inspires your writing?
Natasha: I live in a small village out in the countryside of South West Cornwall, UK. Lots of rolling green fields, woodland and farm land with the famous Bodmin Moor in the background. I love to write outdoors, whether it's sitting by the river, surrounded by trees or the little cabin I built out of scrap wood in my garden. There's nowhere quite like the great outdoors for inspiration and the freedom it affords, the two things I teach in my Wild Writing workshops.
Mary: You teach Wild Writing workshops? What is that like?
Natasha: We spend our lives looking at the world through screens; TV's, computers, windows in houses and cars and buses and through these screens we are like bystanders, watching the world go by. I think it makes us better writers to be a part of that world. This is why I think it's so important to get out there and get writing and why I started running the workshops.
I generally take out a small group of writers, either out on the moors or on the nearby coast path and start by doing a multi-sensory exercise to get them warmed up creatively, we then get walking and talking and things usually get going from there. Folk usually write whilst walking and they always have loads of ideas to take home with them.
Mary:  I often get story ideas running or walking on trails, and think it's a great way to bring about ideas. Your newest novel All Rivers Run Free (Waterstones, 2018) is getting great reviews. I am reading it now. Can you let our readers in on what's going on in the novel?
Natasha: All Rivers Run Free is the story of Ia Pendilly, a young woman who lives a hard life in a caravan on the north coast of Cornwall. In years of living with Bran–her violent cousin and common-law husband–she's never yet had her own baby. So when she discovers a child washed up on the shore, Ia takes the risk and rescues her. And the girl, in turn, will rescue something in Ia–bringing back a memory she's lost, giving her the strength to escape, and leading her on a journey downriver to the home she left behind as a child. The story takes her into the fringes of a society collapsed around its own isolation. It will take her through a valley ravaged by floods, into a world not too far from reckoning. It will take her in search of her sister, and the dark remembrance of their parting. It will take her, break her, remake her, in the shapes of freedom.
Mary: How does climate change enter your story? And how do the ensuing dramatic scenes of coastal England tie into this story of the evolution of the main character?
Natasha: Firstly I think it's important to connect people to their world; it can help them understand what future climate may be like or what current climate effects are. It's hard to imagine the future. What will the world be like decades from now when Earth's temperatures have continued to rise? What will agriculture be like? What will coastal communities look like? What will international relations and armed conflict be like? In my book all these things play an important role in Ia's journey. Food shortages, civil unrest, poverty and social deprivation are things at the heart of this story, things that Ia has become used to in her life, but when the storms hit, it propels her to push on, go forward, against all odds.
Mary: Here at this site, I often explore the diverse ways and genres in which wild nature plays an important part in fiction. With your background in this area, what are some of your thoughts? How important is it that we do not disconnect from the outdoors while telling stories?
Natasha: It's so important! Storytelling at its heart comes from the ancient tradition of sitting outdoors gathered around a roaring log fire. To me this is how it should be, how I wish all stories were told. Fiction should be wild and explorative. There's nothing more boring than the description of the four walls inside a building. Nature writing plays a big part in my books and is something I have honed through writing poetry. To disconnect from the outdoors when writing would be to paint in only black and white, when you have all the colours of the spectrum outside your front door.
Mary: I agree so much and still do like the old campfire stories. Who are some of your favourite authors, and how did they inspire you?
Natasha: Favourite authors growing up: John Steinbeck, DH Lawrence and Thomas Hardy. I read these guys on a loop and learnt from a young age that poetry lives in the small, the unexpected.
Favourite author: Cormac McCarthy. The master of less is more and the beauty of what sits between the cracks, the unsaid, the barely noticed.
Favourite book: Bastard Out of Carolina by Dorothy Allison. If ever there was a book that was written from the heart. This book got me to realise that it's okay to write from experience, to use my own childhood poverty and neglect as a device for creating a kind of literary truth. A truth that could inspire and empower my readers.
Mary: Do you have any other fiction or nonfiction that you're working on now?
Natasha: I'm currently writing my second adult novel and working on a non-fiction book of wild writing. My third novel  for young adults will be published by Bloomsbury Books in November 2018.
Mary: Natasha, thank you so much for this chat. I am glad to have met you and look forward to your upcoming novel.