Women Working in Nature and the Arts
I  recently had the chance to discover a new voice in the field of ecofiction: Lovis Geier's, who runs the YouTube channel Ecofictology.
Lovis is perfect for bringing the field of ecological fiction to a visual perspective, for she is knowledgeable, witty, and has a positive personality. Her second video, on Cory Doctorow's Walkaway, was retweeted by the author himself. Lovis does a mix of book reviews and explorations into eco-storytelling. She is an aspiring fantasy author as well as a PhD student studying marine movement ecology with a focus on management and conservation. Every Wednesday, she posts a new video to her YouTube channel, Ecofictology, a channel dedicated to exploring ecofiction in all its forms and its potential to bridge the gap between scientists and the public. Lovis enjoys escaping to her fantasy world but aims to inspire a bit more wonder in the natural beauties of this one.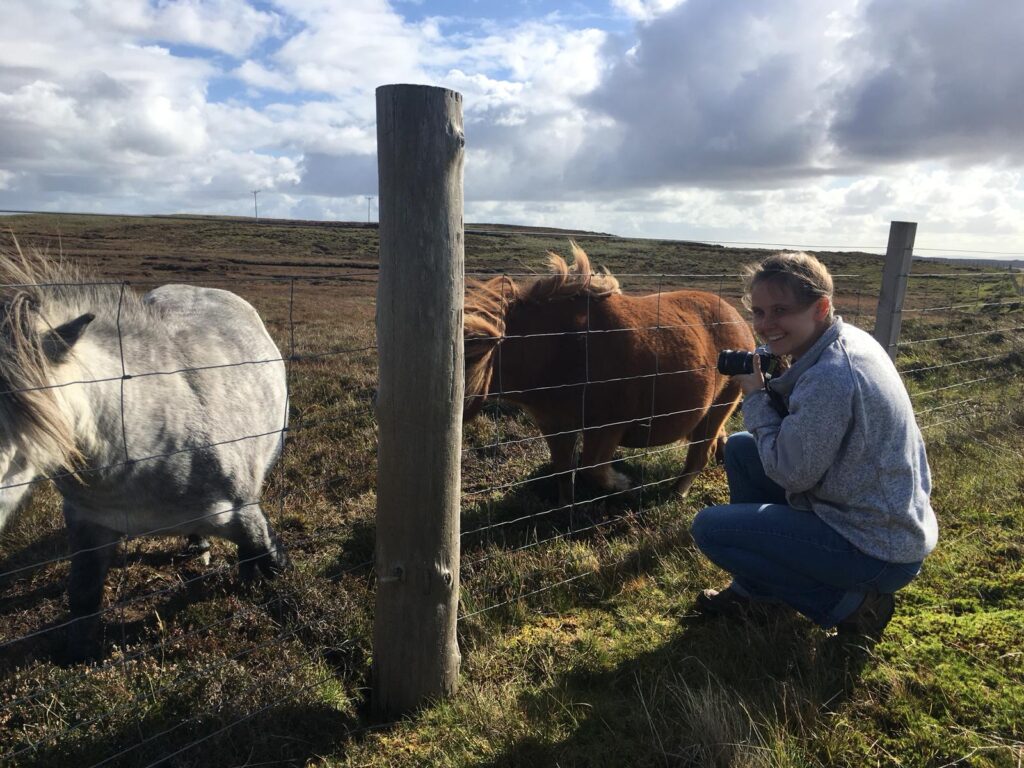 Mary: Tell us how you got started in your new YouTube channel Ecofictology.
Lovis: I suppose it all started with those two little words that are so terrifying for most aspiring authors: author platform. The more podcasts I listen to and authortube videos I watch, the more this term pops up as something that an author should have, even before querying an agent, to show there is an audience and that you can market yourself. So I got to thinking, "what can my author platform be?" So many questions came out of that can of worms! Not just which social media platforms I suddenly had to have a presence on, but what service would I provide? What is special about me that would make me stand out?
I think the lightbulb moment came when I heard an explanation of what an "author brand" should represent: When readers read your books and refer to you as an author, what do you want them to say? How would you want them to describe your style and messages you want to bring across? I would absolutely love people to refer to me as a fantasy writer who always writes stories with a focus on the wonders of nature and conveys messages of conservation. That's my passion. I'm an ecologist, a conservationist, and an author. How can I bring that across on my author platform? And that's when I came across climate/ecofiction, because of course I was not the first to go down this road of wanting to use stories as a way to inspire a change!
And it all kind of snowballed from there, really. Because such great resources already existed in blog and website form on environmental topics in literature, I didn't think I could bring anything better to the table like that. But I couldn't find YouTube channels dedicated exclusively to ecofiction, so I thought, "here's my niche!" I can give the scientist's perspective on the subject as well as bring the fiction closer to the science. And then I just went for it!
Mary: You recently talked about how scientists communicate, and you are a scientist, so you know something about that! Your first point was level of detail that scientists communicate with each other as opposed to with laypeople. Can you explain this for readers, in as much or little detail as you wish?
Lovis: I suppose, as well as using field-specific jargon that even other scientists outside of that field might not understand (talk to me about microbiology, and I'll be surprised if I last two minutes without help!), the amount of detail that scientists include in descriptions can also be overwhelming. Usually when scientists are talking to each other, there is not only curiosity about the results but also about the methods. Publication is there to further the field, make methods known in the scientific community to be widely used and developed. For this reason, enough detail has to be in the paper for the study to be reproducible, so someone else can re-create it and get your results, basically supporting your claim that your study is scientifically sound and robust.
An example from my own work might help. I'm working on a paper about a computer simulation model I coded that predicts how movement behaviours of river-dwelling organisms might evolve under slower or faster water currents. If I was talking to a scientist, they would want to know whether it was spatially explicit, what mutation rate I used, what was the carrying capacity of each patch and what my initial conditions were. The majority of people outside the scientific community don't even want to know what those terms mean. They want to know what the point of this research was. I can skip all that detail and say, "this could possibly be important for stream restoration projects if we are relocating species" because that is a context they've maybe heard before, an image they can picture in their minds, and a "useful" reason to have made my model.
Of course, this mostly applies to initial introduction between the scientist and the public, or even with policy makers. If conversations continue, level of detail can be increased, once the baseline has been understood. Best not to throw them in at the deep end though. You might not get your second chance if they all run away from you!
Mary: When it comes to climate and other ecological crises, you have some good examples of the way to someone's heart, and that's in storytelling. Can you explain this?
Lovis: I think there is something so very human about storytelling, something primal and instinctual. Everyone connects with a good story. Our ideas of what is a "good" story differs of course, and the genres we enjoy do too; that's part of the beauty of it all. But they are all stories. We live in such a divisive world right now that it's nice sometimes to think about the things we all share. Storytelling is a common denominator that we can use to reach a huge range of audiences. Maybe a message in a mystery novel might get through to one person better than another, who doesn't stray far from the romance genre. Brilliant!
Storytelling transports you into the mind and experiences of another character, another place, another time maybe. It can act as a mirror and allow you to explore how you feel about something from a slightly safer distance. You can learn by watching that character go through something without having to go through it yourself.  Whatever you want to call them, morals or themes, they're lessons you can learn without having to leave your sofa.
The problems we are facing right now are so huge that they become abstract and we don't quite comprehend them in their entirety. It's too big, our brains go into self-defense mode! But in a story, you can focus on one bit of it. Digest it. Move on to the next one. Scientists and the public used to be much more connected than we are now, there used to be much more of a two-way conversation. Now the gap is huge, but I think by finding a common language and medium, we can bridge that gap.
Mary: You are actually not just a PhD student but you are writing a fantasy novel. What's it about?
Lovis: This is such an author conundrum! We want nothing more than to talk about our work and then when someone asks, we get all shy and tongue-tied! But I will try and articulate it as best I can without bogging you down with details and backstory.
I love the fantasy genre; I love being transported to another world where I can forget the realities of my own and immerse myself into one with a little more magic. So my book is also set in another world, one not as technologically advanced as ours (therefore without the problems that come with those advancements!) and one where the laws of physics are a little different…ok maybe more than a little. I wanted to highlight the importance of respecting nature's power and limits thereof, and understanding that we should be part of the system, not above it or in control of it. Evolutionarily speaking, we, as a species, have massively overstepped our boundaries. So the "magic-system" here focuses on channeling the natural energies that we are surrounded by, understanding that taking without end has knock-on effects downstream of this energy flow, and respecting our place within this ecosystem. I also wanted to explore some more sensitive topics of self-identity and why we often let others define who we are instead, as well as ways we treat those who are different.
This book is still very much in a fluid state and needs much more work to solidify a bit more. I took part in a twitter pitch contest not long ago so maybe I'll just leave that here, to give you an idea of plot:
An ingrained loathing of magic prevents Kaz from embracing her connection to the earth's natural energy flow. Caught between two sides of a rebellion, one who wants to use her, one who wants to end her, Kaz must learn to harness her powers to save the people she loves.
It's hard to convey ecological messages in a tweet! But, even if it doesn't sound like it from the tweet, I do very much focus on valuing nature and its resources, and using them, as all organisms do, for what we need and not more.
Mary: I am really looking forward to the novel! Do you have anything else to add?
Lovis: Only to say that I am always keen to hear any and all ideas about aspects of ecofiction that I could explore on my channel, and I'd love to have conversations with anyone interested!