Back to the Indie Corner series
---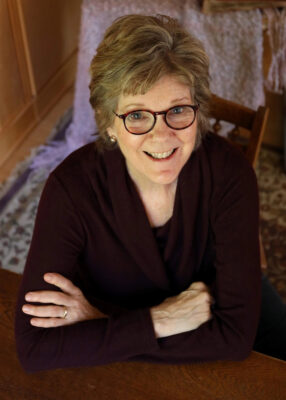 Welcome to our second interview in the new Indie Corner series. This month we talk with Shirley DicKard about her independently published novel Heart Wood: Four Women, for the Earth, for the Future. I was fascinated that Shirley lives in the neighborhood of Gary Snyder, whom I admire from some of Jack Kerouac's novels, particularly The Dharma Bums–and then he went on to be one of my favorite essayists and poets. I also lived in California for years, though further south, and was fascinated back then, and today, by the Sierra Nevada writers and landscape.  Shirley and her husband built a house in the Sierra Nevada area of California in the 1970s, which is also where she wrote this book. She received an RN degree from the University of California, San Francisco–and has drawn her ideas for Heart Wood from her medical background in pediatrics and working at a Navajo Indian reservation as well as a local school nurse. An active participant in the writing community, she is a member of Sierra Writers, a founding member of the Sierra Muses Press, a former producer of the Nevada County Women's Writing Salon, and volunteers as senior editor of a community newspaper. Since 1996, she has been a guest lecturer, panel member, facilitator, and trainer at conferences, workshops, and training on Asset-Based Community Development within the western states. You can find more about Shirley from her website. Gary Snyder said of Heart Wood:
I don't expect new authors to be so sly or quick in engaging, holding, and enlightening their readers. Whenever I pick Heart Wood up, I always regret having to put it down. Shirley DicKard is extremely good.
I enjoyed this talk with Shirley, so let's get into the heart of the novel!
Mary: Tell us about yourself–your life so far and how you got started in writing. What have you published previously, before Heart Wood?
Shirley: Writing a book was never on my bucket list, yet at age 74, I just published my first novel, Heart Wood. By profession, I am an RN. Because I've had decades of experience in obstetrics, pediatrics, public health, and as traveling school nurse for small mountain schools, I've been able to observe the gradual impairment of children's health, paired with the destruction of our environment. I knew there was a connection, but I never imagined I would write a novel focused on this as one of the main themes.
Over forty years ago, my husband and I built a small homestead in the Sierra Nevada, Northern California, where we raised our two daughters and still grow much of our own food. When community neighbor and Pulitzer prize poet Gary Snyder did our land blessing in the late 1970's, he stressed how important it was for people to stay in one place–so we can notice such things as fewer salmon returning to spawn or winters getting drier. In many ways, Heart Wood is a reflection of his wisdom and teachings. I was honored by his review that the novel is instantly engaging and hard to put down.
Otherwise, as a writer, I've contributed to newspapers, helped coordinate the local Women's Writing Salon, and am a founding member of the Sierra Muses Press and Workshop. I'm also the volunteer editor of my community's local newspaper, The Courier.
But my fiction writing began when I inherited the frayed scrapbook of my great-grandmother, an activist from the post-Gold Rush days. I knew I had to tell her story. That was the seed that grew into Heart Wood. I started by contrasting her historical farming life with mine as a contemporary homesteader. I'll tell you later how the future became a part of the story!
Mary: Tell us something about your newest novel. Who is the intended audience, and what's going on in the story?
Heart Wood speaks of the collective power of feminine energy to protect the Earth. Here's a synopsis: Deep in the heart of a small, oak writing desk is a legacy that mysteriously connects three family women across centuries and generations in their fight for the future. Shima'a, an ancient woman with disturbing visions of the Earth's demise, sends a message of warning and a seed of hope forward in time within the heart of an acorn to three family women of the past present, and future:
Eliza: Post Gold Rush in the Sacramento Valley, late 19th century (inspired by my great-grandmother)
Harmony: Back-to-the-land homestead in the Sierra Nevada, late 20th century (inspired by my own life)
Amisha: Dystopic San Francisco and the Sierra Nevada, late 21st century (inspired by a nighttime vision)
Writing on the heartwood of the old desk, each woman is influenced by the ancient message as she views mankind's escalating destruction of the natural world through the eyes of her time. The women learn to listen to the silence, hold the Earth in their hands, gather the women, then do what must be done.
I anticipated that Heart Wood would speak to women and environmentalists, but I'm also finding that readers from young teens to men in their seventies are loving it! In fact, men are some of my greatest supporters, especially those who grasp that the driving force of masculine energy has been responsible for so much the destruction of our planet, and that following the lead of feminine energy is our best hope for the future.
Mary: What sorts of ecological themes does your novel have and how were you inspired to write about them?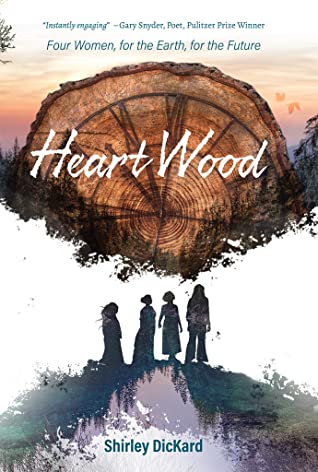 Shirley: Heart Wood truly became an eco-novel the night I was visited by the future. Standing at the foot of my bed in the dark of night was the apparition of my yet-to-be-born great granddaughter, Amisha, who urged me to include the future in this story. She said we must understand that the world she lives in is being created by all that we are doing (and not doing) now and in the past. That's when I understood the power of having the three family women connect and influence one another across time to save the future.
This also enabled me to follow many themes over time, to explore the slow evolution of our current ecological problems and experience their possible outcome in the future. Here's a sampling of what I address: global warming, rising sea water, drought, and wildfires; the insidious technological creep toward virtual reality; increasing health problems, food intolerances, and decreasing fertility; genetic manipulation of plants and food; dams as an outdated response to drought; clearcutting and deforestation; mining contamination, corporate greed; man's control over other people and the Earth; and compassion fatigue. Whew!
Rather than making my novel a dumping ground of problems, I also explored what we can do, starting with the feminine ways of listening to the silence, holding the Earth in our hands, gathering the women, then doing what must be done. I believe that feminine ways hold the key to sustaining life in the future, and Heart Wood shows what this may look like. Above all, first do no harm, trust your intuitive guidance, and save the seeds!
Mary: After publication, did you do any book fairs or talks? How would you describe the reaction to your book? Is it hard to market during the coronavirus?
Shirley: I published Heart Wood on March 14, 2020 only to see my book launches and engagements cancelled because of the new coronavirus. In a way, this was a blessing, for Heart Wood has been selling itself. I didn't anticipate how deeply it would resonate with readers. Although I don't mention "virus" or "pandemic," the book has resonated with readers at a deep level of consciousness that's not always easy to articulate. As one reader said: "It went down to the depth and stirred something up." Readers want to talk about it. Now that we're staying home more with more time to read, many are buying copies to give to friends (5, 8, even 15 copies!). One reader said Heart Wood is now her "go-to book" for gift-giving. Most importantly to me, some have said they're paying attention to the slow creep toward the dystopic future I describe and realizing they can actually choose not to go there – like questioning if their fitness monitor wristband is part of the slippery slope.
Mary: I now know what to give my mother for her birthday, seriously. She will love it. Are you working on anything else right now, and do you want to add other thoughts about your book?
Shirley: I've started a new blog series, "Behind the Scenes of Heart Wood," and am also completing my website by adding "Past, Present, and Future" research, documents, and links. Then I'll have time to focus on my next project, which will probably involve traveling in time again between periods of social, political, and environmental unrest in the 1960's and today. The catalyst is a box of old letters read by a couple fifty years after they were written when he was in Vietnam and she was finishing school in San Francisco. It's based on actual letters my husband and I wrote, and like the scrapbook in Heart Wood, have become the seed of a new novel. But right now, I'm having fun helping my 13-year-old granddaughter write her own eco-novel.
I have one last thing to say about indie-publishing. I actively chose to publish independently because I wanted to maintain control of my story, cover design, rights, and timeline. I've seen too many author friends take years to find an agent and publisher, then be unhappy with the changes or the cover. At 74 years old, I don't have that kind of time! Nor am I expecting to profit financially. It's more important to me that I can connect with readers and touch them with my vision now – not two years from now.
Mary: Thanks so much, Shirley. I am glad we met and hope we keep in touch!