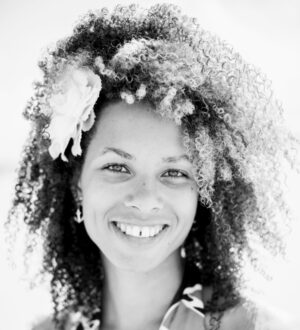 Back to the Indie Corner series
---
Our first Indie Corner welcomes Esther T. Jones, who has been writing stories in her head since she was five. She loves wandering the wilds of rural America–where she's dreamed up many a story. When not writing, Jones can be found gardening, playing flute and piano, and designing costumes centered around her novels Thorunn and Tedenbarr of Have Lath, both published under her indie press, Starren Isle Press.
At present Jones is working on a few stand-alone novels as well as a multi-book series set in a distant and mysterious era. She can be found online @etjwrites on Twitter, Instagram, Facebook, and Tumblr.
Mary: Tell us about yourself–your life so far and how you got started in writing. What have you published previously, before Thorunn?
Esther: Thanks for having me on!
I started storytelling when I was about five, after watching Peter Pan for the first time and being quite disappointed that the Darling children had to leave Neverland. I created my own story where they stayed forever, because as a kid, that sounded like the most fun thing in the world. When I was ten, I started keeping a journal, and after a friend encouraged me to write my stories down, I soon found its pages being filled with all the imaginary adventures I dreamed up for myself.
I never stopped after that, writing short stories, fanfiction, and poetry, and everything in between.
My very first novel, Tedenbarr of Have Lath, is a charming adventure story set in a medieval world. It follows Tedenbarr, the titular character, and his mishaps as he travels around the countryside after a vicious pirate attack leaves him stranded far from home. On the way, he has to dodge bandits, traverse perilous mountains and deserts, and try his best not to get caught up in the brewing civil war that threatens to rip the kingdom apart.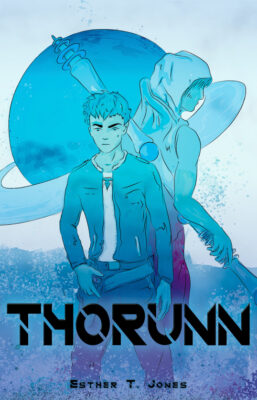 Mary: Tell us something about your newest novel, Thorunn. Who is the intended audience?
Esther: Thorunn is an epic sci-fi adventure story focusing on three teens whose paths collide after the government starts meddling in their lives; and despite how hard they try, none of them will escape unscathed. The novel is aimed at a young adult audience and deals with some typical issues teens find themselves caught up in, keeping the narrative relatable even while the greater plot deals with the spectacular.
Mary: What sorts of ecological themes does your novel have?
Esther: In short, Thorunn explores what happens when humankind seeks to control nature instead of work harmoniously with it, what is lost due to that greed, and what happens when someone stands up to push back against a destructive ambition.
I drew on a number of different sources for inspiration while drafting and writing Thorunn, one of them being the issue of deforestation and all the ecological problems that can cause. The Amazon Rainforest, in particular, was always in the back of my mind while I worked on the novel.
In Thorunn, we are introduced to the Hinnom Forest, so named for the great hinnom trees that populate it. These trees produce a sap that can be used as a durable coating for protection against the acid-like, electricity-filled rain called "frix" that falls upon the planet twice a year for a month or two at a time.
The planet is also rich in deposits of a flint-like rock called "onite," which functions in much the same way as gold in electronic devices. (Gold is not a natural resource on Thorunn, so the onite is vital for technological pursuits and innovation.)
The central conflict in the novel arises from the struggle over who gets to control these precious resources.
Both the hinnom trees and the onite mines were the domain of the Klia'an people who are the natives of the planet Thorunn, and they knew how to draw upon these resources in a way that was non-destructive to the environment. However, before the events of the novel, human explorers stole the mines from Tribe Anshi, stamping out any resistance until they were just a memory and over-mining until they were forced to shut down.
As Thorunn opens, we learn that human scientists have discovered what hinnom sap can do and are preparing to similarly seize the Hinnom Forest, planning to strip it of its resources, with no thought or regard to the people and creatures that live within. Kenton, one of the main characters, is horrified when he and his best friend Bo covertly observe a field exploration crew tapping hinnom sap in a manner that will cause the trees to wither and die, instead of the renewable, sustainable way strictly adhered to by Tribe Osinan.
What follows is an epic journey and battle of wills as Kenton and his friends seek to protect the Hinnom Forest and themselves from devastation and the fate that befell Tribe Anshi.
Mary: After publication, did you do any book fairs or talks? How would you describe the reaction to your book?
Esther: I did a live online event for my launch day (which you can find on YouTube), where I read the first chapter of my book and answered some questions from Twitter. I'm hoping to get out and do some fairs and conventions once things settle down a little bit. I really miss connecting with readers about books in person.
So far, reviews have been quite positive; I've had some lovely blog write-ups posted by book bloggers, and it's awesome to know that readers are enjoying the world of Thorunn and connecting with the characters and themes on a personal level.
Mary: Are you working on anything else right now, and do you want to add other thoughts about your book?
Esther: Currently, I'm working on a young adult portal fantasy focusing on a lost (kidnapped!) princess who discovers she's a pawn in a twisted game of revenge. I also have a duology and a trilogy set in the same universe of my first book that I'm planning to write after the publication of my third novel. Beyond that, I have so many ideas that I'm looking forward to exploring; I'd like to pen a few movie scripts and maybe even a play or musical!
It's my fervent desire that Thorunn will continue to be thought-provoking to many, many readers, challenging them to dig past the action story at the surface level into the more subtle themes and implications layered throughout the novel.
Thanks again for having me, it was a pleasure to talk about my novel!
Mary: You sound incredibly busy, and with some wonderful writing thoughts. Thanks so much for taking the time to chat with me, and best of luck as you go forward in your book career.