Back to the Indie Corner series
---
I was thrilled to talk with Emma Reynolds, author of the just-out children's book Amara and the Bats, a beautifully written and illustrated story that reminds us of the determination of youth and the importance of bats. Emma Reynolds is an illustrator and author based in Manchester, UK. Her debut author-illustrator picture book Amara and the Bats is out July 20th 2021 with Atheneum—Simon & Schuster. Emma started the #KidLit4Climate illustrated campaign, bringing together over 3,000 children's illustrators and authors from over 50 countries in solidarity with the youth climate strikes. She is inspired by nature, animals, adventure, and seeing the magic in the everyday.
You can order Amara and the Bats from Simon & Schuster. You can also follow Emma on Twitter, Instagram, and her website, and subscribe to her newsletter.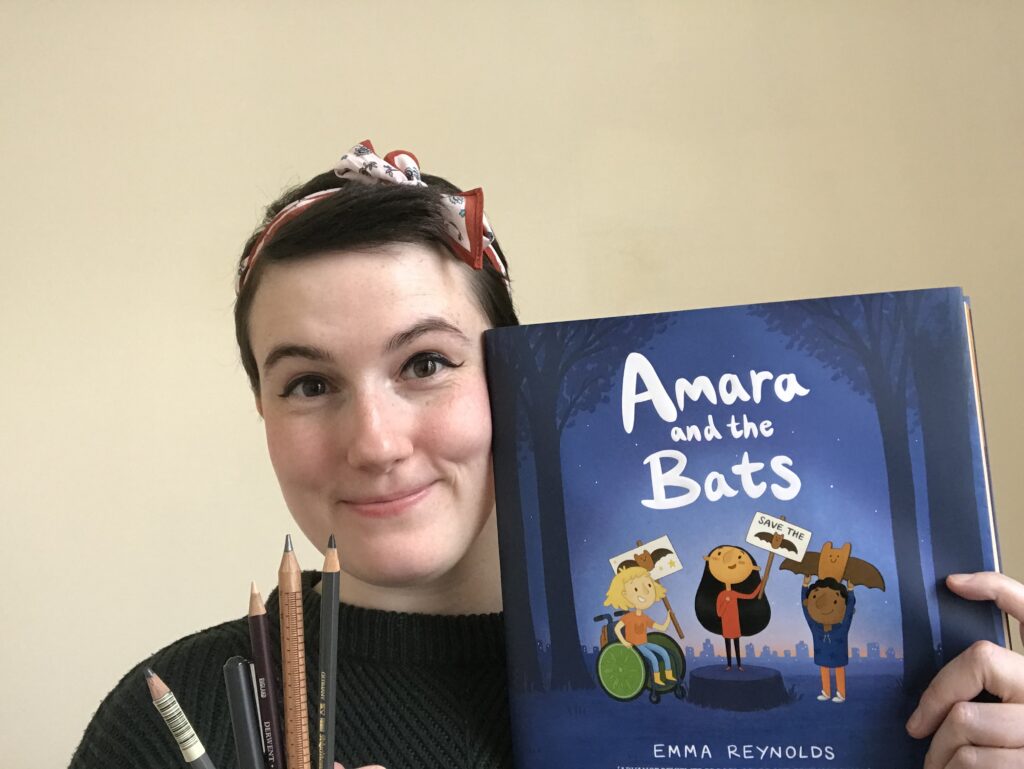 Mary: Hi, Emma! Tell us about yourself–your life so far and how you got started in writing.
Emma: Hello! My name's Emma, and I'm a children's author and illustrator from Manchester, UK. I've always loved drawing and writing stories as far back as I can remember. When I was five I would make my own books by stapling together square pieces of paper—I've been dreaming of making my own books since then!
I studied illustration at Uni and graduated into the recession, did a load of service and retail work, then after a few years as a character designer for kid's TV I started to pursue my dream of being an author-illustrator. I spent my evenings and every other weekend working on my portfolio and creating a dummy book of 'Amara and the Bats' – and this is the very book that got me my agent in 2018 and is going to be my author-illustrator debut! It feels so wonderful to have come this far.
Mary: Tell us something about your newest novel. Who is the intended audience, and what's going on in the story?
Emma: Amara and the Bats is a picture book all about a little girl called Amara who LOVES bats, and when she move house she is sad to find there are no bats in her local area. So, inspired by real life youth activists such as Tokata Iron Eyes and Greta Thunberg, she rallies her new friends and her community to save the bats! It's all about bat conservation, community action and hope!
Bat facts are weaved in throughout the story, and there are practical ways to help bats in the back too as well as useful links.
It is a picture book, so aimed towards children—but I could talk for hours about how picture books are for everyone of any age to enjoy, and for anyone who loves bats!
Mary: What got you interested in the wonderful world of bats?
 Emma: I've always loved bats! I also used to have a pen with bats on that was my first fountain pen, and I made this kit with my Mum when I was a kid, and put Velcro on the underside so they could hang under my bunk bed! Amara has a bat plushie in the book, and if you look carefully you can see the plushie hanging from her bed in the book as special nod to my childhood.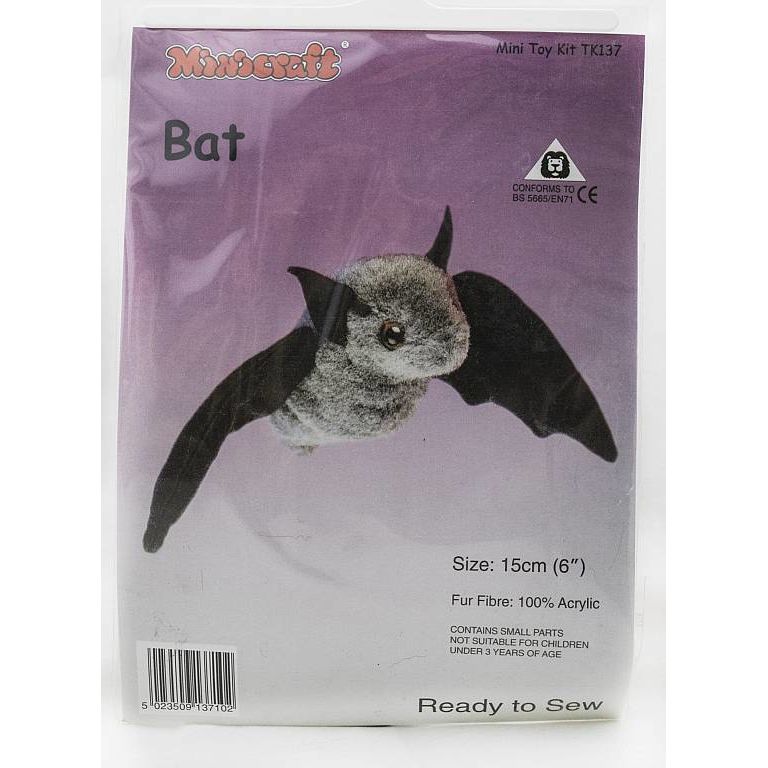 Mary: What sorts of other ecological themes does your novel have?
Emma: It was inspired by creeping urbanisation, rapid luxury flat development, and the destruction of the last green spaces in central Manchester. Amara and the Bats touches on the pressures of land being sold, and how this affects animals and nature through habitat fragmentation. On the positives, the book talks about the power of peaceful protest, rewilding, and how to make your garden or community green space bat friendly!
Mary: That's actually interesting because a relative recently talked about making his yard bat-friendly, and we've been thinking of doing the same, so thank you! After publication, did you plan on doing any book fairs or talks? Is it hard to market during the coronavirus?
Emma: I have indeed! I have a lot of things planned, both online and in person. I'll keep my social media and website updated with these, and a great way to get all the news in one place is my newsletter.
I was at the Power of Words literary festival in Crowle, UK,  on Saturday, the 3rd of July, and I'll be doing a Bat Conversation series over on my Instagram Live, with bat scientists and conservationists on Tuesdays at 6pm UK time, so keep an eye out for that as well!
Covid has been a challenge in more ways than one for sure—but I think the positive that has come out of adapting to online events is that more people can join from around the world, and disabled and chronically ill people have more access than ever before. I plan keep doing a combination of online and in person events going forward.
Mary: Are you working on anything else right now, and do you want to add other thoughts about your book?
Emma: I am! A very exciting project that I think you will like the theme of(!) It's not been announced yet but I am very excited to talk about it when I can.
I hope that Amara will inspire a new generation of kids to get out into nature and enjoy our amazing bats!
Mary: Thanks so much, Emma. I'm so excited about your next project—and happy pub day!