Back to the Indie Corner series
---
I'm delighted to present Claire Datnow as this month's Indie Corner author. Claire was born and raised in Johannesburg, South Africa, which ignited her love for the natural world and diverse cultures. Claire taught creative writing to gifted and talented students in the Birmingham, Alabama, public schools. She earned an MA in Education for Gifted and Talented and a second MA in Public History. Her books for middle schoolers include The Adventures of the Sizzling Six, an eco-mystery series, and Edwin Hubble, Discoverer of Galaxies. Claire's most recent novel, Red Flag Warning: An Eco Adventure, weaves in the theme of global climate change. Claire's books for adults include a memoir, Behind The Walled Garden of Apartheid, and The Nine Inheritors. Claire has received numerous scholarships and awards, including the Alabama Conservancy Blanche Dean Award for Outstanding Nature Educator, a Beeson Samford Writing Project Fellowship, a Fulbright Memorial Fund Teacher Scholarship, and Birmingham Public School Teacher of the Year. Claire's Monarch Mysteries was long listed for the Green Book Award 2020. Together with her students she founded a nature trail, now named in her honor, the Alabama Audubon-Datnow Forest Preserve. She enjoys visiting schools to inspire students to write their own eco-mystery stories, to become wise stewards of the Earth, and to take action in their own communities.
Mary: Tell us about yourself—your life so far and how you got started in writing.
Claire: When I was kid growing up in that faraway land of Johannesburg, South Africa, I loved playing outside. In the garden, I pretended the variety of flowers were my students and I was the teacher. Back then, an exciting adventure was a drive into the country for a family picnic, followed by a hike in the veld or along a stream. I guess I was a nature lover and explorer from an early age, and today those early experiences are reflected in, The Adventures of the Sizzling Six. I also fantasized about the amazing adventures I'd have traveling around the world—and, eventually, that dream came true. The diverse people of South Africa, and, later, of cultures around the world, are also woven into my books, especially in Red Flag Warning: An Eco Adventure. My memoir, Behind the Walled Garden of Apartheid: Growing up White in Segregated South Africa, provides a glimpse in the influences that have shaped the stories I write.
Mary: Tell us something about your newest novel, Red Flag Warning. Who is the intended audience, and what's going on in the story?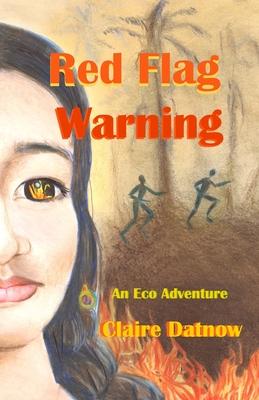 Claire: It's not only my past that inspires me but what is happening right now and is likely to happen in the future. Red Flag Warning tells the dramatic story of three special young people from across the world, the amazing animals that are part of their lives, and the terrible threats they face—threats that affect the entire world. The three teens, all scarred by fire, struggle with the deeper wounds to their self-image and dreams. They must learn to respect the wildness of the animals they love and find their own voices, along with the power of community, in their mission to heal the Earth. This novel was sparked by the unprecedented wildfires exploding around the world. The courage of real-life young eco heroes, like Greta Thunburg, who are urging the grown ups to save our planet, also inspired me to create the young tweens and teens in my novels.
Mary: What sorts of ecological themes does your novel have, and how were you inspired to write about them?
Claire: Each book in The Adventures of the Sizzling Six series highlights an endangered species—for example the Red-Cockaded Woodpecker, the Cahaba Lilly, and fresh water mussels—which plunge the tweens into an exciting mystery that they must solve in order to save that species. Each book in this series is inspired by real-life events and the environmentalists who are saving endangered species.
Mary: After publication, did you do any book fairs or talks? How would you describe the reaction to your book? Is it hard to market during the coronavirus?
Claire: I am honored that the reviews of the advanced readers copies were positive—visit mediamint.net for advanced reviews. I enjoy visits to schools to meet and inspire young people and their teachers, and hope to continue my visits when the threat of the virus has passed. I attend writing and library conferences, on Zoom and at book fairs when possible. I offer digital workshops on The Dynamics of Science and Nature Writing for Fiction and Non Fiction. The next workshop will be sponsored by SCBWI on April 10*. I also blog on mediamint.net and social media.
Mary: Are you working on anything else right now, and do you want to add other thoughts about your book?
Claire: I've just begun research for a book that will continue the theme of climate change. This one will explore the impact of rising water levels on the lives of the young people and their families. Each character will be tied together by an object washed ashore on currents from faraway places. I am planning a trilogy (anthology series), so the third book will themed around air pollution. That's all I can reveal about the stories hatching in my head. Much of my journey in writing stories feels like hiking through a dense forest and discovering untravelled paths to explore and intriguing characters to get to know.
I am excited about my climate change themed series because young people around the world are determined to take action to reduce the dire effects of climate change. My blog, "Climate Change Fiction: Multicultural, Diverse, Global, and with Animals, Too!" crystalizes the themes of my latest work, the Teen Librarian Toolbox.
---
*Please join us at 3 p.m. Eastern/2 p.m. Central for The Dynamics of Science and Nature Writer for Fiction and Nonfiction.  Authors Claire Datnow and Heather Montgomery will discuss how powerful storytelling techniques are the keys to touching our audiences' and readers' hearts, to ignite their imagination, and to inspire them to build a bridge to tomorrow.